Aeroponics is the process of growing plants in air without soil and other nutrient media. Indian researchers have decided to apply this technology to a popular vegetable.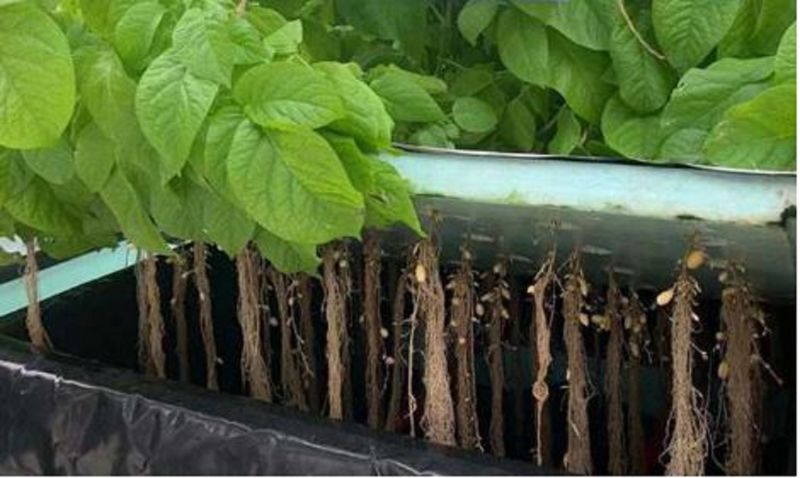 Soil and other nutrient media such as coconut fiber are no longer needed for growing potatoes, according to experts at the Potato Technology Center in Shamgarhe, Karnal. With the assistance of the Central Potato Institute of India, they will launch an aeroponic potato project by September. The budget has already been approved.
"We will create three aeroponics divisions of potatoes: for the production of seeds, for the production of early ripening varieties and for the production of varieties resistant to climate change. We also signed a memorandum of understanding with the International Potato Center (CIP), Peru, to help with the project and to provide new, modern, heat-resistant potato varieties that are high in dry matter and early ripening, "said Dr. Satiender Yadav, Deputy Director of the Center potato technology.
Dr. P.K. Mehta, a senior consultant at the Center, said: "India is the second largest potato producer in the world. It produces about 46,4 million tons of potatoes, which is the third most important food crop in the country after rice and wheat. Currently, potato consumption per capita in the country is about 34 kg per year. In the future, demand for potatoes is likely to increase, and the country will have to produce 125 million tons by 2050 to meet this growing demand. "
However, the ripening varieties currently available to farmers are rapidly degenerating, and tubers are poorly stored due to the low dry matter content.
But the new seed material obtained using aeroponics will allow potato growers to provide high-yielding varieties - 30-50 mini-tubers per plant, compared to 8 mini-tubers when grown in soil.
As for agricultural technology, the plants will be suspended in the air in the dark chamber of the greenhouse, and their roots will be enriched with beneficial microorganisms.
The supply of nutrients to the roots will be through a nozzle under pressure.
"Without the presence of soil, there is no threat of diseases transmitted through the soil. This method will also help to save about 30-40 percent of nutrients and fertilizers compared to the usual method. Using the traditional method, we get the crop for three months, but using this technique, the harvest can be added to 180 days, "Indian scientists say.

Read more: https://www.agroxxi.ru/