The international exhibition of agricultural machinery AGROSALON offers a special program for delegations of agricultural producers from the regions of the Russian Federation.
Everyone can take advantage of the unique offer and, having gathered a delegation of fifteen agricultural producers, visit the AGROSALON exhibition absolutely free!
By filling out an application on the site, the delegation will receive a free bus from the region to Moscow and back. Upon arrival at the exhibition, each group will be met and accompanied by a personal guide.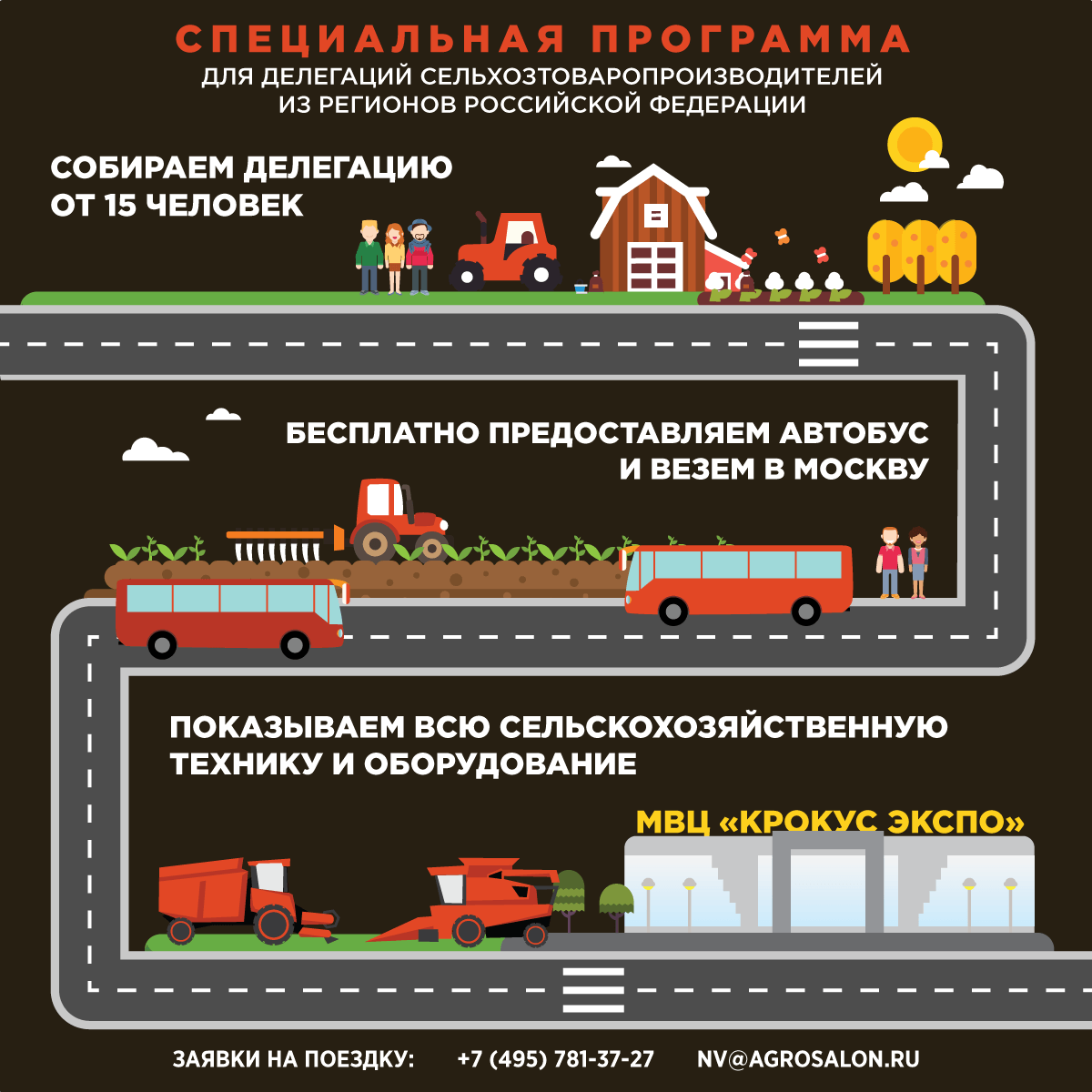 In addition to organized visits to the stands of manufacturing companies, as well as numerous meetings and business negotiations, the visit program will include an extensive business program. The Russian Agro-Technical Forum will open the business program, in which more than 300 experts will take part - heads of state authorities, owners of agricultural holdings and machine-building enterprises, experts from scientific and industry centers, heads of service and dealer organizations. At training seminars, master classes and conferences with the participation of leading experts, delegations will get acquainted with advanced technologies and get information useful for business.
Each delegation will be provided with all possible information materials, including the official catalog and a CD with a complete list of participants.
To do this, you need to submit an application, organize a delegation and attend this industry-significant event!
AGROSALON exhibition will be held from October 9 to October 12, 2018 in Moscow, at the Crocus Expo international exhibition center. AGROSALON is officially included in a number of the most famous international expositions of agricultural machinery, and is the only exhibition in Russia representing the products of all the world's leading agricultural machinery manufacturers.