Alexey Krasilnikov, Executive Director of the Potato Union of Russia
Large stocks and low prices. Potato market review
6,7 million tons of potatoes were harvested by Russian agricultural producers in the industrial sector in 2018. But a good harvest does not guarantee high incomes, and the season ending once again confirms this idea.
Stocks of table potatoes in the regions
According to Rosstat, as of January 1, 2019, the volume of stocks of table potatoes of large agricultural enterprises is slightly higher than on the same date last year. About 1100 thousand tons of products remain in storage, which is 115% compared to the same period in 2018. The largest residues are traditionally noted in the leading regions of the industry: in Bryansk (112 thousand tons, which is three times more than last year on the same date), Tyumen (112 thousand tons, which is 1,5 times higher in comparison last year), Lipetsk (98 thousand tons) regions. A significant increase in potato storage was recorded in the Kemerovo region (65 thousand tons, which is seven times higher than last year's data). In the Moscow region, the potato stock is also quite high, if you focus on the figures (96 thousand tons), but this is 16% lower compared to last year.
Prices
During January, in the Moscow Region, the average wholesale price for food potatoes was at the level of 12 rubles / kg; in some regions (Bryansk, Samara, Tyumen), potatoes were sold at 10 rubles / kg. In a number of areas, we also note lower indicators, first of all, we are talking about territories where they have harvested well and large volumes of potatoes are preserved, which "crush" the market.
If we evaluate the whole picture, it can be noted that table potatoes throughout Russia retain the status of one of the most affordable products (prices are 15-30% lower than last year, depending on the region). Small fluctuations are recorded in the regions, but the trend has not yet pleased us.
It is always difficult to make forecasts for the future, but it can be assumed with great certainty that this year the price level in our market will be less dependent on purchases of imported early potatoes: we expect a significant amount of Egyptian products (and last year the total Egyptian potato export amounted to 755 thousand tons, and the bulk of it was accepted by Russia) will go to European countries affected in 2018 by drought.
Today we observe that in Poland, the Czech Republic, table potatoes have risen in price by two or three times, and there is a shortage of products. Although, Russian retail chains are not ready to completely abandon foreign potatoes. There is operational information that purchases of early potatoes by the largest operators are already underway, and the entry prices at the moment are quite high: $ 400-480 per ton. Recall that last year, at the start of the season, foreign potatoes were purchased at an average rate of 60 cents per kg, but later, taking into account the oversaturation of the market, the price dropped to 30-35 cents. It is not excluded that such a noticeable growth is associated with an increase in the cost of potatoes in the domestic market of Egypt: local agricultural producers are well aware that the demand for their products this year is significantly higher, and are striving to get great benefits in the current situation. Let's not discount the weather conditions: the media reported that in January it rained in Egypt and there was a steady cooling, which could affect the harvest.
Is the Russian consumer ready to buy more? A certain percentage of the population is probably yes, but the majority in the current economic situation will certainly make a choice in favor of more democratic proposals. Given this, retail chains can put Egyptian potatoes on the shelves with a minimum mark-up - a similar situation is observed today with Russian cabbage, wholesale prices for which have soared two to three times over the past month, but in stores the price increase is not so noticeable. But the difference in cost in any case will be significant.
On the other hand, against the background of an expensive imported product, domestic prices may "catch up".
It is not difficult to identify other factors that can already influence the situation in the near future. For example, weather forecasters promise long-term severe frosts in Western Siberia (where, as mentioned above, a large volume of potatoes is recorded on the leftovers). A sharp drop in temperature can increase the cost of storage and transportation of potatoes. There is a possibility that in some households part of the product will suffer from frost and will generally leave the market. But this is only one of the scenarios. How everything will turn out in reality, we can only speculate.
Potato export
According to the FCS, the volume of potato exports in 2018 (at the moment we have data only until December 2018) decreased by 28% compared to last year and amounted to $ 13,9 million with a total weight of 132 tons. Basically, the decline was due to a decrease in supplies to Azerbaijan. Recall that last season Russia greatly reduced the volume of purchases of early potatoes of Azerbaijani origin (the niche was closed by an Egyptian product), as a result, Azerbaijani producers suffered losses and refused to purchase Russian late table and seed potatoes. It is likely that some of them were forced to use part of their harvest as seed material.
The flow of ware potatoes to Ukraine (DNI and LPR) narrowed somewhat, although most likely, after receiving data for December 2018, the difference in indicators for 2017 and 2018 will be minimal.
But it is interesting to note that new directions for deliveries have opened: individual lots of table potatoes from Russia were sold to Serbia and Iraq this fall.
Last year, significant volumes of Russian-made seed potatoes were delivered to Uzbekistan. It will be difficult to predict whether it will be possible to maintain this channel for domestic seed growers in the new year. It is necessary to take into account that in 2018 a large crop of potatoes was obtained in Kyrgyzstan, local agricultural producers are in a crisis situation and are making every effort to sell their products to their closest neighbors. The supply issue is being resolved at the government level, and the results of the negotiations are not yet known to us.
It is also difficult at the moment to talk about the prospect of Russian potato supplies to Tajikistan. There are people who want to buy our products in this country, but these companies prefer to work under deferred payment agreements, and so far we have not managed to get government support in terms of financial guarantees for domestic producers.
Actively involved in the development of exports of potato processing enterprises. In particular, Belaya Dacha has established supplies of its products (french fries) to Israel, Saudi Arabia, Morocco and does not plan to stop there.
Seed potatoes
According to information at the end of January 2019, checks of seed material of foreign production intended for shipment to Russia have not yet been completed. Inspectors of the Rosselkhoznadzor continue to survey batches of German, Dutch and Finnish seeds. In February, sampling for the analysis of seed potatoes in France will begin (preliminary application for delivery to Russia - 1000 tons). Presumably, the results will be known by mid-February. But today we can say that most likely in 2019 Russia will reduce the volume of purchases of foreign-made potato seeds (last year we imported more than 12 thousand tons of seed potatoes from Western Europe). The main reason: drought, which caused a decrease in yield among key producers. There is less seed in the market, orders for it come from all over the world, prices are rising. Nevertheless, it should be noted that to date, consignments of European-made seeds available for order on the territory of our country through Russian representatives are 80-90% contracted, which indicates a steady demand for these products in our market.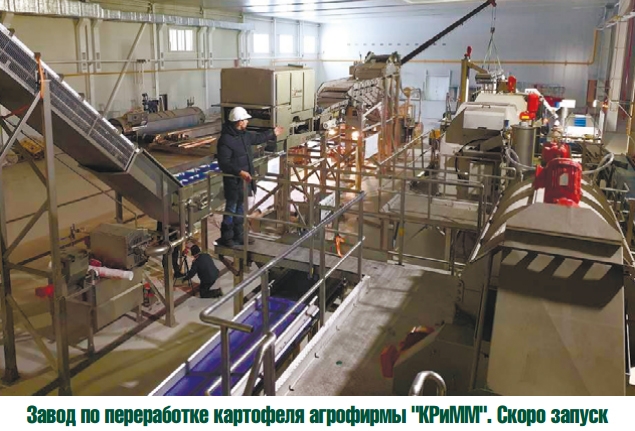 Of course, a reduction in European supplies of seed potatoes will not lead to a shortage of planting material; there are enough offers from domestic seed growers on the market today.
In late February, the annual meeting of the FSBI "State Commission" will be held, devoted to the consideration of applications for the inclusion of new varietal achievements in the State Register. So far we do not have information about how many varieties of domestic and foreign breeding will be offered, but we hope that breeders will please us with promising new products, including, possibly, varieties created under the Federal Scientific and Technical Program for the Development of Agriculture for 2017- 2025 years.
Recycling
One of the significant events in the industry in the new year will be the launch of the KRiMM potato processing plant in the Tyumen Region. The company will process about 30 thousand tons of potatoes per year. Release of products - peeled potatoes in a vacuum package (semi-finished product) and pasteurized potatoes (ready-to-eat product) - is planned to begin by the next winter.
Also at the final stage of preparation is a plant for the production of french fries in the suburbs. The capacity of the enterprise will be 50 thousand tons of raw materials per year.
And, of course, the joint venture of Belaya Dacha and Lamb Weston continues to work, which plans to reach full capacity (this is processing 200 thousand tons of potatoes a year) this year.
New season
In the new year, most likely, small enterprises will continue to decline from the market, which find it difficult to stay "afloat" in the conditions of many years (the fourth consecutive year) of zero, and often negative, profitability. At the same time, large enterprises will continue to grow potatoes, especially since new distribution channels are opened for them (processing plants in the Lipetsk and Moscow regions). Given this fact, it is not surprising that new large-scale figures appeared on the potato market, such as, for example, Yakhroma Agricultural Holding, which combined the lands of Mosagrofood-D LLC and Zelenaya Dolina LLC.
Given these trends, the Potato Union does not forecast a significant reduction in the area of ​​industrial potato cultivation. But we also consider it premature to talk about a serious revival of the industry and the nearest bright prospects for development.