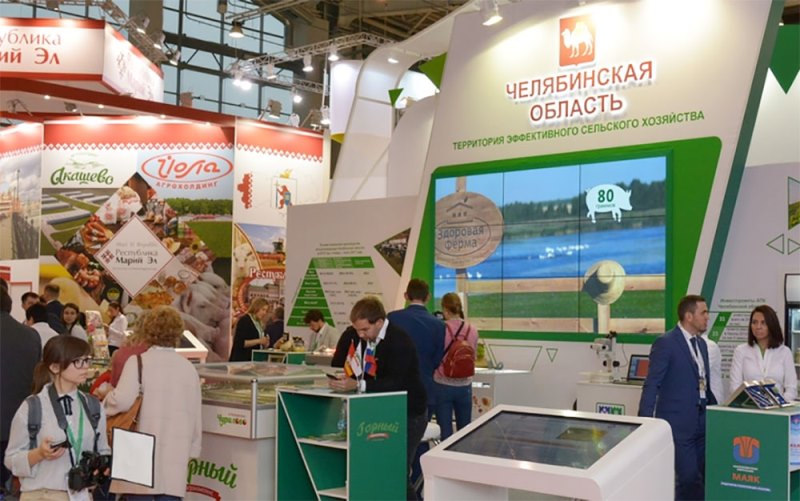 Chelyabinsk region will take part in the 20th Russian Golden Autumn agricultural exhibition.
Given that the main theme of the upcoming exhibition will be a demonstration of the export potential of domestic agricultural enterprises, the region will, among other things, present its key investment projects and products of large exporting companies: Sitno, Union Soyuzpishcheprom, as well as Trading House Natural Products and Peasant (farm) economy "Esslinger".
For example, Eslinger farm products - HÖRSLI horse feeds - have already become popular with horse breeders around the world. The farm has developed a high-quality feed composition for future champions who need a personal approach in the preparation of the diet. The largest investment project in the region will be presented by BIOnika.
Here they began to develop a new direction for the cultivation of aquatic organisms in natural and artificial ponds "Aquaculture BIOnika". As a result of applying the technology, it will be possible to grow sturgeon weighing more than 10 kg.
It is also planned to produce black caviar in the South Urals. As promised in BIOnik, this will be a guaranteed pure and natural product. Soyuzpischeprom, following one of the main world trends in the food market, forms a new category of healthy and tasty food. In March this year, the company launched the first plant for the production of vegetable drinks in Russia: oat yogurts and jelly, as well as almond, oat, coconut and rice milk.
At Golden Autumn 2018, the company will acquaint potential partners and consumers with its vegetable milk - a full functional analogue of cow's milk, which at the same time has a more diverse flavor palette and does not contain lactose. Especially for the exhibition, Soyuzpishcheprom launched a new product - professinal soy milk for the barista, which allows you to maximize the taste of coffee and creates the necessary foam for latte and cappuccino. Also at the stand of the region it will be possible to get detailed information on the implementation of the project of the Agro-Industrial Park in Ust-Katav, where the construction of the Gorny greenhouse complex is now being completed.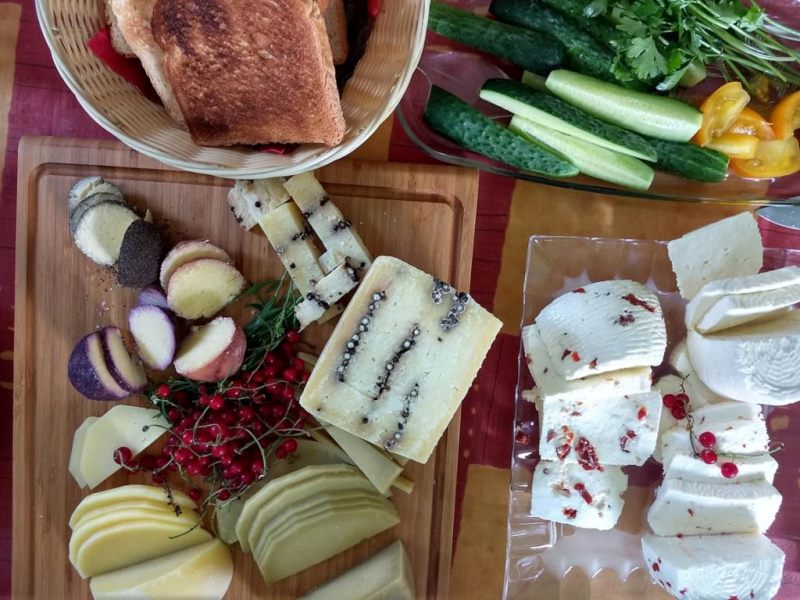 It is designed for year-round cultivation of vegetables and green crops of closed soil with an area of ​​25 hectares using Dutch technology and is equipped with its own seedling department. The project involves the cultivation of environmentally friendly vegetable and green crops by the method of low-volume hydroponics on suspended metal trays with a polymer coating, using artificial lighting systems, microclimate control and mineral nutrition of plants using an automated control system.
The Sitno company, one of the largest exporters of flour-grinding products, meat, poultry and confectionery products, will present its novelty at the Golden Autumn: chicken fillet prepared by the sous vide method. The peculiarity of the technology is that the products are cooked at the lowest possible temperature, allowing to preserve all the useful properties of the product and its natural taste. "Uyskaya cheese factory" will present its unique cheeses made from natural ingredients at the exhibition.
The stand will feature both beloved Parmesan and cheeses made according to a unique recipe, for example, noter with walnuts. Particular attention will be paid to the brand "Uyisky cheese" with a legendary history. The recipe for this cheese was first developed by Uyisky cheese makers almost 100 years ago. Producers of the Chelyabinsk region are actively supporting the trend towards a healthy diet, trying to produce products that are most useful to consumers.
That is why this year, at the anniversary exhibition "Golden Autumn", the zone "Healthy nutrition of the Chelyabinsk region" will work at the stand of the region. Here you can try the health and wellness products from Soyuzpischeprom: cappuccino with vegetable milk, fresh vegetables from TM Vitamins from the Gardens, sandwiches with linseed oil from Nazarovsky manufactories and the freshest natural cheese from Uisk cheese factory. Each visitor to the exhibition will be able to make sure that the products from Chelyabinsk manufacturers are not only tasty, but also healthy.
Golden Autumn 2018: Organic Agriculture - Delicious, Useful, Responsible and Technological In Russia, Federal Law No. 372830-7 "On Organic Production and Amending Certain Legislative Acts of the Russian Federation" has been adopted. This is a significant event for industry participants, which opens the way for legal and conscientious manufacturers. In Russia, there are about 70 of them so far, while in other countries, with a steady growth trend in demand for organic products, the number of certified organic producers is more than thirty thousand, which indicates great prospects for growth and the development of a new market for Russian agricultural producers.
Within the framework of the 20th Russian agricultural exhibition Golden Autumn, the Union of Organic Agriculture will present a collective stand. Participants are agricultural producers certified by international organic standards. Organic food will be presented by the Jersey eco-farm (dairy products and cheeses) and Efirmaslo LLC (whole grain flour and pastries, as well as lavender essential oil). Both companies are known far beyond the borders of Russia, their products are highly appreciated by specialists from the EU and the USA, where the organic agriculture market has been developed for a long time, and the Russians are just beginning to discover it for themselves.
"We believe that Russians should eat organic products in the first place. This is a health piggy bank for children and future generations. Our company will present for the first time high-quality whole grain organic flour. In its production, chemical pesticides and fertilizers were not used, the environment was preserved. The taste of such products is natural, natural, not washed out by high productivity. This is the taste of real grain with the preservation of all minerals that are useful and necessary for the body. Despite the fineness of the grinding, the flour is completely bakery conditions, any baker will be able to work with such flour after a minimum of addiction.
You can bake bread, rolls, pancakes, donuts, koloboks and other products. But the quality of products made from this flour - texture, splendor, taste, and most importantly, satiety and biological value - radically differ from products made from ordinary high-quality flour for the better. We will also present organic essential oils that can be used in cosmetology, pharmacology and perfumery, "says Pavel Naumov, director of Efirmaslo LLC.
To produce organic products, it is necessary to comply with production standards - Russian, European or American, they are all slightly different from each other. According to these standards, up to 200 types of various soil improvement and plant protection products can be used in organic agriculture. Compared to traditional agriculture, where there are tens of thousands of such items, the assortment of biological plant protection products is small, the competencies and experience of specialists are all the more important.
Organic products and Eurochem Trading Rus will present biological preparations certified for use in organic agriculture. By the way, these drugs can and should be used in traditional agriculture. The direction of biologization of agriculture and integrated plant protection is rapidly gaining popularity, which is associated with the task of each producer - to restore and improve soil fertility. According to the Higher School of Economics, Higher School of Economics, organic agriculture and the biologization of agriculture are among the most promising scientific and technological trends in the world.
"In any direction of crop production, the condition of the soil and the quality of the seed material play a key role. Proper soil preparation and seed treatment with microbiological preparations helps to obtain large yields, and the root system is better developed. The soil becomes alive, its microflora begins to work against diseases. In Ukraine, our preparations are used on millions of hectares.
In Russia, they are gradually adopting experience, and we already have holding companies that are trying to completely transfer part of their lands to biological plant protection. There are such industries where, after the use of our biological products, there was no need for some treatments with pesticides, which significantly saved the costs of manufacturers. Last year, we introduced to the Russian market two new Biocomplexes-BTU, which are already successfully used in Ukraine, intended for enhanced protection of various crops from fungal and bacterial diseases, "says Irina Goncharova, Commercial Director of Organic Line.
Organic Line will present a wide range of products, including biofungicides, polyfunctional Biocomplexes-BTU, soil biodegradants (helping to decompose stubble residues and improve the soil health), as well as adhesives and preservatives. "We will present highly effective biofertilizers aimed at increasing the efficiency of assimilation of nutrients from soil and fertilizers," says Maria Vizirskaya, Ph.D., head of the development of agrochemical services for the Russia and CIS region, Eurochem Trading Rus.
"This is a living microbial ecosystem that populates the root zone, increases the availability of nutrients and suppresses the development of pathogens. This is a unique product containing beneficial microorganisms: 10 different families and more than 80 strains. The drug does not lose activity under any conditions. Another biostimulant-antistressant drug forms a healthy immunity, increases the resistance of plants to stresses of various nature and pathogens, and improves the general physiological state. In the near future, a kind of hybrids will also appear on the market - biomineral fertilizers.
These are already familiar to all products with the application of microorganism spores to the surface of granules, which improve the absorption of nutrients. All these innovations allow us to achieve the main thing - to increase yields, get better product quality, reduce environmental impact and improve soil condition, and, which is important for producers, increase production profitability "- explains the expert. In organic and biologic agricultural production, fertilizers and biostimulants of natural origin are actively used.
At the collective stand of the Union of Organic Agriculture will be presented environmentally friendly organo-mineral fertilizers - Sakhalinsky humate from natural natural leonardite (highly oxidized brown coal), manufactured by Sakhalin Gumats. Raw materials of the highest quality, with a high content of humic acids and other elements, are mined at the Solntsevskoye deposit of Sakhalin Island. As you know, the quality and effectiveness of the product depends on the feedstock.
Humate "Sakhalin" contains a high concentration of salts of humic and fulic acids, trace elements and amino acids, which together allows the agricultural producer to solve multifaceted tasks: to protect the crop from an aggressive external environment, to achieve maximum crop growth and its quality, and also to positively influence the soil - by running the process of soil reclamation, removing heavy metals and pesticides.
At the collective stand of the Union of Organic Agriculture, everyone will be able to get targeted advice on the transition to organic farming technologies, certification according to Russian and international organic standards, marketing and pre-sale preparation of products, export opportunities, and biological protection of plants from pests, weeds and diseases, special methods and agricultural practices of organic farming and animal husbandry, special equipment, training.
"We have gathered at the collective stand of the Union of Organic Farming products, innovations, technologies that have already proven themselves in practice, which represent the best embodiment of the principles of ecology, justice, health, responsibility, care and uniqueness. Each participant has traveled a long and difficult path to success and there is something to learn from them. We are glad that new and promising areas for Russia - organic agriculture and agricultural biologization will be presented in practical embodiment from leading professionals at our stand, "says Sergey Korshunov, Chairman of the Board of the Organic Farming Union.