What diseases threaten potatoes the most and what will help minimize damage from them? These and other questions are answered by Alexander KHYUTTI, Senior Researcher of the Laboratory of Plant Immunity to Diseases of the All-Russian Research Institute of Plant Protection.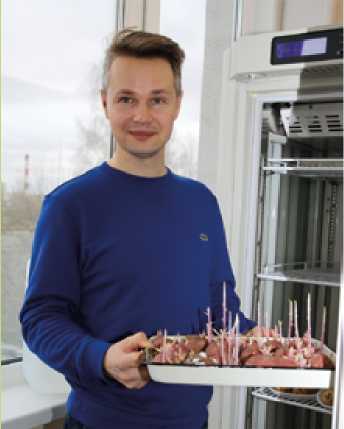 What potato diseases are most common in us?
- More than two dozen potato diseases are known, and all of them are present in different countries and regions of cultivation. In the world "top" of the most dangerous diseases, the first place is occupied by Alternaria, the second is the common scab (bacterial disease), and the third is the Y-virus.
How is Alternaria so "distinguished" in comparison with other fungal diseases?
- This is really the scourge of potato growing. It is distributed throughout Russia and in other countries. For example, in Germany and America, this is the most harmful disease, and only against it during the season at least 13 fungicidal treatments are made. Alternaria is caused by several different types of Alternaria, it is difficult to diagnose them and it is also difficult to fight them.
And what place does late blight take now?
- It is widespread in all countries of the world, and in recent years, the late blight pathogen has become more aggressive, virulent, plastic, resistant to various fungicides. And if earlier potatoes were affected at temperatures from 8 to 23оC, now this range has expanded to 3-27оC. Get rid of late blight
once and for all we cannot: late blight forms sexual spores (oospores) covered with a thick shell, which, once in the field, remain viable for up to 35 years, and nothing can be done with them.
In our country, the main source of infection is seed tubers.
Don't modern fungicidal disinfectants help clear up the infection?
- Fortunately, they help. However, potatoes can become infected already during the growing season. Phytophthora spores constantly migrate, fall on leaves, stems, soil, easily move with soil moisture, and as soon as the rain passes, together with the water they will appear on the surface of the tubers of the new crop and infect them. So preventive treatments for vegetation are required.
By the way, the situation in our country has its own specifics. For example, American farmers have not seen the symptoms of late blight for years (note that they carry out prophylaxis in full), and our manufacturers, no matter how perfect complex protection systems they use, still face it. It's not just that the United States has a very accurate forecasting system and relies on resistant varieties. In Russia, potatoes are widely grown in the private sector without adequate protection. Plants get sick, and spores from them can be carried by the wind for hundreds of kilometers. Good isolation can be achieved only in the mountains, at an altitude of more than 2 thousand meters.
Maybe grow resistant varieties?
- The correct selection of varieties is very important. But so far there are only two varieties of potatoes that are truly resistant to late blight. This is the old Hungarian Sarpo Mira, a phenomenon that has been stable for 40 years. And Aluet (Netherlands) is relatively new, but already familiar to many. Besides them, there are tolerant and medium-resistant varieties.
However, even the use of resistant potatoes does not negate protective measures, since different parts of the same plant differ in their vulnerability to the pathogen.
Until relatively recently, anthracnosis was not considered a dangerous potato disease, but in recent years the situation has changed dramatically. What happened?
- The disease has rapidly spread across the territory of the Russian Federation. There are many reasons for this. Nowadays, mainly foreign varieties are cultivated, and since there is no anthracnose for seed potatoes in the existing GOST, they were not checked for the presence of populations of the causative agent of this infection when imported. There are no resistant varieties and no reliable control measures. Everything is complicated by the fact that the anthracnosis causative agent spends most of its life in a latent state and is not diagnosed.
Can phytodiagnostics help during the growing season?
- We have a lot of public and private laboratories, but not all of them keep up with the times. At the same time, the diagnosis is complicated by the fact that all potato diseases - it does not matter whether they affect the aboveground vegetative mass or tubers - give undetectable symptoms at the initial stage of development. Say, a small dark speck appears, but what is it - late blight, anthracnosis, alternariosis, a complex of scab species, fusarium, phomosis, or maybe a non-infectious lesion? It is very difficult to answer this question. It is no coincidence that potato diseases are conventionally grouped according to symptoms: soft, wet and dry rot, as well as leaf damage. It is easier to contain all this with preventive treatments according to the plan. And I repeat that for planting, you need to use healthy seed potatoes and be sure to use fungicidal dressing agents.
How to assess the quality of the seed?
- Unfortunately, Russia is almost the only developed country where the seed potato certification system is now voluntary, not mandatory. In addition, the seller and the buyer can set different thresholds for disease tolerance themselves, without adhering to GOST, which, in turn, is also very far from perfect.
Taking this into account, when acquiring planting material, farms require vigilance and the participation of a competent agronomist, armed with at least a stereoscopic microscope (binocular). If you wash the tuber and look at its surface with 10x magnification, you can already hedge against the acquisition of problematic material. In this case, tuber samples should be taken independently, not limited to what the manufacturer himself sends.
But the most reliable, of course, is to do the analysis of seed potatoes in a good laboratory in order to identify all the dangers. For seed farms, an analysis is required for quarantine objects, nematodes, bacteria, viral diseases and the main fungal infections: a complex of scab species, various types of rot, Alternaria, anthracnose and late blight. This will allow you to plan protective measures, choose the right active ingredients.
The requirements for food planting are less stringent, but also not always: for example, raw materials for chips can only be grown from seed that is free from many infections. There were cases when a strong lesion of the ulcerative form of rhizoctonia made potatoes unsuitable for this type of processing.
We planted high-quality and pickled potatoes, planned the protection. How else to minimize the damage from disease?
- Provide the plants with good conditions, adhere to agricultural techniques, because any violation weakens them, makes them easier prey for harmful organisms. Of course, chemical measures are very important, but their share is only 10% of all technological operations. It is also necessary to observe the crop rotation, cultivate correctly, water (without overmoistening or overdrying). The correct regimen of mineral nutrition is important. For example, the more nitrogen, the more the plantings suffer from anthracnosis, and the increased magnesium content is associated with the incidence of alternaria, that is, recommendations for fractional fertilization should not be ignored. Even the healthiest potatoes must be properly harvested, because an infection will penetrate into the injuries on the tubers, and we will deal with fusarium, phomosis and other problems already in storage.
Material of the newspaper "Field of Augusta" (No. 6,2020)
Dmitry BELOV, head of the product development department of the "August" company:
OFFERS "AUGUST"
In the case of a high risk of late blight infection at the beginning of crop growth, treatment with a contact or contact-systemic fungicide is necessary - Kumir, Metaxil, Ordan. Working fluid consumption 300 l / ha. In other cases, the first compulsory treatment is carried out before the closure of the foliage strictly with a systemic or contact-systemic drug, for example, Metaxil. Working fluid consumption from 300 to 400 l / ha.
In a favorable situation (according to the prognosis, there are no signs of infection on plants in lowlands and on sensitive varieties), one can switch to combined preparations of translaminar contact action based on cymoxanil - Ordan MC or Ordan. In the case of a strong development of infection, treatment with systemic fungicides with another active substance (a.c.) should be continued. Working fluid consumption - from 400 to 500 l / ha.
In the next treatment, use the drug Tirada containing systemic difenoconazole against Alternaria and contact action shooting for the prevention of late blight. The flow rate of the working fluid from this moment to the end of the season is 500 l / ha.
In the future, use preparations of contact action (Talant, Kumir, Ordan) to prevent the germination of phytophthora spores, maximize assimilation prolongation, gain in mass and commercial qualities of the tuber.
21 days before digging the tubers, to protect them from infection during harvesting, it is reasonable to apply a fungicide with one of the following substances: fluazinam, dimethomorph, mandipropamide.
Approximately two weeks before digging the potatoes, you need to "close the gate" for the infection to enter - dry the tops with Dry Hove desiccant.
All treatments should be carried out in the morning and with the addition of Polyphem adjuvant to the working solution.
Contact Information
Alexander Valerievich HYUTTI
Mob. tel .: (911) 789-53-79
Dmitry Alexandrovich BELOV
Mob. tel .: (903) 109-77-69