The first issue in 2019 of Global Potato News, published in North America and Europe, provides a brief analysis of the situation on the international potato market.
World trade in raw potatoes for all countries in 2017 amounted to $ 4,1 billion, sales of processed potatoes, including frozen French fries, amounted to another $ 9,3 billion. In general, the value of raw potato exports has declined by an average of -11,2% for all exporting countries since 2013, when raw potato shipments totaled $ 4,6 billion.
The total supply of prepared and canned potatoes, including frozen french fries, according to experts, increased by 6,9% over the same five-year period. Below is information on 15 countries that exported unprocessed (raw) potatoes with the highest sales in 2017: these countries accounted for 86,6% of the export of raw potatoes in 2017.
Five of the following countries reported an increase in international sales since 2013. Among them were companies from China (an increase of 120,4%), Egypt (an increase of 32,5%), Canada (an increase of 31,5%), South Africa (up to 20,2%) and the United States of America (up to 9,9%). Of the remaining 10 suppliers of potatoes, the largest drop in sales occurred in Italy (-40,3%), Pakistan (-37,9%), Great Britain (-30,2%) and Germany (-29,6%).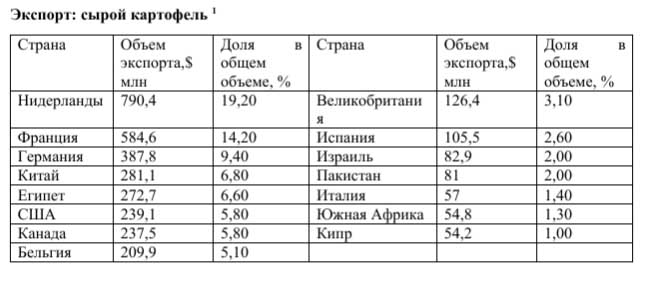 Export sales of frozen and processed potatoes, including fries, amounted to $ 7 billion in 2017 in money terms (or 80,3% of the total), while international deliveries of unfrozen or canned potatoes amounted to an additional 2,3 billion dollars (or 19,7%). Below are the 15 countries that exported potatoes of the highest value in finished and / or canned form during 2017, including both frozen and unfrozen goods.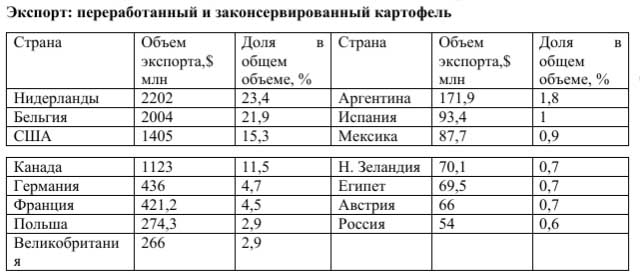 The share of the 15 countries listed above is 92,5% of the total supply of all processed and canned potatoes in 2017, including frozen and unfrozen potatoes. The most successful of these countries since 2013 were: Spain (an increase of 105,8%), Austria (an increase of 58,8%), Poland (an increase of 19%), Egypt (an increase of 18,4%), then the Netherlands (an increase of 16,1%). The five suppliers who experienced a drop in sales of finished and canned potatoes were: Argentina (decrease by 23,8%), Russia (decrease by 22,5%), New Zealand (decrease by 15,3%), Mexico (decrease by 5,9%) and Germany (-5,4%). The undisputed contender for the royal crown in international trade are Dutch exporters of both raw and processed potatoes. Sources of research: Trade Map, World Trade Center. As of May 24, 2018 Posted by Daniel Workman, Lead Analyst and Webmaster at World's Top Exports.
E-mail: I dworkman@rogers.co
Online: Worldstopexports.com.
Published: Global Potato News / North American edition, No 1- 2019, p. 22-23.
https://www.globalpotatonews.com/wp-content-329291/uploads/2019/02/1-2019-gpn- us.pdf .
Translation and editing: NP "SK SO"