Governor Alexander Uss made a working trip to the Sukhobuzimsky district, where he checked how the final stage of the potato harvest is going.
This year the enterprise with the highest potato yield was the agricultural enterprise "Dary Malinovki". Its indicators are 329 c / ha, which is almost twice the average potato yield on the edge.
The enterprise is young, it was founded only seven years ago, but the seed potatoes grown here are in demand among farmers throughout Russia and not only. In addition, according to the results of the 2019 harvesting campaign, Dary Malinovki was awarded two regional Silver Ear awards - for the best potato yield and for the best vegetable yield.
"We are the largest producer of seed potatoes beyond the Urals. We are growing more than 30 varieties of potatoes this year. We first plant each variety in our conditions, see how it shows itself, what taste it has, and only after that we start producing it, "said Vasily German, chairman of the board of directors of the Dary Malinovki agricultural holding.
Alexander Uss highly appreciated the work of the enterprise. "This is a farm that supplies vegetable products not only to Krasnoyarsk, but also delivers them far beyond the borders of our region.
It is distinguished, first of all, by a very high culture of agriculture and a scientific approach to it. With regard to selection, to elite potatoes, the region with its climatic conditions can become a very good reproduction center, which attracts the attention of the whole of Russia and even Europe, "said the head of the region.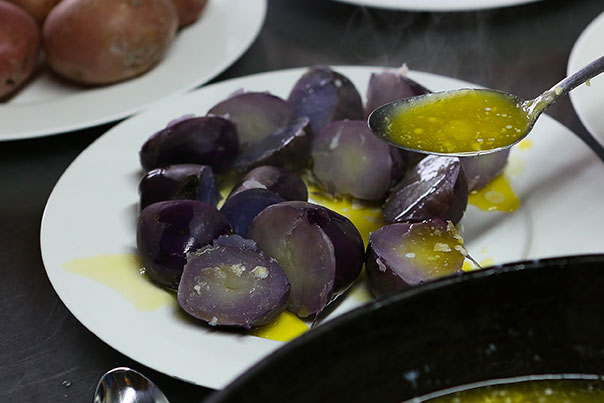 Violet potatoes are one of those grown in the fields of the Dary Malinovka agricultural enterprise.
Potatoes of this variety are high in antioxidants and nutrients.