Thanks to the use of a highly efficient sorting plant The TOMRA 3A Duchemin company (Caen) achieves the highest quality of its products.
Duchemin, founded in 1984 in Tourville-sur-Odon in the Calvados department (14) by Catherine and Christian Duchemin, specializes in potatoes sold under the La Ferme Du Val D'Odon brand. Guillaume Duchemin joined the family business 14 years ago and today he runs the company. Mr. Duchaman shares his impressions of using the sorter TOMRA 3A, which has been an important tool for optimizing the company's production processes over the past two years.
Thanks to the revolutionary multispectral technology and pulsed LEDs, the installation TOMRA 3A is exactly the kind of equipment that can help ambitious businesses improve efficiency and profitability. Duchemin has installed its machine in a potato warehouse, where tractors unload the potatoes brought from the fields and where the plant operates at an impressive capacity - an average of 30 tons per hour. The machine has been operating at full capacity for the second year now, and this is the best evidence that the innovative approach that is also followed in TOMRA Food, and at Duchemin, it really works and gives real results.
A partnership to adapt technology to customer needs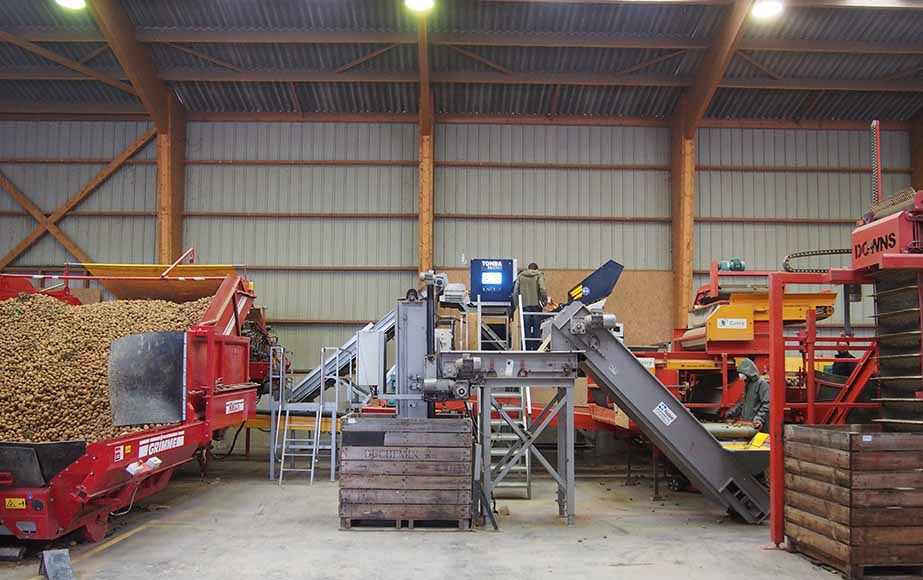 Duchemin is convinced that continuous self-improvement is the key to success. This is one of the reasons why a five-person quality council was established in the company. His work focuses on reducing workload, increasing productivity and identifying new business opportunities. In 2017, Duchemin was invited to become the world's first enterprise to test a prototype TOMRA 3A, a new generation screening plant. The company's feedback helped to make TOMRA 3A super efficient machine. In September 2019, it became part of the range of solutions TOMRA Food.
After two production seasons of using the plant in a potato storage facility, Duchemin found that there was an additional benefit from cooperation with TOMRA Food.
Guillaume Duchamant explains: "We value TOMRA Food for their customer focus. We did not have to adapt the product to the machine, on the contrary, the machine was adapted to our products. This is a very constructive approach! "
Grégoire Volpoet, Sales Manager TOMRA Food in France, adds: "Our innovative technology is fully focused on customer satisfaction. When developing a new machine, we listened closely to the feedback received from a customer who had a chance to test our unit. "
Reduced workload, increased productivity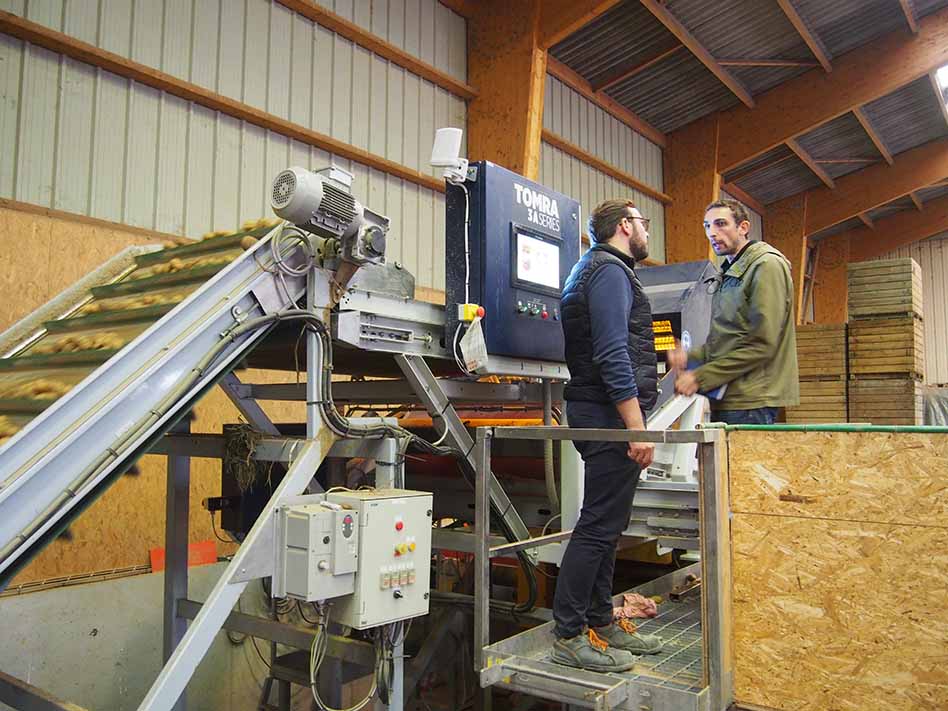 By car TOMRA The 3A analyzes the tubers as they fall and removes foreign material such as stones, soil lumps, wood and defective (green) roots as the produce moves through the production line. Installation TOMRA 3A is designed to operate at very high speeds without causing any damage to the product itself. At Duchemin, this machine can handle up to 30 varieties of potatoes, both small and large, for all culinary applications, such as hard white pulp, hard red pulp and potato chip varieties.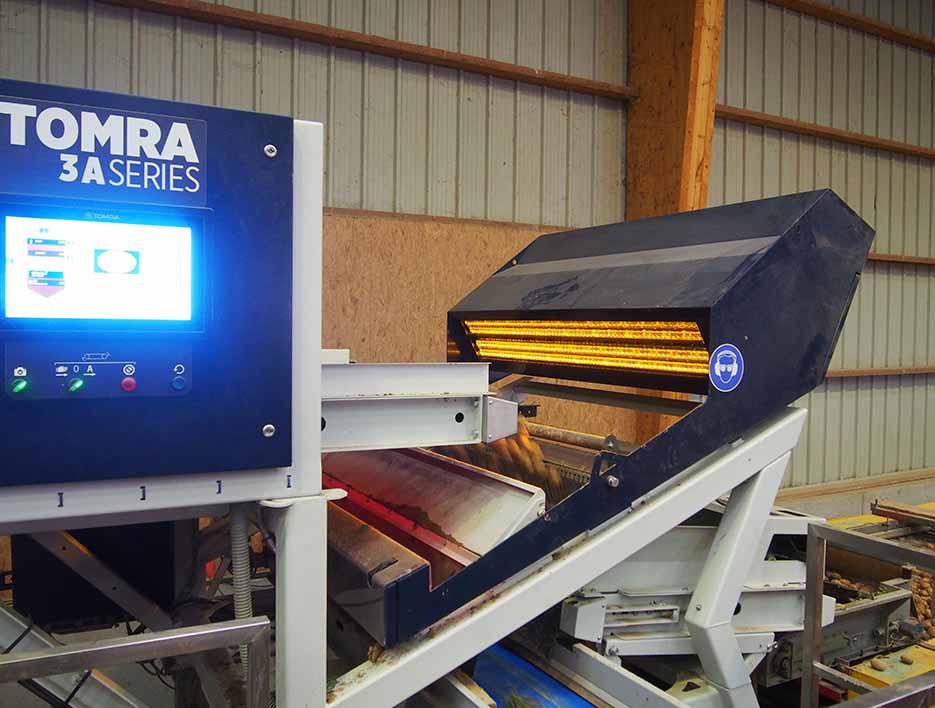 Guillaume Duchamant notes: "This morning we found an overgrowth of rapeseed in the delivered lots of potatoes, which needs to be removed, as it can become a source of contamination in refrigerators - this is a big risk and we cannot allow this to happen. Before, before we installed the car TOMRA 3A, we would have to allocate two additional staff to sort. This is no longer necessary because the machine does all the work. Moreover, the speed always remains the same. In the past, we could spend an hour and a half sorting a container of some potato varieties, while TOMRA 3A 45 minutes is enough. The sorting machine can reduce the workload. The company still employs four people to work on the sorting conveyors, but their workload has decreased, which means they are better able to concentrate on work. "
Perfect preventive maintenance
Guillaume Duchaman: "TOMRA The 3A is a very compact machine that is easy to install on the production line, at the outlet of the soil separator and before the pallet packing stage. The equipment is robust and reliable, and excellent after-sales service is offered in the event of a malfunction. This is critical: when the machine is stopped for one hour, 25 people will have to stand idle, waiting for the machine to resume, but the company's after-sales service TOMRA Food extremely quickly responds to requests and solves problems. We are calm, because TOMRA regularly and in advance proposes to renew the preventive maintenance contract. Since technological equipment is of paramount importance, it must be systematically maintained. "
Accurate and useful statistics
TOMRA 3A helps Duchemin maintain accurate material records. Driven by software platform TOMRA ACT, this sorting machine collects extremely accurate statistics on completed processes, illustrated by graphics that are dynamically displayed on the touch screen in real time. In the future, this tool will allow manufacturers and, if desired, their customers to receive data related to earlier stages of the technological chain.
Guillaume Duchaman explains: "We process potatoes from our own fields or from the fields of our partner producers. I can receive a batch of products containing five size categories. Within one grade, there can be up to seven size categories, depending on which both purchase and sale prices are assigned. I need to be able to demonstrate this to my manufacturing partners. My suppliers receive accurate reports to ensure lasting and trusting relationships. We work with 24 manufacturers who have remained loyal to us for many years, and this is not just luck! At the other end of the value chain, we must ensure that our customers - large retailers - are met. Our facility conducts 12 audits per year by our customer quality managers and external organizations. TOMRA 3A allows you to adapt to these business requirements. "
Duchemin: some figures and facts
During the 2019 season, potatoes were planted on 550 hectares, from which 18 tons of crops were harvested. The company uses organic, traditional and agro-ecological farming methods. The company employs 000 full-time employees, with an additional 60 employees hiring during the peak harvest season. During this period, the potato storage center is open from 40 to 14 hours a day. The company processes 16 varieties and five size categories and operates a fleet of 30 vehicles (trucks and tractors) that cover a total of 14 km during harvest.
You can find more information on the website: www.lafermeduvaldodon.com.

As advertising