Potatoes have to withstand fierce competition from alternative products that are produced from legumes and crops
Producers of the once most sought-after vegetable are pondering what to do to preserve the leadership of potatoes in the ranking of food preferences of consumers.
"The times when wives bought 10 kilograms of potatoes for a family table every week are in the past," says Gerard Beauvais, head of a potato company.
Currently, consumers are increasingly choosing other products, especially strong competition from food made from legumes and grains. Therefore, potato growers have to go to tricks and call for help from breeders.
So, varieties of purple potatoes, which are distinguished by a high content of anthocyanin, are now actively promoting themselves on the market. Anthocyanins (natural pigments) are known for many beneficial properties for human health, up to suppressing the growth of malignant neoplasms and preventing cataracts. Until now, it was believed that anthocyanins are mainly found in blueberries and red cabbage, but breeders have created purple potatoes, which can also serve as an excellent source of anthocyanins.

The next marketing move was the cultivation of varieties of potatoes with a festive peel of bright pink color and plants that produce funny tubers with red-yellow peel.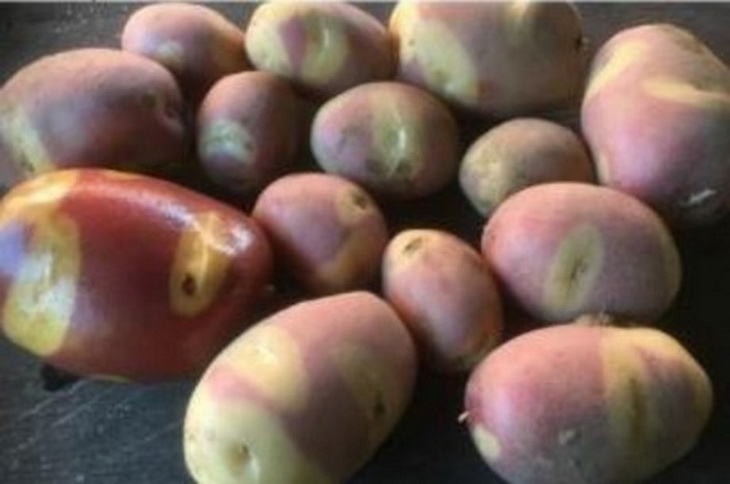 By the way, the name of this variety "Holiday" corresponds to visual perception. Holiday potatoes are offered to be simply baked in the oven with oil and salt and served as a snack for drinks. No need to mess with cleaning, just rinse the tubers with water.
Gerard noted that they began to buy small potatoes more often, and they use it for baking.
"In sales, small potatoes per pack show an annual increase of about 20 percent. Previously, potatoes smaller than 30 mm were simply thrown away because they cannot be peeled. Small tubers went to feed the animals. Now, small potatoes are popular because they can be easily cooked in the oven, "says Gerard.
The fashion for organically grown potatoes and tubers with a rich potato aroma is also growing. There are practically no fragrant potatoes on the market, as the efforts of breeders were focused mainly on the color that consumers wanted to see.
"Customer preferences are critical factors for deliveries to different markets. For example, in the UK they want the potato to have only white flesh, and in Germany, the tubers inside are necessarily yellow. Now, buyers demand fragrant potatoes, and producers need to match if you want to sell successfully, "said Gerard.
(Source: www.freshplaza.com).
Read more: https://www.agroxxi.ru