Potato System magazine publishes a daily report on the situation in the table potato market. We receive information about prices and harvesting progress from agricultural producers from different regions of Russia.
As of September 21, 2022, Russian potato growers were selling table potatoes (lots of 20 tons or more) at prices ranging from 10 to 40 rubles/kg. The cheapest products could be purchased in the Novosibirsk region (10 rubles / kg); Nizhny Novgorod, Leningrad regions and the Republic of Chuvashia, potatoes were sold at 12,00 rubles/kg.
The number of regions that declared the cost of 13 rubles/kg of potatoes has increased. These are: Ulyanovsk, Bryansk, Orenburg, Penza, Saratov regions.
The average price level (from 14 to 17 rubles/kg) was established in the Rostov, Kurgan, Kostroma, Tambov, Kaluga, and Novgorod regions; Krasnoyarsk, Perm regions.
Prices
Slightly higher (from 18 to 23 rubles/kg) the bar was raised in the Moscow and Samara regions, Altai Territory and Karelia. And the highest prices for potatoes (40 rubles / kg) were recorded in the Khanty-Mansiysk Autonomous Okrug - Yugra.
Thank you to everyone who took part in the magazine's survey.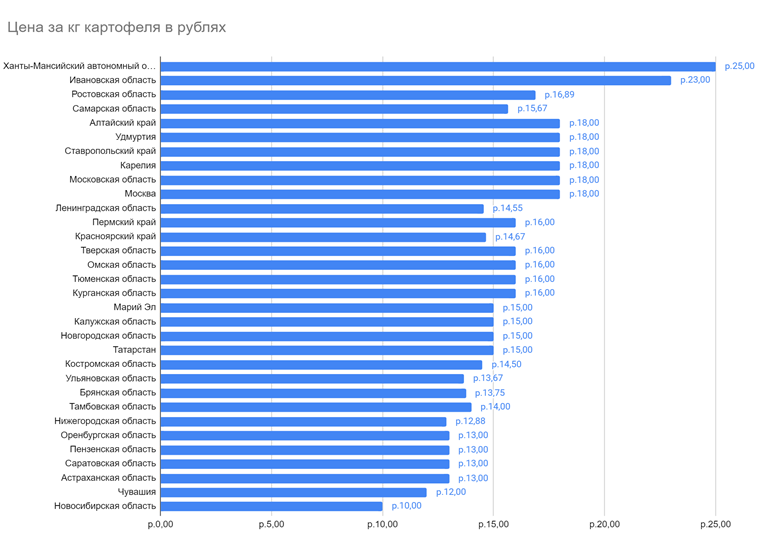 Productivity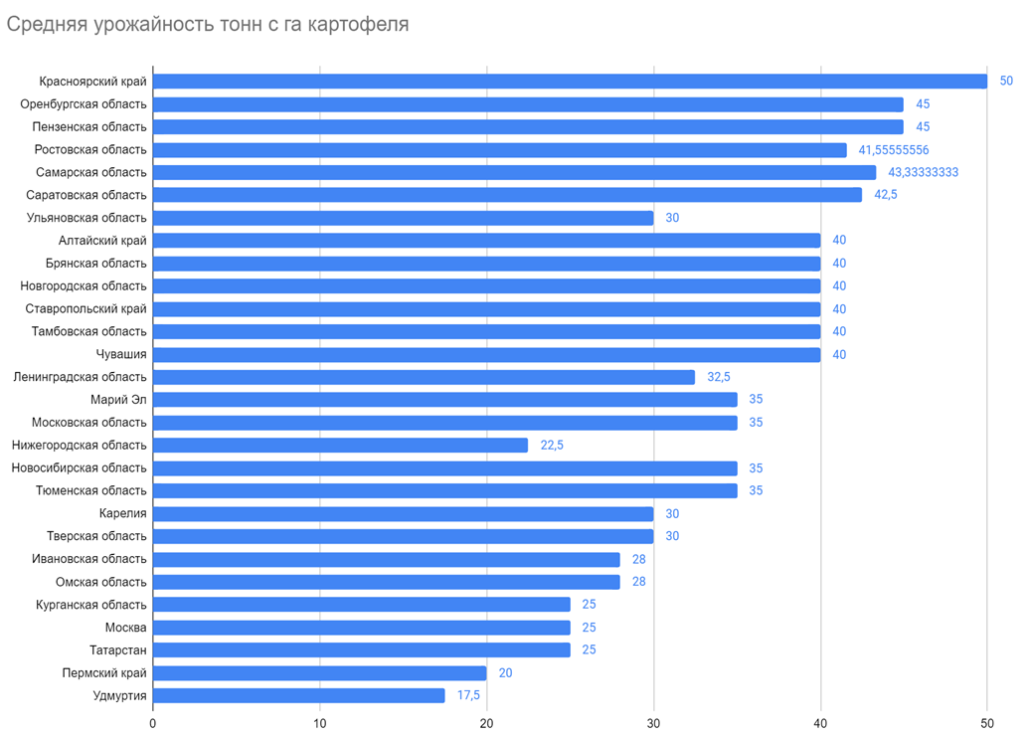 Harvest progress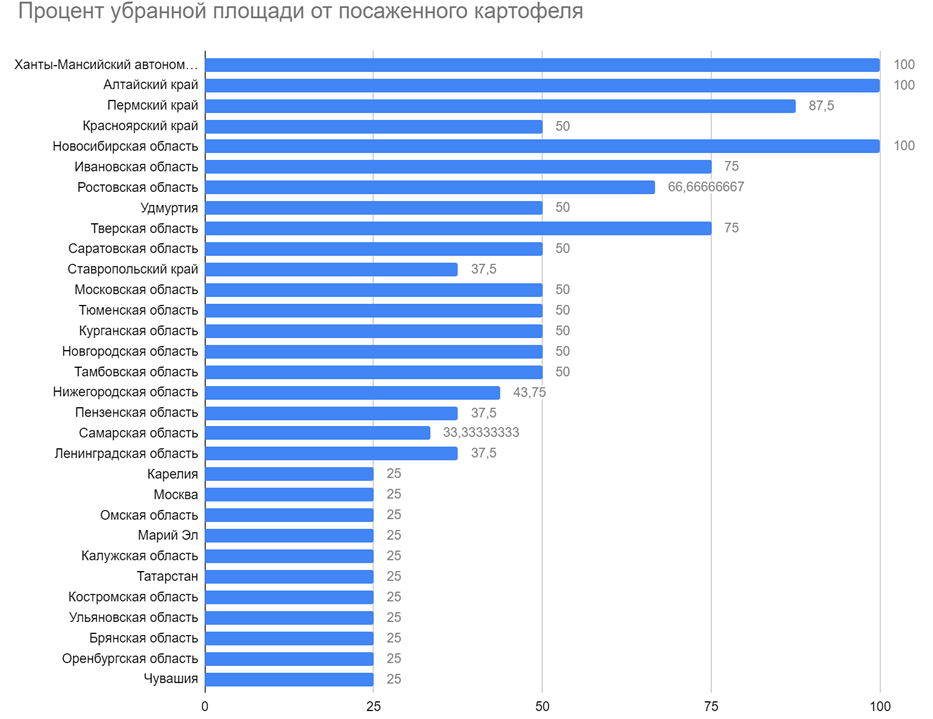 Overall results
| 1. Please indicate the region in which your farm is located | Price per kg of potatoes in rubles | Percentage of area harvested from potatoes planted | Average yield of tons per hectare of potatoes |
| --- | --- | --- | --- |
| Leningrad Region | 14 | 0 | |
| Chuvashia | 12 | 25 | 15 |
| Novgorod region | 15 | 25 | 28 |
| Altay | 17 | 50 | 42 |
| Omsk Region | 14 | 25 | 32 |
| Sverdlovsk region | | 0 | |
| Astrakhan region | 13 | 50 | 40 |
| Nizhny Novgorod region | 13 | 0 | |
| Omsk Region | 15 | 25 | 30 |
| Udmurtia | 12 | 0 | 18 |
| Novosibirsk region | 10 | 25 | |
| Udmurtia | 10 | 0 | 15 |
| Krasnodar | 15 | 100 | 30 |
| Kursk region | 12 | 50 | 42.5 |
| Sverdlovsk region | | 0 | 23 |
| Perm | 13 | 25 | 20 |
| Volgograd region | 12 | 50 | 42 |
| Altay | 15 | 25 | |
| Ryazan region | | 75 | 50 |
| Primorsky Krai | 20 | 25 | 38 |
| Nizhny Novgorod region | 12 | 0 | 10 |
| Chuvashia | 12 | 25 | 18 |
| Tula region | 10 | 25 | 25 |
| Stavropol region | 13 | 75 | 40 |
| Novgorod region | 15 | 0 | 35 |
| Kostroma region | 14 | 0 | 35 |
| Smolensk region | 12 | 25 | 18 |
| Smolensk region | 12 | 25 | |
| Karelia | 20 | 0 | 45 |
| Udmurtia | 12 | 25 | 18 |
| Karelia | 20 | 0 | 35 |
| Rostov region | 12 | 25 | |
| Udmurtia | 10 | 0 | 18 |
| Sverdlovsk region | 12 | 25 | |
| Kostroma region | 14 | 0 | 35 |
| Novgorod region | 17 | 0 | |
| Novgorod region | 15 | 0 | |
| Krasnoyarsk Territory | 14 | 75 | 25 |
| Crimea | 12 | 100 | 60 |
| Nizhny Novgorod region | 12 | 25 | 12 |
| Volgograd region | 14 | 25 | 50 |
| Vologda region | 13 | 25 | 30 |
| Tambov region | 15 | 0 | 40 |
| Samara region | 13 | 25 | 50 |
| Kostroma region | 14 | 0 | 35 |
| Kemerovo region | 13 | 25 | 30 |
| Leningrad Region | 12 | 25 | 25 |
| Kirov region | 12 | 0 | 10 |
| Yaroslavl region | 15 | 25 | 16 |
| Yaroslavl region | 15 | 25 | 16 |
| Nizhny Novgorod region | 10.5 | 0 | 20 |
| Pskov region | 13 | 25 | 35 |
| Krasnodar | 13 | 50 | 35 |
| Nizhny Novgorod region | 12 | 0 | |
| Tula region | 12 | 25 | 30 |
| Chuvashia | 13 | 0 | |
| Novgorod region | 16 | 25 | 27 |
| Crimea | 13 | 0 | |
| Orenburg region | 15 | 25 | 30 |
| Ulyanovsk region | 15 | 0 | 30 |
| Chuvashia | 11 | 25 | 35 |
| Udmurtia | 10 | 0 | 18 |
| Leningrad Region | 15 | 25 | 30 |
| Udmurtia | 12 | 0 | 15 |
| Mari El | 11 | 0 | 40 |
| Kostroma region | 14 | 0 | 35 |
| Nizhny Novgorod region | 13 | 0 | 45 |
| Astrakhan region | 12 | 25 | 78 |
| Omsk Region | 15 | 25 | 25 |
| Bryansk region | 13 | 25 | 35 |
| Kostroma region | 14 | 0 | 35 |
| Kabardino-Balkaria | 14 | 25 | 35 |
| Altay | 16 | 25 | 30 |
| Chelyabinsk region | 11.5 | 0 | 30 |
| Nizhny Novgorod region | 15 | 25 | 35 |
| Omsk Region | 15 | 25 | 25 |
| Krasnoyarsk Territory | 15 | 0 | |
| Udmurtia | 13 | 25 | 25 |
| Tver region | 13 | 25 | 40 |
| Tula region | 12 | 25 | 25 |
| Moscow region | 17 | 25 | 35 |
| Udmurtia | 16 | 25 | 10 |
| Novosibirsk region | 12 | 100 | 35 |
| Perm | 14 | 25 | 15 |
| Tula region | 12 | 25 | 25 |
| Moscow region | 20 | 25 | 35 |
| Kabardino-Balkaria | 13 | 25 | 30 |
| Krasnodar | 13 | 100 | 27 |
| Rostov region | 11 | 50 | 42 |
| Samara region | 13 | 25 | 50 |
| Karelia | 19 | 25 | 35 |
| Mari El | 11 | 25 | 35 |
| Ulyanovsk region | 13 | 0 | 20 |
| Yaroslavl region | 16 | 25 | 18 |
| Novosibirsk region | 13 | 100 | 35 |
| Moscow region | 17 | 25 | 35 |
| Altay | 14 | 75 | 35 |
| Udmurtia | 17 | 25 | 10 |
| Stavropol region | 14 | 100 | 20 |
| Rostov region | 11 | 50 | 43 |
| Novgorod region | 15 | 25 | 30 |
| Novosibirsk region | 12 | 75 | 35 |
| Bryansk region | 13 | 25 | 40 |
| Krasnoyarsk Territory | 18 | 25 | 45 |
| Perm | 18 | 25 | 16 |
| Novosibirsk region | 13 | 100 | 35 |
| Volgograd region | 15 | 50 | 55 |
| Volgograd region | 14 | 50 | 55 |
| Altay | 15 | 50 | 30 |
| Udmurtia | 10 | 25 | 18 |
| Mari El | 12 | 25 | 40 |
| Primorsky Krai | 20 | 25 | 35 |
| Stavropol region | 15 | 50 | 40 |
| Samara region | 13 | 25 | 40 |
| Chelyabinsk region | 20 | 25 | 20 |
| Rostov region | 18 | 75 | 45 |
| Yaroslavl region | 17 | 25 | 18 |
| Mari El | 13 | 25 | |
| Astrakhan region | 12.5 | 50 | 40 |
| Nizhny Novgorod region | 12 | 25 | 10 |
| Perm | 18 | 25 | 10 |
| Kostroma region | 14.5 | 25 | 35 |
| Rostov region | 20 | 75 | 40 |
| Novosibirsk region | 13 | 100 | 35 |
| Tambov region | 15 | 0 | 50 |
| Perm | 15 | 50 | 18 |
| Krasnoyarsk Territory | 18 | 25 | 50 |
| Chuvashia | 14 | 50 | 20 |
| Omsk Region | 16 | 25 | 28 |
| Sverdlovsk region | 14 | 0 | 25 |
| Chuvashia | 11.5 | 25 | 36 |
| Karelia | 18 | 25 | |
| Ivanovo region | 20 | 25 | |
| Novosibirsk region | 10 | 100 | 35 |
| Samara region | 12 | 25 | 45 |
| Nizhny Novgorod region | 12 | 50 | 10 |
| Leningrad Region | 12 | 50 | 27 |
| Chuvashia | 12 | 25 | 40 |
| Ulyanovsk region | 13 | 0 | 20 |
| Bryansk region | 13 | 25 | 40 |
| Orenburg region | 13 | 25 | 45 |
| Penza region | 13 | 25 | 45 |
| Saratov region | 13 | 25 | 40 |
| Astrakhan region | 13 | 0 | |
| Nizhny Novgorod region | 13 | 25 | 35 |
| Nizhny Novgorod region | 13 | 50 | 15 |
| Penza region | 13 | 50 | 45 |
| Saratov region | 13 | 75 | 45 |
| Samara region | 13 | 50 | 45 |
| Nizhny Novgorod region | 13.5 | 50 | 200 |
| Ulyanovsk region | 14 | 25 | 45 |
| Krasnoyarsk Territory | 14 | 25 | 50 |
| Bryansk region | 14 | 25 | |
| Bryansk region | 14 | 25 | |
| Bryansk region | 14 | 25 | |
| Krasnoyarsk Territory | 14 | 100 | |
| Rostov region | 14 | 75 | 35 |
| Tambov region | 14 | 50 | 40 |
| Ulyanovsk region | 14 | 0 | 25 |
| Rostov region | 14 | 75 | 44 |
| Rostov region | 14 | 25 | 35 |
| Kostroma region | 14.5 | 25 | |
| Rostov region | 14.5 | 50 | 45 |
| Mari El | 15 | 25 | 35 |
| Kaluga region | 15 | 25 | |
| Novgorod region | 15 | 50 | 40 |
| Rostov region | 15 | 75 | 44 |
| Tatarstan | 15 | 25 | 25 |
| Perm | 16 | 75 | |
| Krasnoyarsk Territory | 16 | 25 | 50 |
| Tver region | 16 | 75 | 30 |
| Omsk Region | 16 | 25 | 28 |
| Tyumen Region | 16 | 50 | 35 |
| Perm | 16 | 100 | 20 |
| Kurgan region | 16 | 50 | 25 |
| Leningrad Region | 17.1 | 25 | 38 |
| Altay | 18 | 100 | 40 |
| Udmurtia | 18 | 25 | 10 |
| Stavropol region | 18 | 50 | 40 |
| Rostov region | 18 | 75 | 42 |
| Karelia | 18 | 25 | 30 |
| Moscow region | 18 | 50 | 35 |
| Stavropol region | 18 | 25 | |
| Udmurtia | 18 | 75 | 15 |
| Moscow | 18 | 25 | 4 |
| Rostov region | 18.5 | 75 | 44 |
| Rostov region | 22 | 75 | 43 |
| Rostov region | 22 | 75 | 42 |
| Samara region | 22 | 25 | 40 |
| Ivanovo region | 23 | 75 | 28 |
| Khanty-Mansi Autonomous Okrug - Yugra | 40 | 100 | |
| Khanty-Mansi Autonomous Okrug - Yugra | 40 | 100 | |
Take the survey