Continuing the topic of choosing potato varieties for cultivation, we suggest that you consider the principle of a varietal conveyor.
The main criteria for choosing a variety are the existence of a stable market for it and profit. The economic component in our days still plays a paramount role. Further, the soil and agro-climatic conditions of the economy, the resistance of the variety to diseases and keeping quality are taken into account.
The selected potato varieties should fully reveal their potential, and the resulting crop should be of good quality.
Agro-enterprises, as a rule, try to include in their lineup varieties that differ in optical characteristics and / or directions of use - thus, the farm can satisfy the needs of different consumer groups. Growing several "diverse" varieties on the farm helps to reduce risks when market needs change: for example, at some point, red-skinned varieties begin to be in great demand, and their price rises, but the cost of white-skinned ones falls. If the economy has both, it compensates for losses in one direction at the expense of the other.
Many grow varieties of various uses (table potatoes, chips or fries), insuring against price fluctuations in the commodity potato market.
All these and many other nuances are taken into account when forming a conveyor of varieties. What it is?
The concept is based on the principle of selection of varieties, which makes it possible to optimally distribute the working time of people and equipment (it is known that in cases where potato growers work with varieties of the same ripening group, it is not always possible to harvest the entire volume of potatoes grown in optimal terms).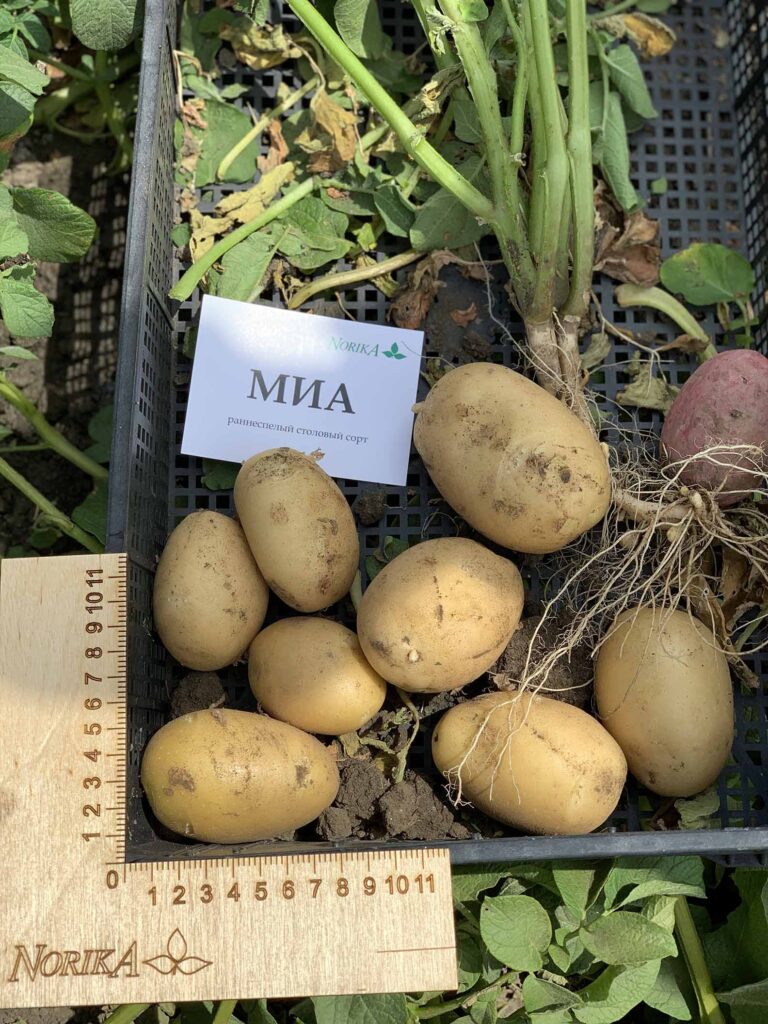 Of course, this does not mean that varieties of all maturation groups, from early ripening to late, should be present in the lineup of each farm.
A set of varieties is always formed taking into account the location of the farm (region, climatic conditions) and the tasks that the enterprise sets for itself.
The "backbone" of the line of the average economy of Central Russia or the Volga region, as a rule, is made up of medium-early and mid-ripening varieties, a smaller proportion falls on early and medium-late-late varieties.
So, the NORIKA selection pipeline might look like this:
early (one or two varieties to choose from): Akseniya (65 days), Paroli (65 days), Mia (75 days), Bonus (75 days);
mid-early (two or three varieties to choose from): Baltic Rose (80 days), Gala (75-80 days), Kibits (80 days);
mid-season (one or two varieties to choose from): Vega (85 days), Wendy (85 days), Inara (85 days), Pirol (90 days);
mid-late (one or two varieties to choose from): Merlot (105 days), Albatross (110 days).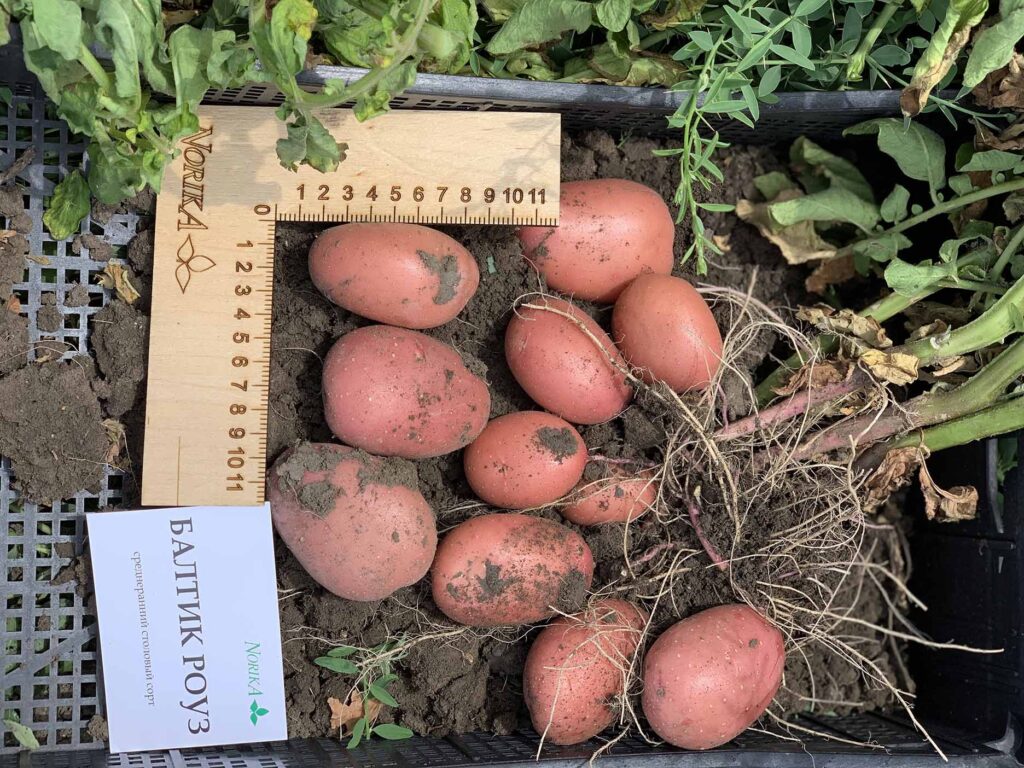 When choosing specific positions, it is necessary to take into account the characteristics of each agricultural enterprise. For example, farms located in an arid zone and not having irrigation equipment should not undertake the cultivation of moisture-loving varieties.
Medium-late and late varieties are not recommended to be grown in flooding areas (loams, lowlands), autumn rains can make harvesting very difficult or even impossible.
Specialists of LLC "NORIKA-SLAVIA" - the exclusive representative of the NORIKA breeder in Russia - always tell customers that each variety needs to be worked on in its field in order to assess its needs and its capabilities for its cultivation.
It is better to draw conclusions about whether a variety is suitable for your farm based on the results of trial plantings, and experience for one variety should be carried out for at least two years.
And the first impressions about the achievements of breeding can be formed after visiting the demonstration sites of breeding and seed companies.
LLC "NORIKA-SLAVIA" this year will present on the experimental plots such varieties as: Akseniya, Paroli, Baltic Rose, Gala, Vega, Wendy, Mia, Inara, Merlot.
We will be happy to tell you more about each of them.


NORIKA-SLAVIA LLC is the exclusive representative of NORIKA breeder in Russia
Tel .: + 7 (499) 922-05-50
e-mail: the norika-m@yandex.r
telegram: norika_chanel