Interview with General Director of JSC "Rosagroleasing" P.N. Kosov on the eve of the International Agricultural Exhibition "YUGAGRO 2021"
General Director of JSC "Rosagroleasing" Pavel Kosov told the YUGAGRO exhibition team about the results of the implementation of the special program "Antivirus Offer", work with manufacturers of agricultural machinery, immediate plans for the development of the company and the importance of the YUGAGRO exhibition for the entire agro-industrial complex of Russia.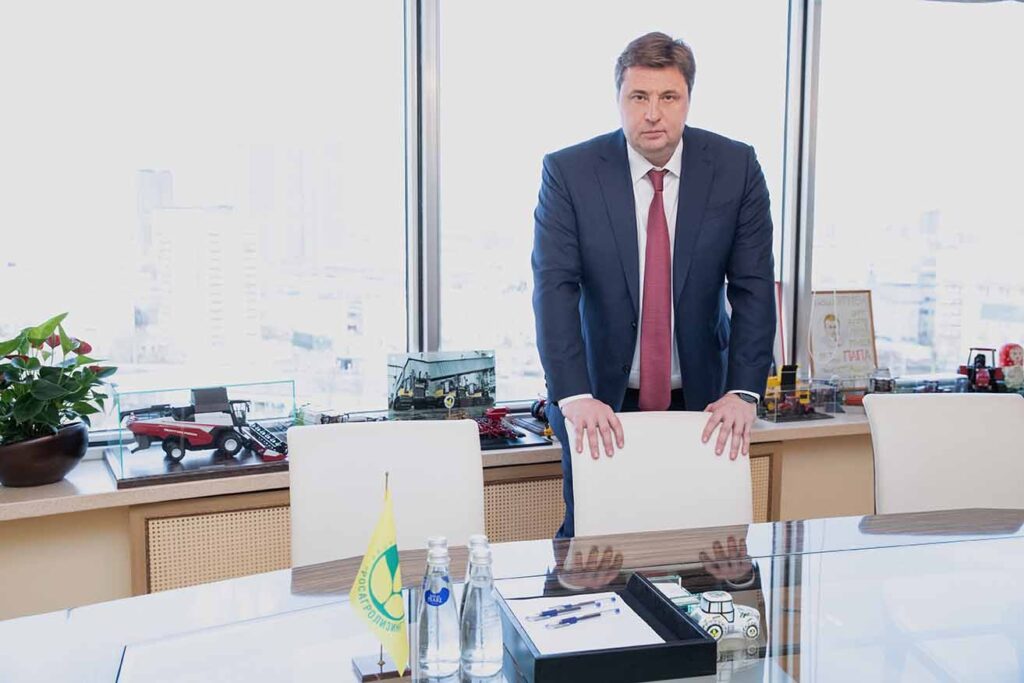 Last year in Russia, for the first time in a long period of time, the number of new equipment that appeared at agricultural producers exceeded the number of retired machines. What do you think contributed to this?
Last year, Rosagroleasing successfully implemented a special Anti-Virus Offer program, an Early Booking campaign, which made it possible for farmers to purchase equipment at a profit. Rosagroleasing has delivered machinery worth 38,5 billion rubles to the fields, which is almost 10 thousand units, including about 2 thousand tractors, 1,5 thousand combines. This is 1,6 times more than in 2019. We have never shown such volumes of issued equipment - this is a record. Of course, this was influenced by our programs in conjunction with other support measures used by farmers. The trend of equipment obsolescence was interrupted last year. At the same time, machine builders state an increase in the volume of production, and the share of domestic equipment on the market has grown significantly.
How many units of equipment do you currently have in the marketplace and from which manufacturers? How are manufacturers selected?
The range of leased items in our marketplace is about 18 thousand items from almost 400 manufacturers of machinery and equipment. Our suppliers are the largest domestic or foreign machine builders who produce equipment that has no analogues in Russia.
Rosagroleasing is constantly working with manufacturers of machinery and equipment, therefore our marketplace is constantly replenished with new leased items. Each new manufacturer that plans to cooperate with us passes our commission for working with suppliers. The procedure is simple, but extremely important, because we are very attentive to the quality of machinery and equipment that we supply on lease.
What region of Russia is the most priority for you in terms of working with lessees?
We do not divide our clients on a territorial basis. For us, all clients are equal. More than 14 thousand contractors from all over the country cooperate with us, including small farms and large agricultural holdings. The most important thing is that we give everyone the same support and uniform conditions for purchasing machinery or equipment on lease.
What agricultural machinery is currently in greatest demand among farmers?
In 2021, Rosagroleasing continues to maintain the set trend of renewing its fleet of equipment. As of today, deals worth 44 billion rubles are in different stages of delivery. Tractors of various models, as well as harvesters of domestic manufacturers, are in the greatest demand for leasing.
In February, your company celebrated its 20th anniversary. How do you see the next 20 years of the company's work?
We have a clear plan for the company's work for the next few years: not to slow down the given pace of technical and technological modernization of the industry, launch new directions of leasing, and also become more accessible and faster for our clients.
Your company is a permanent participant of the YUGAGRO exhibition. What, in your opinion, is the significance of YUGAGRO for the Russian agro-industrial complex?
Rosagroleasing traditionally takes part in the YUGAGRO exhibition, because it is a good platform for direct dialogue with customers, suppliers and partners. Here we can tell about ourselves and get feedback about our work so that we know where to go next.
For the agricultural industry, the YUGAGRO exhibition is also important, because it demonstrates the achievements of Russian farmers, agricultural machine builders and all industry participants. Here you can see the contribution of the regions of the South to the agro-industrial complex of Russia.
Seek advice and ask all your questions to specialists and managers Rosagroleasing possible during the largest exhibition of agricultural machinery, equipment and materials for the production and processing of crop agricultural products in Russia YUGAGRO. The exhibition will take place on November 23-26, 2021 in Krasnodar, at the site of the "Expograd Yug" exhibition complex, st. Congress, 1.
Free registration of visitors is already open on the exhibition website. Both one visitor and a group can register. An important advantage of electronic registration is not only money saving, but also time saving. With an e-ticket, you can enter the pavilions immediately, skipping the queues at the counters. You must either print the registered ticket or save its image in your mobile phone. The e-ticket is valid for all 4 days of YUGAGRO 2021.
Strategic Sponsor of the Exhibition - CLAAS
The general partner of the exhibition is Rostselmash
General sponsor of the exhibition - ROSAGROTRADE company