Sergey Banadysev, Doctor of Agricultural Sciences, Doka Gene Technologies LLC
Potato minitubers (MK) are the first tuberous offspring of sterile potato plants. Obtaining mini-tubers is the first year of the potato seed scheme in all countries with developed potato production. Potato mini-tubers are grown only in protected ground conditions, which exclude the risks of re-infection of plants with viral, fungal and bacterial diseases (if tubers from sterile plants are grown in open ground, then not mini-tubers are obtained as a result, but the first field generation).
It is generally accepted that the diameter of a mini-tuber should be at least 10 mm, anything less is a micro-tuber.
The need for mini-tubers for the production of 10 thousand tons of elite is: with a five-year scheme of OS and ES (original and elite seed production) - 50 thousand pieces; with a four-year scheme of OS and ES - 400 thousand pieces; with a three-year scheme - 3 million pieces.
The Russian Federation has its own solid scientific and innovative base in this area. The large-scale introduction of the most modern technologies for growing mini-tubers in the Russian Federation has always been carried out ahead of other countries with developed potato growing: so the substrate technology was introduced 40 years ago, 15 biotechnological centers worked on it; hydroponic - 30 years ago, it is used by Doka - Gene Technologies, Meristematic Cultures; aeroponic - developed at the All-Russian Research Institute of Agricultural Biotechnology (All-Russian Research Institute of Agricultural Biotechnology) in the early 2000s, since 2010 this technology has been promoted by the International Potato Center and actively spread around the world. In the Russian Federation, industrial plants for growing mini-tubers are produced: Potato Tree and Meristem. At the same time, most domestic seed-growing enterprises still produce mini-tubers in small volumes, within the limits of the need for a five-year scheme for obtaining the elite. Only the FAT-Agro company has reached the level of more than 2 million units per year, which is enough to switch to a three-year scheme.
An all-out increase in the production of mini-tubers in order to reduce the seed production scheme and improve product quality is a strategic way to develop potato seed production. With this perspective in mind, many attempts have been made in recent years to improve cultivation techniques. The main goal of innovations is to obtain as many mini-tubers as possible per plant in vitro and per unit area of ​​the greenhouse. To achieve it, many methods of crop production are used, but not all solutions proposed based on the results of scientific research give results in industrial production.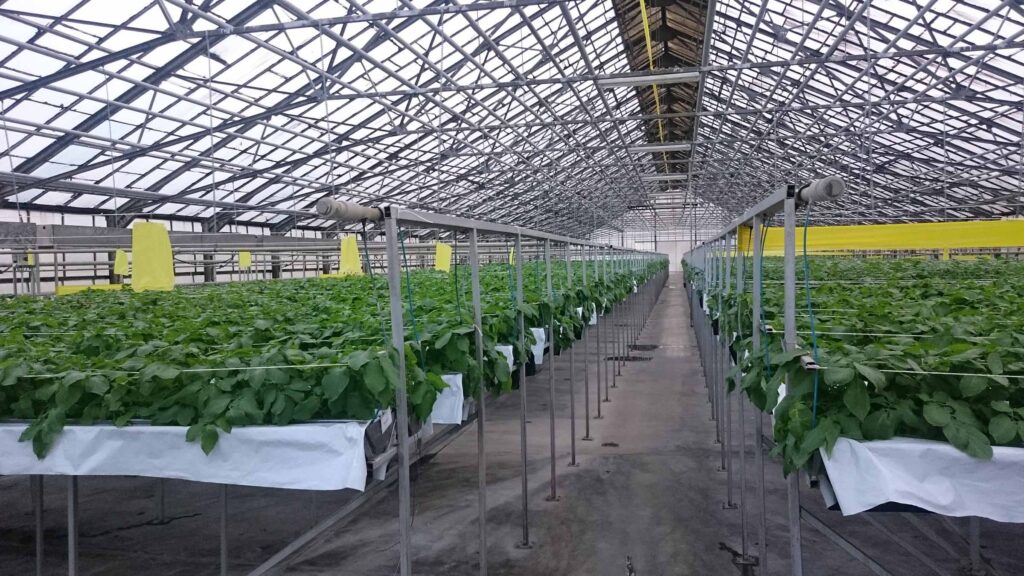 Many aspects of efficient high-volume minituber production are know-how. The Russian production of mini-potato tubers has always been carried out on the most efficient and advanced scientific and technological basis. And now the country has available and applied technologies that are significantly superior to the world level.
The primary condition for the qualified production of mini-tubers is compliance with the current rules and regulations. The regulatory framework of the Russian Federation on this topic is advisory in nature, in the current regulation on the certification of agricultural crops, for example, there is not a word about the rules for the production and certification of mini-potato tubers. In such a situation, it is necessary to focus on international experience. In all countries with developed potato seed production, mandatory requirements for the organization, technology and quality of produced mini-tubers have been adopted, officially approved and strictly observed.
These requirements should be taken as a basis by domestic enterprises specializing in the production of mini-tubers, in the format of enterprise standards, for self-control, until the state has formed an official regulatory framework in this area. For example, in the Russian Federation there are norms for technological design of breeding complexes and reproduction greenhouses NTP-APK 1.10.09.001-02. However, the developers of the NTP did not include in the document a section on the mandatory features of structures intended for growing mini-tubers. And there are many such features, for example: a greenhouse should have a double door with a dressing room for changing clothes. The changing area should be equipped with foot pads and detergent for washing and disinfecting hands. Entrance doors and all ventilation openings must be covered with aphid protection mesh (mesh size maximum 0,5 by 0,9 mm). The room must be properly controlled for temperature and humidity (applicable for a glass house). A soil-free medium should be used for the adaptation of sterile plants. If a soil/soil mix is ​​used, it must be treated/sterilized appropriately to ensure the absence of soil pathogens.
The minituber crop must be obtained from officially certified microplants or microtubers grown in an aseptic environment from the meristematic tissue of the source material, tested for the absence of viruses, viroids and bacteria that infect potatoes in a properly accredited testing laboratory.
Methods, procedure, frequency of testing the quality of the material at all stages of the production of mini-tubers are strictly regulated.
A lot of practically significant information has been accumulated on the optimization of potato micropropagation protocols. Research in this area shows ample opportunities to improve plant growth and development based on changes in the concentration and ratio of nutrients. It has been established that the use of growth regulators in the culture of potato meristems is not necessary, but the addition of certain substances, even at low concentrations, increases and accelerates the production of the material. It is important to optimize the incubation conditions of micropropagated potato plants using various light sources, lighting modes and room ventilation. With the advent of LED lamps, their capabilities began to be actively studied in relation to potato micropropagation. Red and far red light spectrum increase growth characteristics; however, the combination of red + blue + far red/white light has a better effect on tuber formation and accumulation of primary metabolites.
Technologies for growing mini-tubers are divided into two main groups: substrate (great variety) and non-substrate (water culture and aeroponics). The main technologies for the production of mini-tubers: on natural substrates (80% of the volume), hydroponic and aeroponic. Obtaining microtubers is also related to the topic of MC and is increasingly used for mass reproduction of the source material. The difference between microtubers and minitubers lies in the mode of the medium (microtubers are only grown under sterile in vitro conditions and minitubers only under protected ex vitro conditions) and tuber size. The results and conclusions obtained in practical experiments in many cases do not correspond to theoretical postulates regarding the possibilities of stimulating tuber formation in in vitro culture. This applies to both diets, the use of growth regulators, as well as growing conditions and the use of stress factors. If publicly available information on the technological regulations for the production of microtubers allows, in most cases, to obtain rather mediocre results - about or slightly more than one microtuber weighing 200-400 mg per plant, then professional adjustment of the technology in relation to specific production conditions increases the efficiency of the process at times. In the Russian Federation, there is know-how in this area with the production of at least three microtubers weighing more than 0,5 g from one plant in a standard test tube.
For year-round cultivation of microtubers and improvement of their quality, several different designs of bioreactors are commercially produced in the world. These semi-automatic systems allow you to reduce intensive manual processing and therefore increase productivity and reduce production costs. Microtubers obtained in bioreactors have a much larger mass and larger diameter. The latest technology in this area is the development of Japanese scientists and designers.
The large scale microtuber production system using plastic culture bags successfully produces between 100 and 300 microtubers per bag, depending on the variety. Changing the concentration of nutrients in terms of a lower content of sucrose, nitrogen, increasing the level of potassium phosphate in the medium made it possible to increase the total number and average weight of microtubers. Japanese technology allows to produce 250 microtubers per year (in three harvest-cycles) in a 000 m cultivation room2. and 80% of microtubers obtained by this technology have a mass of more than 1 g, i.e. suitable for planting directly in the field.
All over the world, the production of mini-tubers on natural substrates prevails. This technology, although well established, can still be significantly improved. Genotype, duration and conditions of in vitro cultivation, plant size, exposure to nutrients and growth regulators markedly affect minituber production. The age and pre-treatment of seedlings during planting, the conditions and period of hardening, the season of planting and growing, the composition of the soil environment, the method of planting, the density of plant placement, fertilizer doses, and lighting also affect the intensity of mini-tuber production.
Many natural substances and materials are suitable as a medium for growing mini-potato tubers. The main component of greenhouse substrates is traditionally peat. Alternative ingredients - such as perlite, vermiculite and vermicompost - have also gained popularity recently due to their acceptable aeration and water holding capacity.
In most cases, when growing mini-tubers in a substrate culture, it is necessary to apply macro- and microfertilizers. Among specialists, the technology using periodic watering and fertilizing infertile substrates with nutrients is called hydroponics. Hydroponic technologies for growing mini-potato tubers have varieties using inert substrates (sand, tree bark, coconut, etc.) and pure water culture (thin nutrient film).
All provisions of the theory of potato nutrition in relation to the possibility of controlling tuberization can also be applied in hydroponic cultivation, but there is an understanding of the need for a significant change in the concentration and ratio of nutrients for each variety and at different stages of vegetative growth, the initiation of tuberization and the growth of plant tubers. Nutrient solution compositions are given in most publications. At the same time, the number of tubers obtained from a plant and from a unit area differ several times. As far as the targeted adjustments to the nutrient solution to radically increase the number of tubers (and this is precisely the advantage of hydroponics) there is very little open information. In recent years, only a few publications have been published not with references to the well-known compositions of past years, but with original materials.
The most modern - aeroponic - technology for growing mini-tubers has a number of fundamental features. To date, all successive stages of its implementation have been worked out, but exploratory research continues. The special value of technological information on aeroponics is that it shows the direction of development of mini-tubers around the world today. These developments are applicable or can be adapted to other technologies for growing mini-tubers.
The choice of technology for the production of mini-tubers for specific conditions should be based on an analysis of production indicators, the level of risks, the need for labor resources, a comparison of investment costs, cost and profitability. Each technology has implementation options and significant fluctuations in production efficiency depending on many factors. All technologies use and are based on initial plant material from a sterile culture or microtubers. This stage is almost universal, it can be considered standard. In the very technology of growing mini-tubers, you have to choose from a large number of variables.
The vast majority of large seed companies currently grow mini-tubers in glass or film soil greenhouses on natural organo-mineral substrates with extensive use of peat. This technology has the lowest cost of a mini-tuber. As a rule, one crop is grown per year. In Europe, it is considered normal to get 4-5 tubers from one plant. Differentiated application of microfertilizers, biologically active substances, PPP allow to increase the multiplication factor up to 8-10.
Arguments in favor of the bioreactor are sterility, the maximum yield of micro-tubers per unit area. The disadvantages of a bioreactor are the need for a large number of plants, the small size of tubers, the problem of ripening and mechanized planting in the field.
The advantages of hydroponics are manufacturability, a real possibility of stimulating tuberization, industrial equipment; cons - poor development of the root system, the risk of infection spreading through the nutrient solution, laboriousness. Aeroponics requires more space and complete shade for the root system, due to better development and air supply, more tubers can be formed compared to hydroponics. However, aeroponic technology is the most demanding, the power supply should not be interrupted for more than half an hour.
This brief review shows that the development of a three-year scheme for the production of potato elite using a large number of mini-tubers is already a reality. The increase in volumes and intensification of production is achieved by obtaining the maximum number of mini-tubers per unit area with a minimum number of initial plants. Covered soil and source material are expensive, so obtaining only 2-3 tubers from one plant is an unpromising option, although the main volumes of mini-tubers in the world are still produced in this way. With substrate technology, the actual level of production is estimated according to the following parameters: normal - 100 pieces / m2, good - 200 pieces/m2; high - 300 pieces/m2 for the growing season. Hydroponic technology has the potential to produce 500 mini-tubers, aeroponic - 1000 mini-tubers per sq. m. of installation area for the growing season. For reference: the cost of cultivation facilities for substrate technology in 2021 was 50 thousand rubles. per square meter, for hydroponic - 100 thousand rubles, for aeroponic - 150 thousand rubles.
The main problem of growing mini-tubers indoors is to achieve a combination of active vegetative development with intensive tuber formation. It is possible to increase the intensity of tuberization by optimizing the microclimate (temperature, humidity, photoperiod), optimizing mineral nutrition; the use of tuberization stimulants, restrictions on vegetative growth. At the same time, obtaining mini-tubers in large volumes is a complex organizational and technological task. The nuances of intensive cultivation of mini-tubers have been commercial information for more than 20 years. There are no professional regulations in the public domain, this is the know-how of each individual enterprise.
In the second quarter of 2022, the book "Mini Potato Tubers" will be published, presenting and analyzing available scientific and commercial information on the topic, and with an emphasis on effective methods for increasing the intensity of mini-tuber production. The volume of information is more than 400 pages. The book will be available only by subscription. Send applications to: s.banadysev@dokagene. Ru