The Agroliga of Russia group of companies has for many years exclusively presented on the market a wide range of products of the Spanish company Agritekno, specializing in the production of organic fertilizers. These fertilizers can be fully attributed to natural biostimulants, since they include free amino acids and other organic substances that are directly involved in the metabolic processes of plants.
Oleg Savenko technical director of Agroliga LLC
Amino acid fertilizers "Agritekno" are produced from plant materials by enzymatic hydrolysis under gentle conditions, under strict adherence to acid and temperature conditions, due to which they are based on free L-amino acids of plant origin.
Agritekno fertilizers are presented with a very wide assortment both in the method of application (seed treatment, application with watering and foliar application), and in the scope of applications (field, fruit and berry, flower-decorative and vegetable crops). Recommended feeding schemes for all major crops have been developed and repeatedly tested by practice on agronomic and economic efficiency.
In open ground vegetable growing - both in rainfed when applied by spraying and when using drip irrigation systems - the use of Agritekno fertilizers shows high efficiency: both biological and economic, which is the most important argument for a specialist. Table 1 shows the results of production experiments on the use of Agritekno fertilizers on vegetable crops in the past season.
Organic fertilizer Thecamine Max Plus It is used to enhance the growth and development of culture, plant recovery after stressful situations. Thecamine Max Plus not only combines with other important components of foliar application, enhancing their action, but also supplements the nutrient mixture with amino acids necessary for plants, and also provides transport of mineral nutrients in the plant. For almost all cultivated plants, the yield is directly dependent on the size of the photosynthetic apparatus or leaf surface. The visual effect of fertilizer application Thecamine Max Plus it is expressed precisely in the growth of the aerial part of the plant, an increase in the intensity of the color of the leaves and in a healthier appearance of the plant. As a consequence of the general improvement of the leaf surface, a larger crop is formed - both aboveground and hidden underground.
The Tekamin fertilizer line in 2019 has been expanded with specialized products: Thecamine Flower Plus (for better flowering and ovary formation), Tekamin Brix Plus (to improve the size and color of fruits) and Tekamin Vigor Plus (to accelerate ripening and improve the quality of fruits).
Fertilizers of the Teknokel Amino Plus line are correctors of plant mineral nutrition, acting in combination with plant amino acids. Each plant requires a certain complex of microelements - depending on the agrochemical composition of the soil, the availability of specific nutrients - and the need for some of them varies greatly in different phases of development.
In the Teknokel Amino Plus fertilizer line, 10 items are already well known to the consumer: Mix, Boron, Zinc, Magnesium, Iron, Manganese, Calcium and Molybdenum; in the season of 2019 to this list were added Teknokel Amino K Plus (potassium) and Teknokel Amino VMo Plus (boron and molybdenum). A wide selection of products allows the agronomist to create his own unique foliar feeding scheme to prevent specific micro-deficiencies. So, Teknokel Amino Bor Plus is used on beetroot, its function is to prevent diseases associated with a lack of this element. Teknokel Amino Calcium Plus on onions is designed to improve the safety of bulbs during harvesting and storage, Teknokel Amino Mix Plus - for the general prevention of micronutrient deficiencies, etc.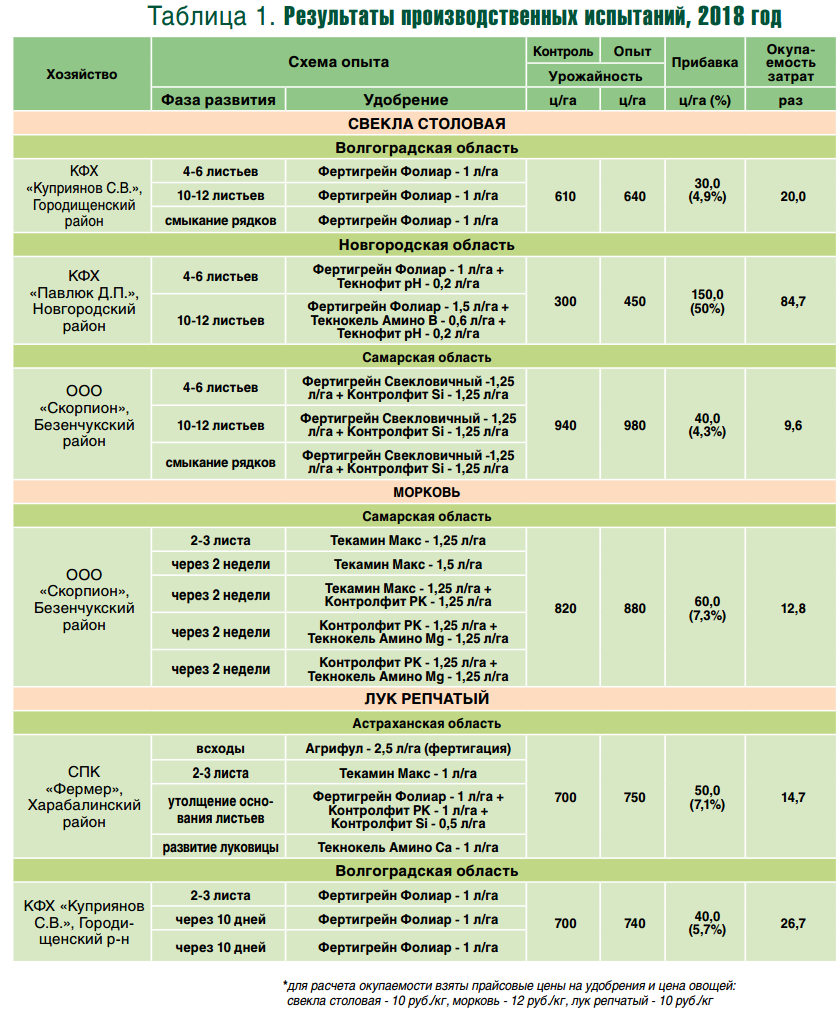 Controlfit RK (potassium phosphite) is a liquid fertilizer containing phosphorus in the form of phosphite (30%) and potassium (20%). Its use is most effective in those moments of plant life when the need for phosphorus-potassium nutrition is highest. In addition to the fertilizing effect, the use of Controlfit RK provides protection against fungal diseases due to the toxicity of phosphite for their pathogens. Other fertilizers of this brand also have a protective effect: Controlfit Cu (copper in the form of gluconate) and Controlfit Si (silicon in the form of potassium silicate).
When preparing working solutions, we recommend using Teknofit pH water conditioner, which significantly reduces the risks associated with water quality, the use of non-original pesticides, and increases the biological and economic efficiency of plant protection products and fertilizers for foliar application. Tekhnofit pH simultaneously acidifies alkaline, softens hard water, reduces the surface tension of water, improves the penetration of working solutions into the sheet and eliminates foaming.
On vegetable crops, especially in arid conditions, drip irrigation systems have increasingly been used, which makes it easy to ensure fertigation of plants, that is, the supply of dissolved nutrients with water during irrigation. This method is the most optimal and convenient way to provide plants with all the necessary substances. Table 2 shows some results of the effectiveness of the use of Agritekno fertilizers with irrigation.
On vegetable crops, especially in arid conditions, drip irrigation systems have increasingly been used, which makes it easy to ensure fertigation of plants, that is, the supply of dissolved nutrients with water during irrigation. This is a convenient way to provide many crops with all the necessary substances. It can be used, for example, for fertilizing Tekamin Rais Plus.
The main purpose of the fertilizer Thecamine Rais Plus - this is the stimulation of the development of the root system and the survival of plants during transplantation. Tekamin Rais Plus contains free L-amino acids, macro- and microelements, as well as seaweed extract. Brown seaweed extract contains natural phytohormones - auxins and cytokinins.
The assortment of Agritekno fertilizers also includes fertilizers specially designed for fertigation - Agriful Plus and new in 2019 - Agriful M40 Plus... Agriful is an organic liquid fertilizer based on fulvic acids with nitrogen, phosphorus and potassium. Fulvic acids, in contrast to humic ones, have high biological activity, excellent mobility, good penetration into plants, especially through the root system. These substances regulate the metabolism of plants, improving the permeability of cell membranes, activating enzymes; have the ability to transport mineral salts and nutrients from the soil to plant cells; increase the availability of essential micro and macro elements.
Agriful Plus recommended for root feeding of potatoes, vegetables, melons, fruit and berry crops, vineyards, tobacco, flowers, ornamental crops in open and protected ground during the entire growing season (application rate 3,0-5,0 l / ha with an interval of 10 -15 days). Agriful Plus is a completely harmless fertilizer and can be used both in traditional vegetable growing and in ecological - wherever there is a technical feasibility for fertigation.
The use of Agritekno fertilizers on vegetable crops allows not only to increase productivity, but also significantly improves the quality of manufactured products, increasing their marketability. For farms specializing in the cultivation of early vegetables, an additional bonus will be the acceleration of ripening, that is, the possibility of an earlier (1-2 weeks) entry into the market with quality vegetables before the appearance of the main local produce.
The Agroliga Russia group of companies is widely represented by a network of regional branches, whose specialists are always ready not only to timely supply the necessary agrochemicals, seeds and plant protection products to the leading world producers to farmers, but also to provide expert advice on crop production.