American scientists have found that the Rapanui civilization, which lived on Easter Island, disappeared due to sweet potatoes. The research data are published on the pages of a scientific journal.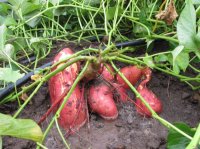 To find out where an entire civilization has disappeared, scientists conducted a study of the Rapanui tartar. Researchers managed to find grains of silica characteristic of palms - trees that disappeared in the 16th century, as well as starch.
This study indicates that the Rapanui civilization ate a large amount of potato, which was filled with microscopic phytoliths of palm trees that fell into the soil, and then into the potato itself. As a result, a catastrophic reduction in yield, which subsequently led to starvation and the extinction of an entire civilization.
A source: https://versiya.info