notice
: Trying to get property 'end' of non-object in
/home/potatoes/potatosystem.ru/wp-content/themes/jnews/class/ContentTag.php
on line
36
notice
: Trying to get property 'end' of non-object in
/home/potatoes/potatosystem.ru/wp-content/themes/jnews/class/ContentTag.php
on line
36
notice
: Trying to get property 'end' of non-object in
/home/potatoes/potatosystem.ru/wp-content/themes/jnews/class/ContentTag.php
on line
36
Boris Anisimov, Advisor on the development of scientific and educational programs - head of the educational center of the All-Russian Scientific Research Institute of Scientific Research
According to FAO estimates (2011), the global consumption of potatoes and potato products per capita is about 35 kg per year, while on average throughout the European region this indicator is at the level of 85 kg per capita. and in Russia - 90 kg per person.
In the Russian Federation, the average annual volume of potatoes used for food purposes is estimated at 13-14 million tons. For deep processing, about 1 million tons are spent on potato products (french fries, chips, dried mashed potatoes). The need for seed potatoes for categories of agricultural organizations (agricultural enterprises), peasant (farmer) farms (peasant farms) and individual entrepreneurs (SP) with a total planting area of ​​over 300 thousand ha is estimated at about 1 million tons. It is extremely difficult to assess the actual volume of use of potatoes for seeds and fodder in the category of households, although the estimated figure here may be 5-6 million tons. Losses during storage in farms of all categories can be estimated at 1,5 million tons, export deliveries - 150-200 thousand tons.
Thus, in Russia, the level of domestic potato supply should be at least 22 million tons. A decrease in this level may lead to a deficit in the overall balance of commodity potatoes, and, consequently, an increase in the share of imports. The projected share of imports in the total potato consumption is estimated at 300-350 thousand tons. This is predominantly an early "young" potato, for which demand and sales in retail chains usually increase during the off-season period, when the shelf life of last year's crop stocks is almost over (in May), and there is still not yet a lot of new potatoes available for trading less than two months.
The homeland of potatoes is South America, where this "culture" became known as far back as 12500 BC. e. on the northwest coast of Peru. From America to Europe (Spain), cultivated potatoes were brought, apparently, in 1565. The first potato was sent to Russia from the Netherlands by Peter I during his trip to Europe. The first attempts to spread potatoes in Russia were often unsuccessful due to the fact that the tubers were frozen during shipment. For this reason, in 1769, a medical commission sent to Siberia seeds collected in a St. Petersburg pharmacy garden for distribution to "curious bourgeois" and "good house-builders". In Ilimsk, the voivode office transferred 15 g of seeds to A. Berezovsky, who managed to grow seedlings and obtain tubers. According to V.S. Lekhnovich, A. Berezovsky, without knowing it, carried out the first selection of potatoes in Siberia, and perhaps in Russia.
A modern buyer is primarily interested in acquiring potatoes with good quality tubers that have an attractive appearance and, as a rule, a transparent thin peel. At the same time, the shape and size of tubers, the depth of the eyes, the color of the peel and pulp, the absence of external and internal defects due to the tendency of individual varieties to secondary growth (growth), the formation of growth cracks, hollowness, and the color of the pulp (discoloration) are also important. other internal defects that can occur in tubers due to possible climatic influences during vegetative growth or mechanical damage, especially during harvesting, transpor irovki and sorting.
The shape of the tubers of table potato varieties can vary from round to elongated, the standard size for the largest transverse diameter: 40-60 mm, eye depth: small to medium, skin color: white to red, pulp color: white - cream - yellow.
The whole complex of these indicators largely determines the consumer qualities of table potatoes and the possibilities of their intended use for cooking various dishes, and usually determines the popularity of varieties and the demand for them in the domestic market of food potatoes, especially when it is sold for sale in modern retail chains.
The nutritional value
In recent years, ideas about the nutritional value of potatoes as the most important product in human nutrition have changed markedly, which is largely due to the intensive development of selection in the direction of increasing the nutritional value of potatoes, as well as in-depth studies in the field of its biochemical composition.
The nutritional value of potatoes was not recognized immediately. A lot of funny cases are connected with this. For example, in 1586, English Admiral Francis Drake delivered potato tubers to England and handed it to his gardener to plant it on the best land and carefully care for the plants. The gardener carried out the assignment with great zeal. The potato sprouted, blossomed, green berries appeared on the tops. The gardener, taking them for fruit, tried. Finding that they were not tasty, he said with annoyance: "All my labors were wasted." The gardener showed the berries to the admiral, who ordered him to pull out the plant with the root so that they would not cause any harm to the garden. To his surprise, the gardener under each bush saw many of the same tubers that he planted. The tubers were boiled and given to the gardener to taste. "Oh! He exclaimed, "what a precious plant!" After that, the gardener not only grew potatoes himself, but also helped cultivate it for others.
Over the past 50-100 years, our knowledge of the chemical composition of food and the physiological value of its individual elements (and complexes) has expanded significantly. All this is important to consider in the framework of the modern concept of human nutrition, not only to satisfy the hunger, but also from the point of view of healthy nutrition. This approach makes it possible to re-evaluate all the constituent food elements in potato tubers.
The nutritional value of potatoes is largely determined by the favorable balanced ratio of the most important nutrients (starch, protein, fats, vitamins, minerals, antioxidants of anthocyanin and carotenoid nature and other components) in tubers.
At the same time, in the world literature, data on the content of essential nutrients in potato tubers vary significantly. This is explained by the fact that the biochemical composition of tubers depends on many factors: variety, soil and weather conditions, fertilizers, growing technology, degree of ripening, storage conditions, etc. The timing of analyzes (autumn or spring) also significantly affects the results.
International experts within the framework of the Organization for Economic Cooperation and Development (OECD) agreed on average indicators for the content of basic nutrients and their possible fluctuations due to various factors (table 1).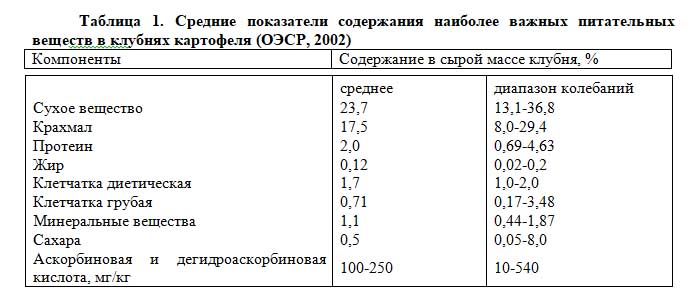 The importance of potatoes in human nutrition is also due to the content of components such as vitamins, minerals, organic acids (table 2).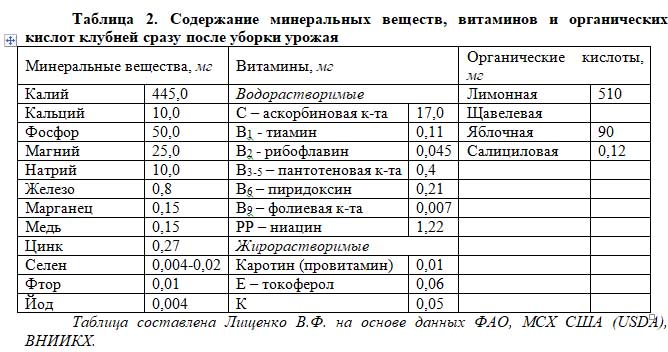 Having a fairly high potential for the content of ascorbic acid and especially valuable substances - antioxidants (anthocyanins, carotenoids), potatoes can play an important role in the prevention of a number of diseases and in this regard it is one of the most important products in a healthy diet of humans.
According to nutritionists from the UK, in the diet of modern man, a correctly balanced ratio of certain types of products is of key importance. Moreover, in a healthy balanced diet, the most favorable ratio is considered when the share of potatoes, bread and other grain products is at least 33%, vegetables and fruits - 33%, milk and dairy products - 15%, meat, fish and other alternative products - 12 %, products containing fats and sugars - 7%.
Potato protein contains 8 of the 20 essential amino acids. A significant portion of the daily requirement for vitamin C is met by potatoes. When consuming 100 g of potatoes, boiled in a peel and peeled before use, the human body receives about 20 g of carbohydrates, 2 g of protein, 0,1 g of fat and 2 g of fiber, although these indicators can also vary depending on varietal characteristics, growing conditions and other factors.
In the light of modern knowledge and ideas, the importance of the individual components of the biochemical composition of potatoes from the point of view of a healthy human diet is evaluated differently.
It turned out to be very important that in a potato tuber there is a lot of water (75% or more) and the energy concentration itself (i.e., the density of nutrients per 100 kcal) is relatively low. In potatoes, this concentration corresponds approximately to what the human body requires in the process of digestion and assimilation of food. According to this indicator, potatoes are more consistent with the needs of an adult compared to other foods of plant and animal origin.
Starch. This is the main component of potato and its main food and economic (economic) advantage. In a fresh tuber, on average, the proportion of starch is about 17,5% (fluctuation range 8,0-29%) or 75-80% in dry matter.
Raw starch is hardly digestible by humans. However, after heat treatment (for example, cooking), its digestibility sharply increases - up to about 90%. It should be borne in mind that in the human gastrointestinal tract, starch is gradually (stepwise) broken down by amylolytic enzymes to glucose, and only the latter is included in the metabolic cycle of the human body.
Potato starch in the human gastrointestinal tract is not completely digested to simple sugars; part of it in undigested form enters the large intestine. This is the so-called "protected starch." According to new medical data, this starch is a very valuable substrate for the microbiota of the human colon.
In the middle XVIII in. potatoes were already widespread in Europe, and during the reign of Catherine II It began to be grown in Russia in large areas in different parts of the country.
Europeans gradually learned to grow high potato crops, especially in the northern part of the continent. This was vitally important for the low-land peasants and townspeople, who could always, especially in the years of crop failure for crops, provide themselves and their families with food. In Europe, and somewhat later in Russia, potatoes have become a kind of guarantor of food security. The great Russian writer L.N. paid attention to this circumstance in his journalistic works. Tolstoy, when he studied the causes of famine in Russia at the end XIX in. He believed that the potatoes in the food of Russian peasants to some extent replaced bread and helped them survive in the hungry years.
Moreover, many demographers attribute the rapid population growth in Europe and in Russia to XVIII—XIX centuries with potatoes. This culture, in their opinion, also saved millions of lives not only during the years of crop failures, but also during the wars in Europe over the past three centuries.
The physiological effect of "protected starch" is that its cleavage by the intestinal microflora promotes the formation of organic acids, which, in turn, together with the so-called ballast substances, inhibit the growth of carcinogenic cells in the colon. The latter is very important for the prevention of cancer of this intestine.
Protein (crude protein). The crude protein content in potatoes is relatively low and amounts to about 2% (0,69-4,63%). However, this is not only a matter of quantity, but also of potato protein. The ratio of essential and non-essential amino acids in it is very important (it is about the same as in animal protein), therefore, potato protein is considered especially valuable, approaching more than 80% of the egg protein in the composition of the fractions. Digestibility of potato protein in the human gastrointestinal tract is above 90%. Among plant proteins from cultivated plants, potato protein has the highest biological value, in its nutritional value is second only to animal proteins (meat, milk, chicken egg). Today it is known that potato protein is rich in lysine and sulfur-containing essential amino acids.
Empirically it has long been determined that the population explosion in Europe in the XVIII-XIX centuries. was due to the fact that in those years in the diet of Europeans there were up to 400 kg of potatoes (per adult per year) and enough milk and dairy products. The combination of these two products ensured the nutrition of the population.
Fats. The fat content in potatoes is insignificant, which in itself is important in the dietary plan in the manufacture of various dishes and the preparation of diets. However, the composition of fatty acids is very valuable - first of all, thanks to such important components as doubly unsaturated linoleic (about 50% of potato fatty acids) and triply unsaturated linolenic (about 20%) acids.
In 1902, the German physiologist and hygienist M. Rubner established that potato protein is of high quality, including the content of essential amino acids. Subsequently, these findings were repeatedly confirmed. The most impressive evidence in their favor was given in 1965 by German physiologists E. Kofrani and F. Jackat, who found that potatoes and whole eggs are equivalent in quality to protein, and in their balance experiments on humans, the maximum biological value of protein was shown by the use of a mixture of potatoes and egg mass in the diet (ratio 65:35, i.e. a mixture of 500 g of potatoes with one egg. English researcher A. Jones noted that the protein content in potato dishes varies significantly depending on the method of their preparation: in ordinary boiled potatoes - 1,5%, in fried - 2,8, in fried - 3,8, and in fried potato flakes - up to 6%.
Ballast substances. For a long time, the so-called plant fibers were underestimated by nutritionists. Ballast substances are understood, first of all, as indigestible constituent elements of plant cell membranes such as carbohydrates (cellulose, pectins, hemicelluloses, lignin), which perform important, partly very different functions in the digestive process, affecting the metabolism. They play a large role in healthy eating. It is proved that these substances are a nutrient substrate for the microbiota of the human colon. It is actually a "second stomach"; organic acids formed as a result of microbiological processes actively affect the metabolism in humans. Undigested plant fibers serve as an adsorbent for water, gases and other unnecessary substances, helping to remove them from the body. Although the proportion of these substances in tubers is low (2,5%), a portion of 200 g of potatoes satisfies about a quarter of the daily human requirement for these components.
Minerals. Potato tubers contain a large number of macro- and microelements, which play an important role in the metabolism. With the daily consumption of 200 g of potatoes, the daily human need is satisfied: in potassium - by 30, magnesium - 15-20, phosphorus - 17, copper - 15, iron - 14, manganese - 13, iodine - 6 and in fluorine - 3%.
Vitamins. Potatoes contain a whole set of vitamins useful for humans, especially water-soluble ones, but their number in tubers is subject to great fluctuations. Of particular importance is the relatively high content of vitamin C (10-20 mg / 100g wet weight), which is slightly higher than in apples (10mg / 100g wet weight). When cooking, 10-20% of this vitamin is lost. With daily consumption of 300 g of potatoes, the daily requirement can be satisfied: vitamin C - by 70, B6 - 36, B1 - 20, pantothenic acid - 16, in B2 - by 8%.
Anthocyanins and carotenoids. In the light of new ideas about the role of dietary nutrition in improving the quality of life of people, potatoes are considered as one of the important crops with a high potential for the content of antioxidants, primarily anthocyanins and carotenoids, which strengthen the human immune system (Anisimov 2006, Simakov 2012).
In potatoes, these flavonoids are responsible for the blue, violet, red, orange, bright yellow color of the peel and pulp of tubers. It is these pigments that are of great value as sources of antioxidants, due to their ability to release free oxygen radicals in the human body. It is now well known that antioxidant-rich diets help reduce the risk of atherosclerosis, certain types of cancer, age-related changes in skin pigmentation, cataracts, etc.
Comparative evaluations showed that varieties with bright yellow, orange, red, and purple pulp significantly outperformed varieties with white pulp of tubers in the content of anthocyanins and carotenoids (Table 3).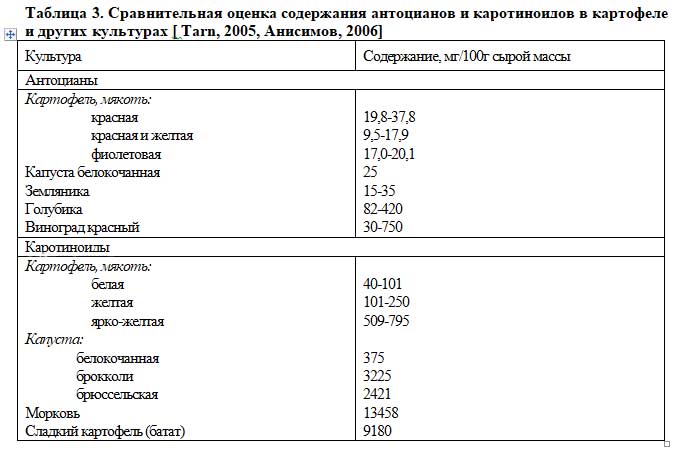 The range of fluctuations in the content of anthocyanins in pigmented potatoes is in the range of 9,5-37,8 mg per 100 g of raw weight of tubers. Prospects for further improvement of characteristics in this direction make it possible to put potatoes with colored pulp on a par with such valuable vegetable crops as broccoli, red bell pepper and spinach, known for their antioxidant properties. Potatoes with yellow flesh have long become popular in many countries of the world due to the relatively high content of carotenoids.
Modern studies confirm the possibility of further significant improvement of these indicators based on the creation of varieties with bright yellow, orange and red pulp, due to a higher content of carotenoids (500-800 mg per 100 g of wet weight). Even the most modest success of selection in this direction can be of great importance in human dietary nutrition and give a new impetus to the development of potato production as a crop of major global importance.
In the short term, we can expect that varieties with yellow, orange, red and purple pulp will become increasingly popular, and their contribution to human dietary nutrition will increase.
Thus, evaluating the role of potatoes in the nutrition of modern man, it is no exaggeration to state that potato tubers are not only food but also medicine. They are well digested and absorbed, they are practically free of allergens, they can be used in special protein diets, in diets where it is necessary to reduce acidity, etc.
However, we must not forget that potatoes belong to the nightshade family, which are characterized by the content of certain alkaloids that negatively affect human health. Potatoes also contain nitrates, heavy metals and acrylamide. All this must be considered when using potato tubers for food.
Nitrates. As you know, potato tubers contain a small amount of nitrates. In recent years, science has collected a lot of data confirming that moderate consumption of nitrates with food is even beneficial to human health. At the same time, in the human body, nitrates break down to nitrites, and the latter disinfect the oral cavity and gastrointestinal tract.
However, this happens with a moderate nitrate content. But in practice, quite often, an elevated level of nitrates in potatoes is also recorded. It depends on a number of factors: variety, weather and soil cultivation conditions, high doses of fertilizers, storage conditions, etc. The nitrate content in potatoes decreases during cooking, peeling, and industrial processing (frying, drying, chips).
The medicinal properties of potatoes have long been known. Essentially, after the spread of potatoes in Europe, the scurvy epidemics disappeared. Raw potato juice is used to treat gastric ulcer and duodenal ulcer. Potato is one of the diet foods for patients with kidney and cardiovascular diseases. In the flowers and tubers of potatoes, a capillary-strengthening agent was found.
The glycoalkaloid tomato contained in potatoes has antibiotic activity against certain pathogenic fungi and bacteria, as well as antihistamine activity, which is important in the treatment of allergies.
In folk medicine, grated raw potatoes are applied to the affected areas of the skin with burns, eczema and other skin diseases. By inhaling potato steam, catarrh of the upper respiratory tract is treated.
Solanin. In all organs of a potato plant, including in tubers, contains the poisonous steroid glycoalkaloid solanine, consisting of a-solanine and a-hakoin. But the concentration of this alkaloid is low: 2-60 mg / kg of fresh potato mass. A concentration of solanine at the level of 300-500 mg per 1 kg of raw potato mass is considered hazardous to human health. Since solanine is important for the plant itself as protection against natural enemies, it is concentrated mainly in the peel. The concentration level is different in different varieties. During storage and damage to tubers, the concentration of solanine increases slightly. But one must be wary of the tubers that have turned green and sprouted in the dark. In them, the concentration of solanine becomes dangerous to human health. It should be borne in mind that when cooking, solanine is not destroyed.
Enzyme (enzyme) inhibitors - Like solanine, they serve as protection for potato tubers. For humans, they are not dangerous, since they are easily destroyed by temperature exposure.
Heavy metals. The health hazards are primarily cadmium and lead. However, their content in potatoes is much lower than the thresholds for acceptable doses. When cleaning, the lead content in potatoes decreases by 80-90%, cadmium - by 20%. When cooking, the cadmium level decreases by another 25-30%; the lead content during cooking does not decrease.
Acrylamide. Acrylamide in potato products is formed from free amino acids and from simple sugars (glucose, fructose) during heat treatment (above +1200C) with a low water content. With increasing temperature during the processing of potato tubers, the amount of acrylamide increases.
Processors are aware of this, and therefore carry out additional blanching and apply other technological methods to reduce the acrylamide content in the final potato product (chips, french fries).
Culinary types of potatoes
Among the most significant dining qualities that determine the culinary type of potato varieties, the degree of digestibility, pulp density, mealy content and water content of tubers are especially important (Bukasov, 1975; Anisimov et al., 2012). According to these parameters, potato varieties are divided into 4 culinary types: from salad non-digestible (culinary type A) to more digestible and crumbly types (B, C, D), intended for use in the preparation of specific potato dishes (figures 1,2).
Type A - salad potatoes, not digested, tubers remain intact during cooking, the pulp is dense, not powdery, watery.
Type B - weakly boiled, the pulp is moderately dense, slightly mealy, slightly watery. The tubers are quite whole, pleasant to the taste. It is convenient for use in homemade food for making soups and side dishes for hot second courses (potatoes boiled in water or steamed, potatoes boiled or baked in a peel, mashed potatoes or homemade fries, etc.).
Type C - well-digested, the pulp is moderately mealy, tender (soft), rather dry, the tuber cracks, but does not break up when cooking. It is used mainly in the food industry.
Type D - potatoes are very boiled, very mealy, not watery and are used mainly for making mashed potatoes and processing for starch.
A fairly significant number of potato varieties show intermediate characteristics between the two culinary types (AB and BC). In this case, the first letter indicates the prevailing culinary type.
The original method of propaganda of potatoes was applied by the famous French chemist Permantier. He planted potatoes on the outskirts of Paris and set guard at the garden. In late summer, when the potatoes ripened, the guards deliberately began to leave their posts at night. Under the cover of darkness, the peasants, fearfully looking around, emptied the beds and carried away potatoes. The scientist triumphed from his invention - a lively illustration to the dictum: "The forbidden fruit is sweet."
Permantier also persuaded the French king Louis XVI pin on your chest a bouquet of the first flowers that appeared on the potato bushes. This made a splash in the royal court, wearing potato flowers in buttonholes became fashionable. Peasants who lived in the vicinity of Paris began to grow potatoes to sell flowers.
Prussian King Frederick William I issued a special decree to chop noses and ears for those who do not plant potatoes.
The non-recognition of potatoes as a food product is associated with the "potato" revolt in Russia.