NORIKA GmbH is a breeder of highly productive potato varieties with an extensive network of official representations around the world. For many years, the world market confirms the relevance and demand for varieties from our breeders. LLC "NORIKA-SLAVIA" is the exclusive representative of NORIKA in Russia, which began work with the organization of supply of elite seed potatoes from Germany.
Currently, the main task of the Russian company is to implement a full cycle of laboratory-greenhouse-field production, from in vitro culture to the production of an elite class of high-quality Russian seeds in the best seed farms in the country, as well as to provide consulting and information support for the production of NORIKA varieties.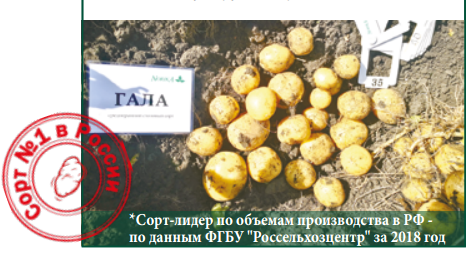 GALA - is an unsurpassed standard for the taste, keeping quality and quality of potatoes. In Russia, the variety is quite famous and has gained great popularity among potato growers. GALA is a high-quality medium-early table variety with a beautiful round-oval tuber shape, yellow skin and yellow pulp. Tubers with very small eyes, resistant to mechanical stress, are not prone to black spots and darkening in their raw state, which makes the variety suitable for washing, cleaning and packaging. The yield of the variety is high, the number of tubers per bush is 20-30 pcs. Responsive to watering. The variety has excellent taste, low-boiling type of cooking, which makes it versatile in the kitchen. The variety is highly resistant to most viruses and fungal diseases.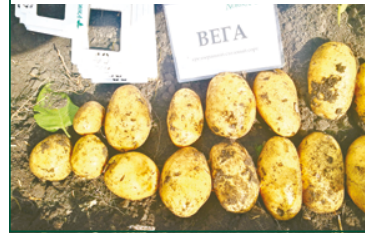 VEGA - mid-season table variety of a new generation with a beautiful oval tuber shape, yellow skin and dark yellow pulp. The pulp is distinguished not only by its rich color, but also by resistance to darkening in raw and boiled form. Larger-tuber variety than GALA, high-yielding, average number of tubers in a nest - 15 pcs. Drought-resistant variety, recommended for dry farming. Produces marketable tubers at the end of the growing season, therefore it is very resistant to lack of moisture during the spring-summer period. The taste is excellent, the variety is low-boiling, the type of cooking is universal. Possesses high resistance to virus Y, phytofluorosis of tubers and tops, rhizoctonia, black leg and scab. The variety is a kind of "magic wand", has all the prerequisites to be in the top set of varieties of the Russian potato grower.
GALA. We reveal varietal potential:
• the variety needs space for the formation of the crop, for commercial purposes the recommended planting density of certified seeds is 40 tubers / ha;
• Recommended fertilizer rates per 40 tons of marketable potato yield from 1 ha to (a.i. / ha) N: P: K: Mg - 180-200: 110: 340: 60; nitrogen is very important - 180 kg / ha, based on d.v., taking into account soil; apply fractionally - 50/50, especially on light soils - during planting and during the growing season, when the plants reach a height of ~ 15-20 cm;
• in the budding phase - the beginning of flowering, it is necessary to start nitrogen foliar feeding in order to prevent physiological aging of the tops and prolong the work of the foliar apparatus. Top dressing can be carried out together with fungicidal treatments in the evening or morning hours, at the rate of 5-10 kg / ha N (a.i.). You also need to remember about K and Mg - these elements are the basis of the quality of the crop. Since 2018, NORIKA is the copyright holder of all Saatzucht Fritz Lange breeding material.
Since 2018, NORIKA is the copyright holder of all Saatzucht Fritz Lange breeding material. According to the results of this testing season in the Moscow region, the following promising varieties can be distinguished:
SAFIA: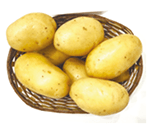 Medium early medium boiled table variety with high productivity.
- High marketability - beautiful tubers.
- Well withstands long storage periods, not prone to premature germination.
- Good taste.
Estrella: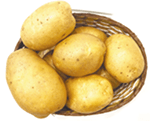 High-yielding mid-early table variety. The tubers are oval with a superficial occurrence of eyes and yellow flesh.
- Good taste.
- Attractive appearance of tubers.
- Resistant to mechanics.
- High keeping quality, not prone to premature germination.
AXENIA: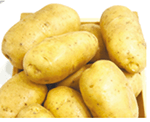 High-yielding, EARLY table variety with a uniform long-oval tuber shape, rich in yellow flesh.
- Suitable for baking and fries.
- Great taste.
- Rapid development and maturation.
- Resistant to mechanical damage.
We have already begun booking and concluding contracts for the volumes of seed potatoes in the season 2018-2019 and we traditionally offer seeds of both German and Russian production (from our production sites in Moscow and Arkhangelsk regions). Varieties from NORIKA are characterized by high yield potential, optical attractiveness, excellent taste, resistance to viral, bacterial diseases and mechanical damage, excellent keeping quality, stability of commercial quality.
We are not limited to sales, we provide agronomic support, including consulting assistance in the production of NORIKA selection varieties. We are ready to share available knowledge and experience on the characteristics of the production of our varieties with partners. By purchasing our seeds, you get the following benefits:
• soil and seed lots are free from quarantine objects and are regularly examined in the departmental laboratories of FS Rosselkhoznadzor;
• officiality - a transparent history of seed lots is confirmed by certificates of conformity issued by FGBU "ROSSELHOZTSENTR";
• the possibility of obtaining subsidies for seed material;
• understanding of "internal health" - all batches are tested in leading laboratories for viral and bacterial infection;
• pre- and after-sale agronomic support for the full use of the potential of NORIKA varieties!