The presence of highly productive potato varieties capable of fully realizing their potential in specific soil and climatic conditions is the key to obtaining rich and stable crops in the regions. In the Republic of Tatarstan, work on the creation of such varieties has been carried out since the middle of the last century. About what tasks the scientists set and set for themselves and what successes they have already managed to achieve, tells Zenon Stashevsky, Candidate of Biological Sciences, Head of the Department of Agricultural Biotechnology, Leading Researcher of the Tatar Scientific Research Agricultural Institute, a separate structural subdivision of the Federal Research Center Kazan Scientific Center of the Russian Academy of Sciences (TatNIISH FRC KazSC RAS).
A bit of history
Already in the days of the USSR, a lot of potatoes were grown in Tatarstan; in those years, at least six starch factories operated on the territory of the republic. Basically, the production of marketable potatoes was carried out in the northern regions, characterized by heavy loamy soils. Summer in the republic is usually hot and droughts are not uncommon, and loamy soils retain moisture longer, and this allows agricultural producers to successfully cultivate moisture-loving crops, including potatoes.
In the 50s, scientists from the Kazan Breeding and Experimental Station created two varieties of potatoes, then for a long time priority in the work of the scientific organization was given to issues of crop cultivation technology and especially seed production, this area was actively developing.
In the 90s, already on the basis of the Tatar Research Institute of Agriculture, a microclonal propagation laboratory was organized, which made it possible to produce 50-80 thousand potato microplants annually. Greenhouse mini-tubers were obtained from microplants in a special isolator. Further work was carried out according to the full scheme of seed production: mini-tubers were planted in the field and brought to the elite and super-elite. In the most successful years, specialists from the TatNIISH produced up to 2 tons of seed potatoes. During this period, scientists thought about the fact that the region needs its own varieties that can show good results in the difficult climatic conditions of the Middle Volga.
Breeding work was resumed in 2002. The breeders were faced with the task of creating varieties that are primarily resistant to viral diseases (causing the greatest damage to potato yields). Also, new varieties had to be distinguished by tolerance to high temperatures, that is, the ability to form a crop without compromising quality during short-term droughts.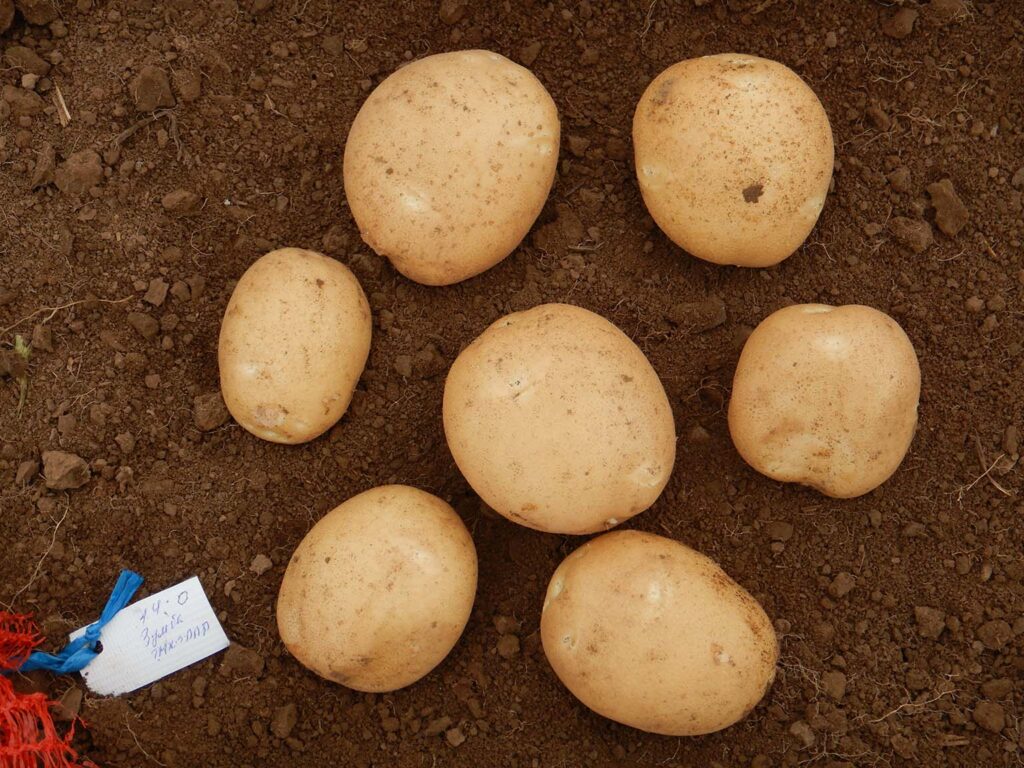 In 2015, the State Register included the first varieties created at the TatNIISH - Courtney and Reggie. In 2019, the Samba variety appeared. In 2020 - Zumba, in 2021 - Salsa. The first three varieties are immune, resistant to the y-virus. Zumba and Salsa are of a different type, they are more suitable for growing in the middle lane, as they are highly resistant to late blight.
I note that all these varieties are early ripe and medium early. In our region, it is preferable to grow varieties of these groups, because against the background of droughts, the peel of potato tubers is formed for a long time (longer than it would be with normal moisture). In late-ripening varieties (with a growing season of more than 120 days), the peel does not have time to form, and the tubers are severely injured during harvesting.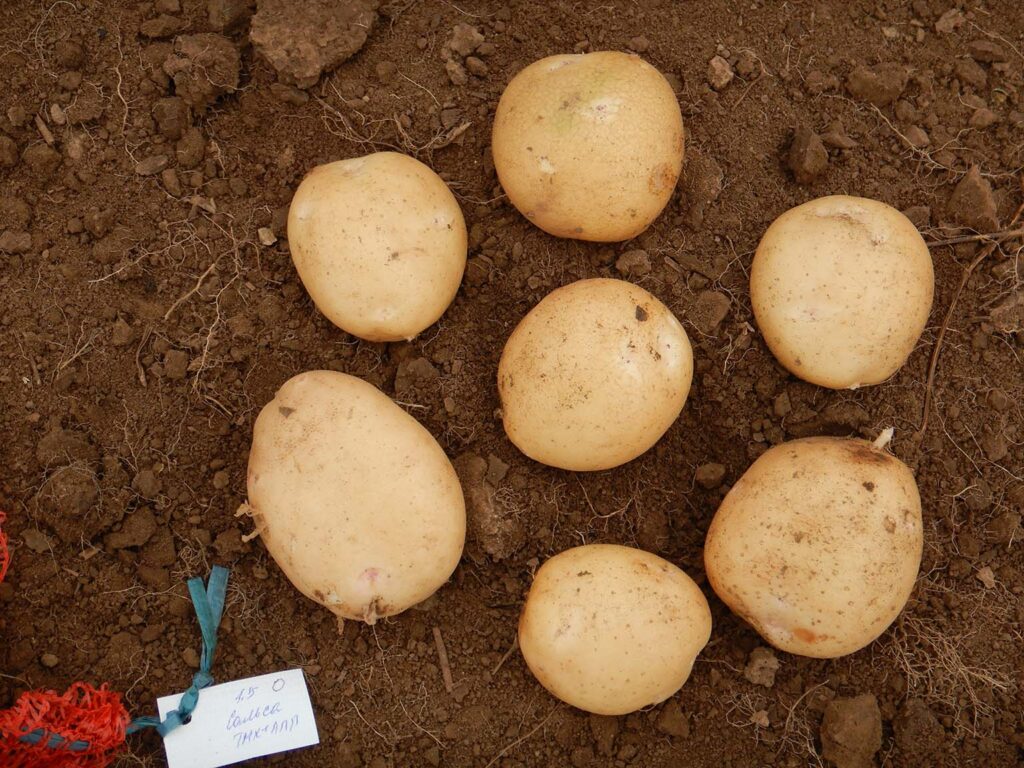 Motion vectors
The work on the creation of a variety has been going on for a long time, and often during this period market demands change. Now I can say that if the Courtney variety had appeared 20 years ago, it would have been perceived differently. Nowadays, it is very popular with summer residents, especially those who do not have the opportunity to water their plots, as it gives a crop in any conditions. But for modern agricultural producers, who are used to working with the best European varieties, the presentation of the tuber is very important: a smooth skin, an attractive shape. Therefore, we have recently concentrated on this task.
The second problem we are working on is the resistance of tubers to mechanical damage. Until the early 2000s, this indicator did not play a big role, since potatoes were harvested by hand almost everywhere. But then a strong mechanization of all processes began, and at that moment it became clear that many Russian varieties were not suitable for harvesting with a combine and pre-sale work on the conveyor. In the zone of the Middle Volga, this issue is still very acute, since during a drought the land dries up a lot, a lump forms, and losses during harvesting can reach 60%, no economy can withstand this.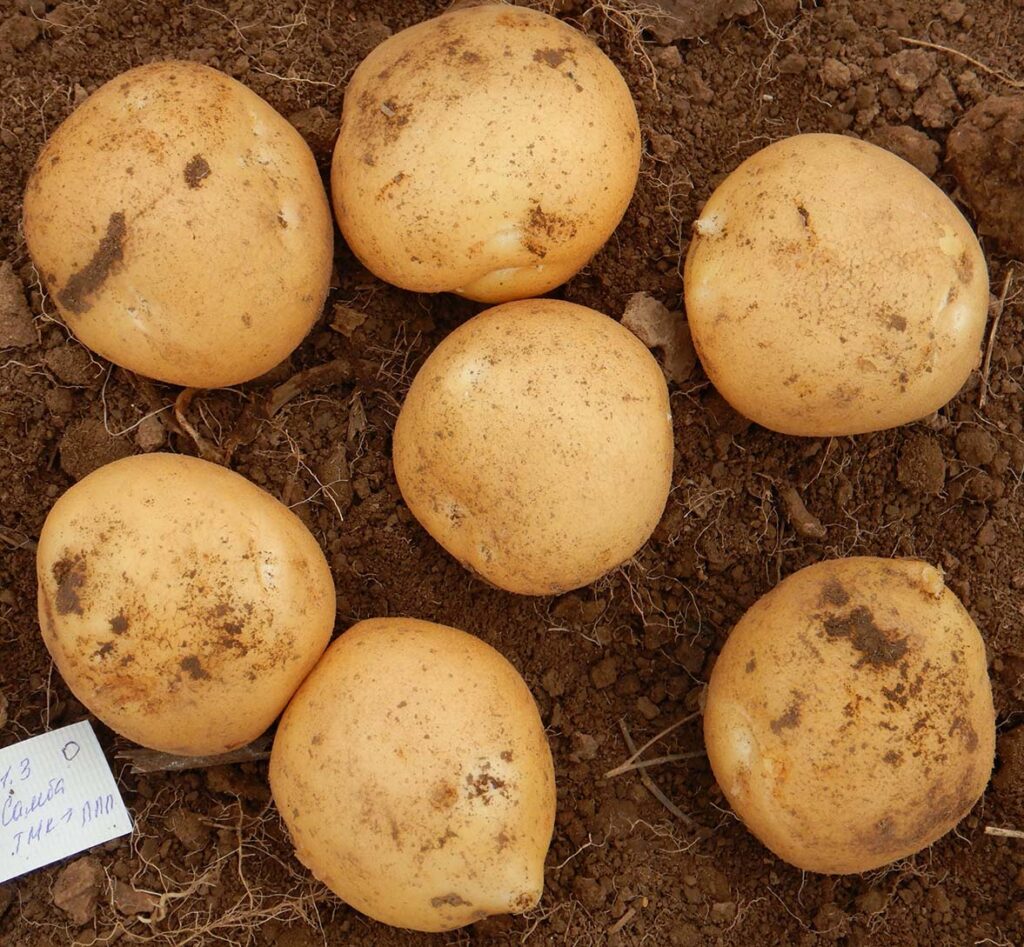 Another vector is the creation of varieties with a high starch content. In our region, the growing season is not very long, but due to high temperatures, potatoes manage to accumulate a lot of starch. I hope that the production of starch in our country will soon reach a new level, and high-starchy varieties will be in demand, although we still receive requests for such potatoes from time to time.
It would be no less interesting to create varieties for processing into chips and fries. Large processing plants operating in Russia are now working with foreign varieties, there are practically no domestic analogues. But this will require a complete overhaul of the existing breeding program. We think about it, take certain steps - as a reserve for the future. But there is one caveat: you have to take into account that the weather conditions of the Middle Volga region are not ideal for the production of such varieties. Sharp temperature jumps, stresses contribute to an increase in the content of reducing sugars in tubers. That is, potatoes produced on the territory of the republic may not be a priori suitable for the manufacture of final products. This fact complicates the selection work, but objectively we can organize the testing of samples somewhere in another region.
ecological selection
One of the priority areas of our work today is ecological (adaptive) breeding: we test our breeding samples in different regions (so far nearby, accessible to our specialists). Places for experimental plots are allocated to us by large potato farms that are interested in new promising varieties. We fix how soil and climatic conditions affect the development of plants. We also take irrigated plots and evaluate how varieties respond to a high level of agricultural technology.
It is obvious that today no one grows potatoes in the industrial sector on a minimal background - without fertilizers, etc., because it is economically unprofitable. Breeders take this into account too.
Development prospects
Moving forward, the implementation of all planned plans is accelerated if scientists feel the support of the state.
In 2020, the Ministry of Education and Science of Russia announced a competition for projects of selection and seed production and selection and breeding centers. The project of the Kazan Scientific Center of the Russian Academy of Sciences was selected, and in 2021 we began to implement it.
Significant funds were allocated to equip the center, with which we were able to purchase laboratory equipment for biochemical and molecular genetic analyses; equipment for growing and harvesting potatoes.
Today, our scientists are faced with the goal of strengthening the potential of a new scientific organization so that it can successfully solve the problems of creating and propagating new varieties.
At the moment, we are focused on breeding: we annually carry out ecological and geographical testing of 30-50 new varieties and hybrids of potatoes; four varieties of potatoes are under state variety testing.
In order to increase the efficiency of introducing new varieties and scientific developments into the potato production chain, we are considering the possibility of creating a separate commercial structure at the selection and seed center (or a company acting as a partnership with a scientific organization), which would take over the large-scale reproduction and promotion of new varieties . While this issue remains at the level of discussion, but as soon as the results appear, we will definitely tell about them.
Our team is always open for mutually beneficial cooperation.
КС