According to the study, in 30 regions of Russia, potato production exceeds annual consumption (donor regions).
Крупнейший регион-донор — Брянская область. Объем производства в 2013-2017 гг. здесь составил 703,3 тыс. тонн, потребление находится на уровне 59,8 тыс. тонн. Регион, по данным АБ-Центр, обладает возможностью поставок за свои пределы 643,2 тыс. тонн картофеля без ущерба для внутреннего потребления (сопоставимо с годовыми потребностями г. Москва). На втором месте — Тульская область, где потребляют 73,4 тыс. тонн картофеля промышленного выращивания при среднегодовом объеме производства в 454,5 тыс. тонн. Регион имеет возможность поставлять за свои пределы 381,8 тыс. тонн картофеля (что, например, существенно превышает годовые потребности Санкт-Петербурга). В число крупнейших регионов-доноров также входят Нижегородская область, Чувашская Республика, Липецкая, Тверская, Тамбовская области, Удмуртская Республика, Рязанская, Новгородская области (ТОП-10). Что касается раннего картофеля, то здесь лидерами выступают некоторые регионы Юга РФ.
Potato recipient regions
Москва является крупнейшим регионом-реципиентом. Среднегодовые потребности столицы в картофеле оцениваются в 595,5 тыс. тонн. Поставки в Москву, по данным АБ-Центр, осуществляются в основном из Брянской, Тульской, Липецкой, Тверской, Тамбовской областей, некоторых других регионов ЦФО, а также из Приволжского ФО (Нижегородской области, Чувашской Республики). В межсезонье (особенно апрель-июнь) — осуществляется ввоз из Египта, Израиля, Азербайджана, некоторых других стран. На высоких отметках находятся поставки из Беларуси (осуществляются как в сезон сбора, так и в межсезонье). В июне-июле осуществляется ввоз раннего картофеля российского производства (преимущественно из Краснодарского края и Астраханской области).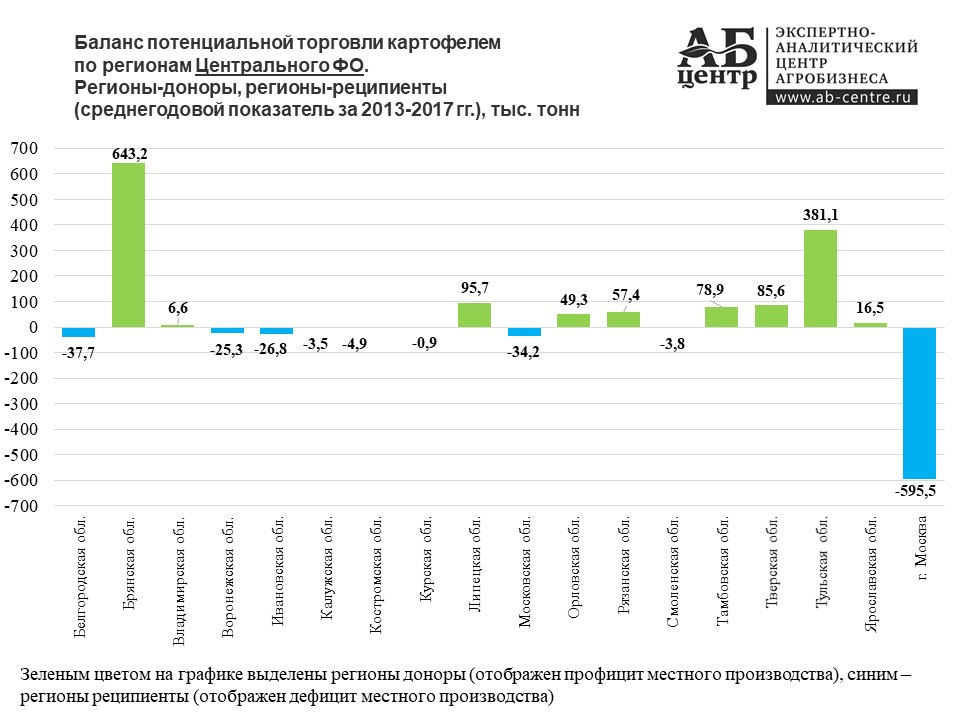 Что касается соседствующего с Москвой региона — Московской области, то регион также пока что не вышел на полную самообеспеченность по картофелю, однако этот показатель здесь находится на довольно высоких отметках и, по расчетам АБ-Центр, составляет 90,3%.
На втором месте среди регионов-реципиентов г. Санкт-Петербург с годовыми потребностями на уровне 253,0 тыс. тонн. В Северо-Западном ФО, несмотря на общий дефицит картофеля местного производства есть и регионы-доноры — Новгородская и Ленинградская области, где совокупный объем производства превышает объем потребления на 66,1 тыс. тонн. Этот объем направляется в основном в Санкт-Петербург. Поставки картофеля в северную столицу осуществляются также из регионов ЦФО и из-за рубежа (Беларусь, Египет, Азербайджан, Израиль). Третье место среди регионов-реципиентов принадлежит Краснодарскому краю. Среднегодовой объем промышленного производства здесь составляет всего 78,3 тыс. тонн. Объем потребления оценивается в 266,5 тыс. тонн. Потребности региона в поставках извне составляют 188,2 тыс. тонн. Отметим, что Краснодарский край, являясь в целом регионом-реципиентом, в июне-июле выступает в качестве региона-донора, выступая одним из основных производителей и поставщиков раннего картофеля.
At the same time, annually from mid-August to April, inclusive, the vast majority of potatoes sold in the region are imported from the regions of the Central Federal District. In the spring, as well as in early summer, supplies to the region of potatoes from Azerbaijan, Egypt are at high levels. In total, according to the AB Center study, there are 53 recipient regions in Russia.
A source: http://ab-centre.ru