The conditions for growing potatoes in the Russian Federation are notable for their diverse variety. It is logical that the most successful varieties in the country are those that are characterized by the greatest plasticity and can be successfully grown in different regions.
Anastasia Borovkova, Ph.D. s. Sci., Head of Potato, German Seed Alliance
Несмотря на расхожее в по­следнее время мнение о снижении потребления карто­феля жителями России, Росстат свидетельствует об обратном. Например, в 1990 г. потребле­ние картофеля на душу населе­ния составило 106 кг, в 2000 г. — 118 кг, а в 2016 г. — 113 кг. То есть картофель все еще остает­ся «вторым хлебом» и прочно занимает свои позиции как на продуктовых полках и столах россиян, так и на полях сельских тружеников.
According to the AB Center, in 2017, potatoes in the commercial sector were grown on an area of ​​299,9 thousand ha in eight federal districts and in 78 regions. Is this not an indicator of the wide geography of cultivating culture? Of course, yes, especially if you look at how the areas under the crop have been redistributed over the past seven years.
В целом динамика площадей с 2010 по 2017 гг., занятых под картофелем, не такая радужная: по России за данный период площади сократились на 16,2%, колоссальные изменения прои­зошли в Приволжском ФО — ми­нус 50,7%, Северо-Кавказский ФО перестал высаживать кар­тофель более чем на 32% ранее задействованных площадей.
Не так сильно, но все же упа­ли площади в Центральном, Юж­ном, Северо-Западном и Даль­невосточном ФО — на 10,8; 7,0; 3,3; 2,0% соответственно. В то же время Уральский и Сибир­ский ФО ушли далеко вперед по сравнению с остальными, приба­вив на 18,6 и 50,4% площади под «вторым хлебом».
Potatoes stepped far into previously atypical and "harsh" regions. This is partly due to climate change and its warming, but, to a greater extent, in my opinion, this is the merit of breeders: varieties have emerged that can successfully grow under such conditions.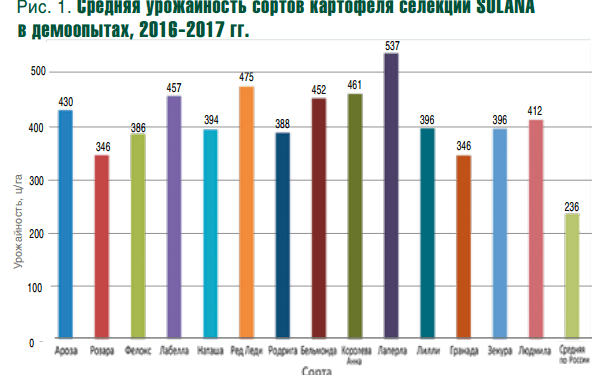 Ведь задача селекционера именно в этом и заключается: объединить все факторы (при­родные и рыночные) и вывести максимально адаптированный к региональным условиям сорт, дающий не только высо­кий урожай, но и отвечающий современным требованиям рынка — то есть отличающий­ся красивым ярким цветом кожуры, поверхностным зале­ганием глазков, пригодностью к мойке и чистке, устойчиво­стью к механическим повреж­дениям и потемнению после чистки, с длительным перио­дом хранения без потери ка­чества.
In support of this, we can cite data on gross yield in the commercial sector, indicators almost doubled: from 3388,0 to 6737,6 thousand tons from 2010 to 2017, despite a decrease in sown area.
The introduction of advanced technology and modern technology, the use of new varieties allow you to get crops of a different level in quantity and quality.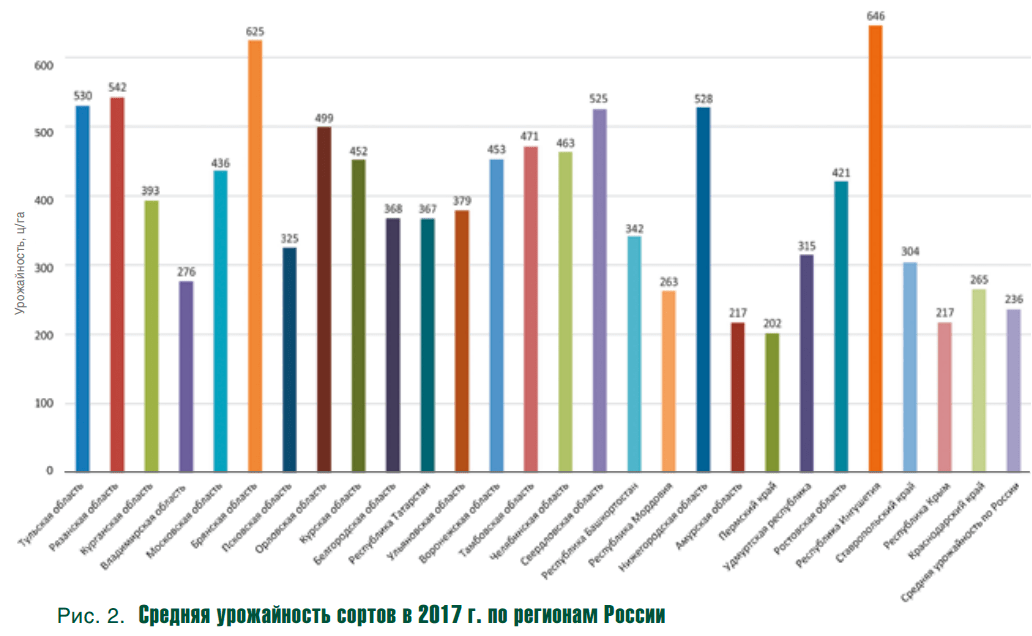 The main indicator of the technological development of the crop sector, combining the influence of the used plant varieties, mineral and organic fertilizers, means of combating diseases and pests, is the yield of crops.
The German Seed Alliance (GAW), one of the shareholders of which is the German seed-breeding company SOLANA (Solana), annually delivers seed potatoes from Europe to the Russian market, and also has been producing seed in our country for more than 20 years. With a wide network of demonstration tests and commercial production throughout Russia, we can reliably say how SOLANA varieties behave in different soil and climatic conditions.
In fig. 1 shows the average yield for 2016-2017. With an average yield in Russia of 236 kg / ha, five varieties out of 14 showed yields twice as high as these indicators (Labella, Red Lady, Koroleva Anna, Laperla, Lilly).
Лидером испытаний стал ранний сорт Лаперла — 575 ц/га. Урожайность остальных сортов колебалась от 385 до 448 ц/га. Даже «ветераны» портфеля Зекура и Розара не теряют своих позиций, их уро­жайность была соответственно 396 и 434 ц/га.
If this culture is in demand by the market, then how can an agrarian grow it with maximum economic efficiency? An integrated approach is important here. There are no superfluous elements in technology; each of them makes its own contribution to the "piggy bank" of the crop and, in the end, profit.
According to the Director of the Department of Plant Production, Mechanization, Chemicalization and Plant Protection of the Ministry of Agriculture of the Russian Federation P.A. Chekmareva, the role of the variety and high-quality seed material is great, its contribution to the crop is estimated at 20%.
В 2017 году доля продукции растениеводства от использова­ния семян новых сортов состав­ляла 603 млрд рублей (24%). Дру­гие элементы не менее важны: от техники и технологий результат производства зависит на 25%, от удобрений и средств защиты рас­тений — на 23%, от почвенно-кли­матических условий — на 20%, от севооборота — на 12%.
Весь комплекс факторов и степень их вклада в конеч­ный результат — урожайность — можно проследить на рис. 2, на котором показана средняя урожайность по сортам кар­тофеля селекции SOLANA, испытанных в этих регионах в 2017 году.
The 2017 season turned out to be difficult and in most regions was characterized by a prolonged cold spring, which led to a late landing and long shoots. Summer also did not differ in favorable weather conditions, the excess of moisture at long temperatures below the climatic norm left its imprint on the formation of the crop.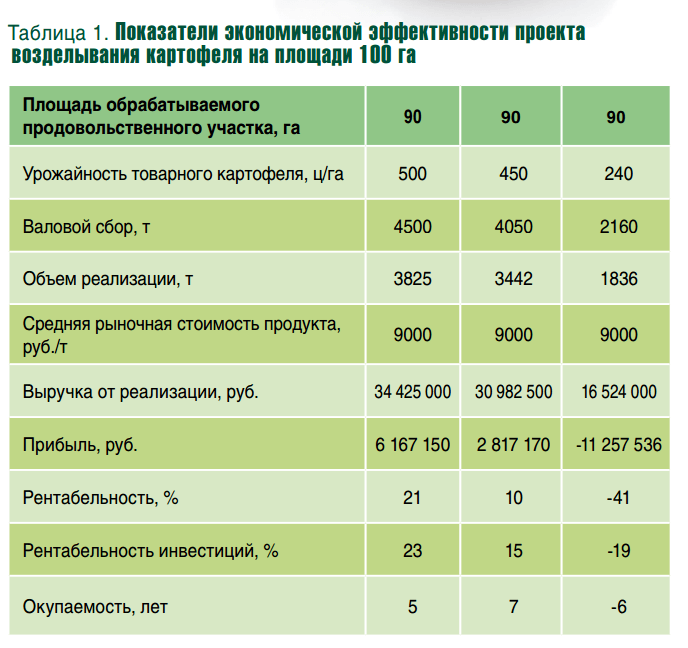 Уборка во многих частях страны также осложнилась по­стоянными осадками. При этом в регионах, являющихся лиде­рами по площадям под карто­фелем — Брянская, Нижегород­ская, Тульская, Свердловская области — урожайность была получена максимальная: 625 ц/ га, 528 ц/га, 530 ц/га, 525 ц/га. Хозяйства этих регионов, ис­пользуя передовые технику и технологии, грамотно работая с удобрениями и средствами за­щиты растений, смогли эффек­тивно реализовать потенциал сортов. Максимальная урожай­ность нашего рейтинга испыта­ний — 646 ц/га — была получена в Республике Ингушетия, где аграрии наиболее точно при­менили сортовую агротехнику, прислушавшись к рекоменда­циям селекционеров и соеди­нив все аспекты технологии в единое целое.
От 400 до 500 ц/га было полу­чено в Московской, Тамбовской, Воронежской, Орловской, Кур­ской, Челябинской, Ростовской областях. От 300 до 400 ц/га — в Курганской, Псковской, Белго­родской, Ульяновской областях, Республиках Татарстан, УдмурTiya, Bashkortostan, Stavropol Territory.
The yield of marketable potatoes in 2017 on average in Russia amounted to 236 kg / ha. Is this enough to profit the farm? As calculations show (Table 1), when using advanced modern equipment and technologies for the production of potatoes on an area of ​​at least 100 hectares (90 hectares of marketable potatoes and 10 hectares of seed), the project will pay for itself within five years with yield commercial potato 500 c / ha, a decrease in productivity of only 50 c lengthens the payback up to 7 years. The average yield in the Russian Federation threatens farmers with significant losses.
Remembering once again about a complex campaign, I want to end with a quote from the wise theologian Halford E. Luccock: "No one can play a symphony alone. To do this, you need a whole orchestra ". А уж какая скрипка в этом оркестре будет ведущей — решать вам.