The editorial board of the Potato System magazine conceived an article about what modern packaging for potatoes and vegetables should be at the very beginning of 2020. I would like to reflect on the approaches to packaging products in most European countries, the attention of foreign enterprises to ecology, the rejection of plastic and the prospects for the development of these ideas on Russian soil. But a pandemic broke out and the world changed. What solutions have remained relevant?
SUSTAINABILITY TREND
«In fact, - explains Vera Bokareva, business coach, consultant, independent expert of the packaging market and a regular speaker of industry events covering the development of the packaging industry, - the world's largest companies, well-known retail chains, which in recent years have declared the need to create a culture of responsible consumption and made plans to produce 100% recyclable packaging, have not abandoned their plans and continue to operate in accordance with previously developed and adopted programs. The sustainability trend is long. This is confirmed by the numerous programs of transnationals, which indicate the corresponding plans until 2025 and 2030 ».
Although it cannot be said that the pandemic has not affected the packaging sector at all. First of all, the attitude towards polymer packaging has changed - both in Russia and around the world. According to the expert, humanity simply has not yet found a safer for health and profitable production option.
What can we expect in the future? Vera Bokareva notes that for the world community the topic of rational use of resources and protection of nature will remain one of the most relevant for many years. There are already many interesting solutions on the European market: manufacturers are trying to use mainly recycled materials, the popularity of packaging from plant waste (based on corn, seaweed, tomato peel, sunflower husk, etc.) is growing. Production facilities are under construction, not only in Europe, but also in Asia.
Unfortunately, Russia is still very far behind in this direction, especially if we talk directly about the packaging of fruits and vegetables. The main reason, from the point of view of the expert, is that neither the state nor retail chains impose strict requirements for the compliance of packaging with environmental standards. Cost reduction remains the key task of Russian manufacturers when choosing packaging.
THE MAIN IS THE PRICE
This, of course, is not surprising. Producers of potatoes and vegetables simply do not have extra funds: prices for products have remained low for several years, exchange rates (and with them the cost of all consumables) are growing. In addition, the purchasing power in the country is at such a level that one has to increasingly think about whether packaging is needed at all?
And the production of "eco-materials" in our country is not developed, which means that they are much more expensive than the usual ones. If there is such a product on the market at all.
«Environmentally friendly materials are readily available in Russia, - Vera Bokareva comments. - Domestic manufacturers are not yet as interested in them as in developed European countries, but a solution can be found. However, this may require learning to look at things more strategically. Let's say that the company used to pack its products on polypropylene trays, now it decided to look for an environmentally friendly replacement. It is possible that it will not be possible to find a complete analogue. But you can use pulpercarton (the material that is used in our country, for example, for the production of cells for eggs), this processed product meets the requirements of environmental friendliness.
Although if you look for more exotic options, it is not excluded that they will cost a pretty penny: for example, special biodegradable films based on corn raw materials, according to some calculations, today are about seven times more expensive than their analogues.
European companies are working not only to make materials sustainable, but also to ensure that these products are commercially viable. When a new packaging solution appears on the world market, the list of its advantages includes not only environmental friendliness. Manufacturers must draw the attention of potential consumers to the fact that this material has excellent consumer properties, and its cost is not higher (and often lower) than non-recyclable analogues.
Cost reduction, by the way, is partly due to the fact that all developed packaging innovations can be used without changing the existing packaging equipment.
In the post-Soviet space, innovative materials are also being actively created. Examples are not hard to find. Several years ago, Kharkiv scientist Sergei Timchuk invented an eco-friendly packaging film made from corn starch. The film dissolves in boiling water (instantly) and in the soil (in a few weeks), it can also be simply eaten with food, since the material is completely harmless.
And literally in June 2020, scientists from the Astrakhan State Technical University spoke about the creation of a biodegradable food film based on ichthyzelatin (produced from waste products from the fishing industry). According to them, the resulting material is able to compete in consumer properties with polymer materials made of plastic.
There are other interesting inventions, but very few people manage to bring a bright idea not only to publication in the media, but also to the stage of mass production.
In each specific case, it is necessary to calculate the economic feasibility of the project. And look for interested manufacturers.
PROSPECTS
Making forecasts in 2020 is especially difficult. But still, most likely, Russia will support the global trend in the introduction of eco-materials.
There are several arguments to support this version. First: the largest transnational companies (including world trade networks) operate on the territory of our country, which develop unified requirements for all their suppliers. Sooner or later, these requirements will be presented to Russian manufacturers as well.
Domestic companies are also guided by global trends. For example, the Magnit retail chain presented its sustainable development strategy until 2020 in June 2025, in which it announced its aspiration to become a leader in reducing environmental impact in the Russian retail sector.
By 2025, Magnit plans to make 50% of its own brands and its own production packaging recyclable, reusable or compostable; achieve 100% collection and recycling of recyclable plastic in our own operations; Reduce food waste by 50%. Since 2019, the retail chain, together with partners, has been installing fandomats in their stores - special devices for collecting plastic and aluminum containers from customers for subsequent processing.
At the own enterprises of "Magnit" already now 70% of corrugated containers are produced from recyclable materials (waste paper), individual cardboard boxes are made from recycled cardboard and wood-free cardboard in a ratio of 60% to 40%; shrink wrap - 20% recycled.
In stores, customers are given a choice of packaging: in 2015, the network began to use paper bags, and in 2017, reusable bags. This year, the company switched entirely to bags made from 20% recycled plastic.
Of course, it is unlikely that the whole country will be able to reach this level by 2025.
"This is not a question of the next two or three years, - Vera Bokareva notes, - but seven years will pass and Russia will also be rebuilt. It is impossible to give universal advice to everyone, but in my opinion, large companies with funds for development should be very closely involved in this topic. "
VECTORS OF MODERNITY
So, environmental friendliness is, to a greater extent, one of the future parameters of Russian packaging. But a few words must be said about the trends of today.
According to experts, modern customers, sellers and buyers of vegetable products value in packaging (in addition to the economy, which we have already mentioned above) convenience and compliance with the features of the products placed in it.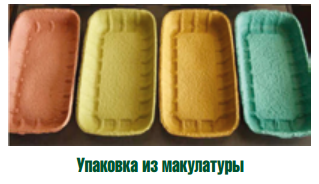 AUCHAN Retail Russia, in particular, recommends that vegetable suppliers, when choosing packaging, use perforated flow pack instead of cling film (to combat condensation and mold), and to prevent excessive moisture and rotting of vegetables - cardboard substrates instead of polyurethane.
Many also talk about a sustainable vector for decreasing packaging volume, attributing it to an increase in the number of households per person.
"Currently, customers are rational about their purchases, - comments on this thought Olesya Stemashenok, communications manager of the press service of AUCHAN Retail Russia. - It makes no sense for a consumer to purchase 5 kg of potatoes if he eats no more than 1 kg per month, since during long-term storage the product may germinate / turn green and will have to be thrown away».
"This is also a long trend, - Vera Bokareva continues, - and, of course, its development does not mean at all that large packages will disappear from the market or people will stop buying vegetables in bulk. But vegetable suppliers wishing to earn additional margins should take this into account and introduce mini-packages into their assortment, in which there will be exactly as much vegetables as one person needs for one serving. Or use packaging adapted for consumption situations: a picnic, a snack on the road, ready-made cutting of vegetables, etc. Moreover, the products should be washed, beautiful, and the packaging itself should please the eye».
The last criterion, of course, is quite subjective, although the world of packaging design also has its own fashion. At the moment, according to Vera Bokareva, the general direction of work sets the trend for simplification. Customers prefer laconic restrained solutions, rejecting "expensive-rich" options. For design, non-volumetric images are often used - flat graphics that are relevant on the world market.
The victory of restraint over "Asianism", according to the expert, is due to European trends, as well as the desire of manufacturers to improve communication with consumers through simple messages and, of course, not to overpay.
But there are other trends as well. "If we talk about the segment of fruits and vegetables, where branding is still developing, but there is a reserve in this direction, - says Vera Bokareva, - There is a trend towards the use of non-standard colors for the product category in packaging design. It is not difficult to determine the ones you need: just go through the shops, carefully look at the range of shades of packaging for similar products and understand what paints are not here. This move will help you detach yourself from competitors. ».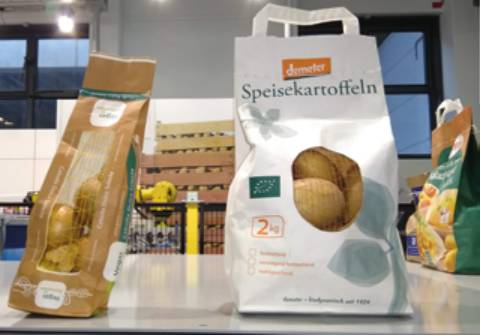 However, this technique can no longer be called innovative - as well as the use of QR codes in the design, by reading which the consumer receives information about where the products were grown and for which dishes this variety is more suitable. " This is not an innovation, but rather a sign of good taste, an additional functional option ", - the expert explains.
Separately, it is worth highlighting the segment of packaging for goods sold through online stores. This year, this type of sales received a powerful impetus for development, almost everything can be bought on the network. "Until all the sellers realized that the same packaging looks differently in the catalog on the website and on the store shelf, - Vera Bokareva considers. - But there are more and more examples of successful internet design every day. "
The expert also singles out two oppositely directed trends when choosing the type of packaging for online products. Some manufacturers focus on the safety of the delivered goods: their packaging turns out to be voluminous, with tabs to protect the goods, etc. Others use the European principle of economy and, to some extent, environmental friendliness: in this case, a minimum of materials are used for manufacturing (and the lighter the packaging, the lower the weight of the load). Although the choice of the solution is certainly due to the characteristics of the product. Conventionally: the approach to the transportation of strawberries and potatoes should be different by definition.