Information and analytical interregional journal "Potato system"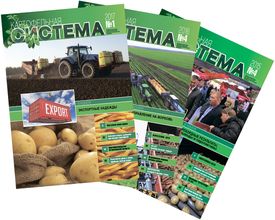 The only publication in Russia that comprehensively and comprehensively covers the cultivation, storage, processing and sale of potatoes and vegetables "borsch set". The magazine promotes the experience of the best Russian manufacturers and the achievements of foreign experts.
The main audience of the publication is the heads of agricultural enterprises at various levels; agronomists; heads of regional and district administrations, agricultural departments; representatives of companies participating in the agricultural market; scientists; students of agricultural universities.
The magazine is published four times a year. In 2020, 4 issues of the Potato System magazine will be published.
No. 1 release date: February 19
No. 2 release date: June 2
No. 3 release date: September 10
No. 4 release date: November 17
The publication is distributed at specialized exhibitions and by subscription. Since 2015, the editors launched the "Magazine for free" project, thanks to which any Russian farm engaged in potato cultivation has the opportunity to receive the "Potato system" in an targeted and cost-free manner. Since then, the number of subscribers has grown significantly.
Distribution geography - the whole of Russia, applications for subscription regularly come from farms in the Trans-Urals, Altai Territory, the Far East and the Republic of Crimea, but the main readership is residents of the "potato" regions (Moscow, Nizhny Novgorod, Bryansk, Tula and other regions; the Republic of Chuvashia and Tatarstan).
The publication is registered by the Federal Service for Supervision of Communications, Information Technology and Mass Communications. Certificate PI No. FS77 - 35134 dated January 29.01.2009, XNUMX
Founder and publisher: LLC Company Agrotrade
Editor-in-chief: O.V. Maksaeva
(831) 2459507