This year, our region has a good harvest of second bread. On some fields, the tubers are so large that one can make dinner. But the potato growers who grow this crop on an industrial scale, these giants are not very encouraging.
Oleg Murzov is one of them. Its fields are located near the village of Lemzyayka, Penza district. Vyazovsky LLC (the company was named in memory of the state farm that once existed here) grows wheat, sunflower, vegetables, and potatoes. The latter is here now being cleaned. With an area of ​​60 hectares.
We came to the farm to find out what the yield of one of the main products on the table of each penny is and what prices to expect.
Potato standards
- Oleg Vladimirovich, summer residents showed me tubers weighing about two kilograms. One was enough for a whole pan. Do you have such giants?
"There are no such whoppers, but this year the potatoes are really very large," he replied. "But I would not say that it is good."
- Почему?


- Commodity potatoes should be medium in size, fairly flat - 50-60 millimeters. This is more readily taken by retail chains. And now, on average, about 80 millimeters. Potatoes are larger, but less tubers.
Murzov has not been in the potato business for the first year, but in Lemzyayk a new territory for him. He got the enterprise "with a deep minus." It took electrification, reconstruction of the storage, where there was not even a normal ventilation system. Everything is only being debugged, therefore, we were late with the harvesting of the second bread. But the case was immediately tuned to a modern twist.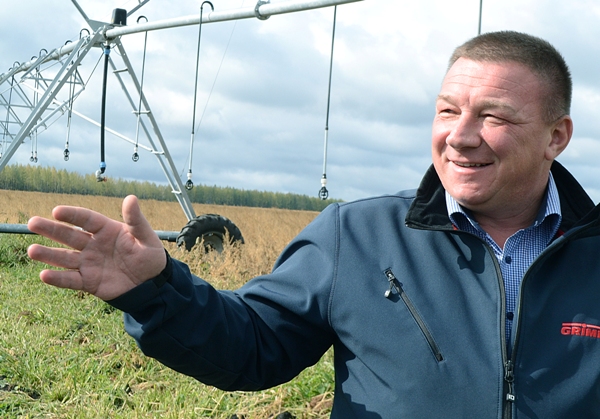 Drought Technique
Most processes are automated here. It's not men with shovels who dig potatoes, but potato harvesters.
Around, wherever you look, an immense black blanket of the cultivated field. Only in some places single tubers turn brown. A modern, bright car driven by machine operator Sergey Pronkin enlivens this monotonous landscape.
Futurism is given to him by iron tubular engines in the background. These are the latest generation of Austrian irrigation systems. They are on wheels and can be moved. The price of one is 13 million rubles.
"A stable yield cannot be obtained without watering," Murza explains the need for spending. - In June, when the land in the region was dying of drought, watering became a real salvation for those involved in this crop.
Under the right light
Today, according to preliminary estimates, the enterprise has a yield of about 520 centners per hectare. On average in the region, this figure is half as much! What's the secret? Oleg Murzov thoughtfully shakes his head, they say, briefly and can not tell.
There are a lot of subtleties: the technology of soil preparation, breeding seed material, top dressing, the same irrigation ... In order for the crop to be well stored, you need to dig it up at certain times — neither earlier nor later.
In the hangar, where potatoes are stored and sorted, there should be not ordinary, but green light. That's what they did! Under an ordinary light bulb, the tubers can turn green over time as if they had been lying in the sun for a long time.
Work and salary
We found this out by coming from the field to the potato storage. Its capacity is 3 thousand tons.
Several women are engaged in sorting. Selected tubers ride and ride the conveyor. The work is monotonous, tiring, despite technical progress. It is necessary to stand at the tape and choose substandard. Hands in thick cotton gloves to peel potatoes from adhering to moist soil - this autumn has come to a serious wait.
But the workers, though tired, but not gloomy. The salary in the household is good. According to Murzov, in the season you can earn up to 30-40 thousand rubles a month.
Where else do they get so much in the village? Probably, there is a queue of locals for employment here ... No. It turned out that it was difficult to find working hands in Lemzyayk. The population is mostly of retirement age. The young people left, the settlement is slowly becoming a dacha.
"We posted ads in Zasechny, Alfer'evka, Ust-Uz, Nikiforovka," Murzov lists. "But it's difficult to recruit people to work on earth, even if it's highly paid."
Most workers come to the farm from Staraya Kamenka, which is 12 kilometers from Lemzyajki. And the aforementioned Sergey Pronkin is generally from Penza.
According to Oleg Murzov, let there be fewer workers, but sensible, verified.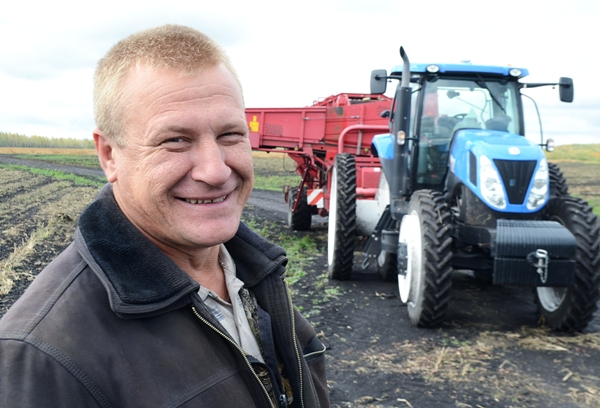 There is a potato. They will eat potatoes
The most important question: how is it profitable to sell a successful crop when you have many competitors? Oleg Vladimirovich explained that the tone on the country's potato market is set by other regions - Nizhny Novgorod, Tula and Bryansk regions. In Arzamas district of Nizhny Novgorod region alone, about 6 thousand hectares are allocated for potatoes. The price depends on these giants in many respects. If they have surpluses, they are thrown off at 5 rubles per kilo, forcing them to lower prices and other participants in this business.
And now, for example, the wholesale price is 6–8 rubles.
Vyazovsky LLC will supply potatoes to one of the Penza retail chains and sell it to large wholesalers. The converted warehouse will allow you to take your time and make deals when the seasonal low cost is over.
Oleg Murzov claims that, despite the difficulties, potatoes in the Penza region are profitable - the demand for second bread is always good. And modern agricultural technologies can increase productivity. This is demonstrated by regional indicators of the last few years. True, without serious investments, such figures as in Vyazovsky are practically unattainable. But here they believe: everything is not in vain, the expenses will be paid off.
PRICES
In Penza chain stores, the price of potatoes is 12-13 rubles per kilogram. In some, seasonal promotions are arranged, releasing selected tubers at 9 rubles per kilo.
In the markets, "industrial" potatoes are more expensive - 14-15 rubles per kilo.
Grandmothers sell tubers from a summer residence, valuing them at 20-25 rubles per kilo.
Author: Larisa GULINA, https://pravda-news.ru/