CEREALS AS AN OPTIMAL PRECURSOR TO POTATOES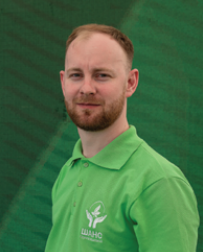 Vasily Sonnov,
Product Manager
GC "Chance"
Potato is a crop that does not cause difficulties with placement in a crop rotation: in order to get maximum yields, competent agricultural producers provide for at least a three-year rotation, embedding various combinations of grains, legumes, cruciferous, cereals, legumes and green manure crops into the scheme.

Proper crop rotation is at the heart of a potato protection system, but it must be tailored to specific needs, as there are no universally good predecessors in the context of disease control. For example, clover is relevant in most cases, except for use in the spread of root-knot nematodes.
The optimal predecessors of potatoes, according to experts, are winter crops. How to get a decent result from their cultivation? You need to start with pre-sowing protection.
In modern conditions, the processing of grain seeds in preparation for winter sowing has become a necessary operation that helps plants better endure the unfavorable autumn-winter period.
The portfolio of the company "Chance" includes seven preparations for the treatment of seeds of grain crops. Among them are four fungicidal products: Shansil Ultra, KS; Tiram-VSK; DVD Chance, CS; Shancil Trio, CS; two insecticidal: Krugozor, KS and Imidashance-S, KS; and also complex - Shansometoks Trio, KS.
How to choose among them the one that will provide the necessary level of protection of crops on your farm at no extra cost?
First of all, you need to determine what quality your seeds are and what threats they will face in the field. This can be done by conducting a phytoexamination of seeds and soil. The results of laboratory analyzes will clearly show what should be emphasized during processing.
To protect against grass flies, fleas, grain beetles, Imidashance-S, KS, and Krugozor, KS are used. Shansil Ultra, KS protect against seed and soil infection; Tiram-VSK; DVD Chance, CS; Shancil Trio, CS. In cases where the threat is complex, the combined insectofungicidal product Shantomethox Trio, KS or tank mixtures are used - the active ingredients in the preparations should be selected based on the situation with diseases, pests and sowing dates. By adjusting the dosage of the drug. As an example of tank mix products for seed treatment: DWD Chance, KS, is responsible for the control of fungal pathogens; + Krugozor, COP for deterring insect pests.
When choosing a seed treater, a number of other factors should also be taken into account.
Learn more about the features of pre-sowing seed treatment from the specialists of the Shans Group of Companies in your region! 8-800-700-9036 shans-group.com