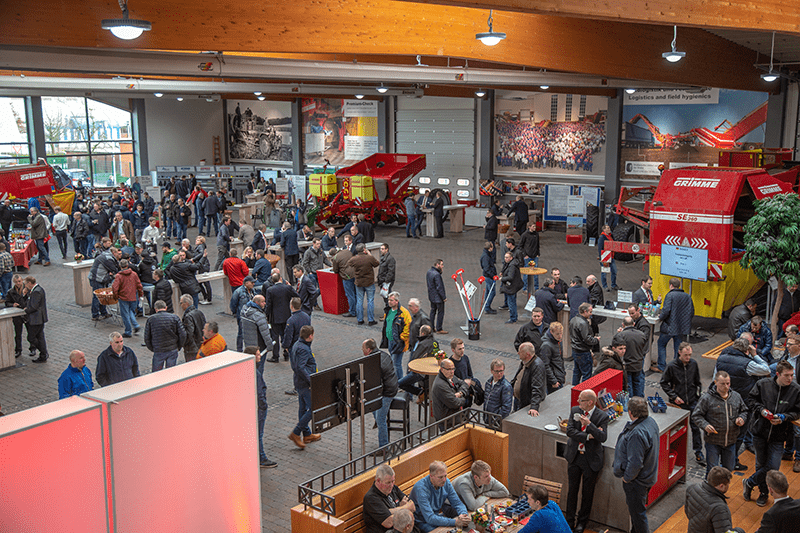 In early December, the eighth time (since 2004) in Germany successfully hosted the "home" exhibition of GRIMME equipment, organized for partners and customers of the company.
More than 100 types of potato and vegetable equipment produced by GRIMME, ASA-LIFT and SPUDNIK were presented to visitors. For the first time, the new EVO 280 two-row harvester with an 8-ton hopper and three separators was demonstrated, as well as the new generation of REXOR self-propelled beet harvesters.
In addition, the company introduced two new portal modules for my GRIMME customers, which make it easy to identify parts and check their availability with selected distribution partners. On the eve of the opening of the exhibition, a special event was organized for national and international premium partners of GRIMME, dedicated to current trends in the field of trade in agricultural machinery.
During the meeting, Sebastian Talg, Director General of GRIMME Agricultural Machinery Plant, also outlined promising ways for the company to develop. As Mr. Talg noted, the GRIMME brand is traditionally associated with potato and beet technology. With the acquisition of the Danish company ASA-LIFT, the GRIMME group of companies plans to place a greater emphasis on the production of vegetable technology. The company's goal is to provide consumers with a full line of vegetable technology and take a leading position in this market segment. Cleaning equipment and equipment for equipping storage facilities are already included in the production program.
Sowing equipment will be produced in cooperation with the English producer Stanhay. Starting in 2019, Stanhay's GRIMME seeders for vegetables will be introduced in Germany, Holland, the UK, Poland, Russia and China. The general director of the GRIMME agricultural machinery factory also drew the attention of the participants to the fact that 2019 is a jubilee year for the GRIMME brand. The brand's first self-propelled potato harvester entered the market in 1969, 50 years ago. Since then more than 2 self-propelled harvesting combines left the GRIMME factory, this is a significant result for the industry, but new victories await the company ahead.