Sergey Banadysev, Doctor of Agricultural Sciences, Doca-Gene Technologies LLC
Ending. The beginning of the article is in the journal "Potato System" No. 2 (2020)
As noted in the first part of this article, in potato seed production, it is necessary to reliably control viral diseases due to their high severity. In Russia, strict tolerances for latent infection have been introduced, determined by molecular diagnostics methods. Each enterprise should conduct continuous monitoring of the aphid vectors of viral infection and assess the level of infectious load, since the harmfulness of different aphid species is fundamentally different. The use of the geographical factor in seed production is highly effective, since climatic conditions significantly affect the infectious background.
Table 4. Dynamics of summer and species composition of winged aphids carrying viruses, VNIIKH field
Name (species) of aphids
November 2003, XNUMX
November 2005, XNUMX
November 2007, XNUMX
pcs.
%
pcs.
%
pcs.
%
Peach green
116
26.1
58
50
54
49.5
Buckthorn
35
7.9
6
5.2
4
3.7
Common potato
9
2
5
4.3
3
2.6
Black bean
230
51.7
32
27.6
36
33
Large potato
16
3.5
5
4.3
5
4.8
Pea
39
8.8
10
8.6
7
6.4
Total:
445
100
116
100
109
100
In the materials of VNIIKH and VIZR (Zeyruk V.N. et al., 2017), it is noted that the changes in the biology of the phytofauna have led to a sharp increase in the number of the most harmful species of aphids - green peach. If in 1970-1971. (Ramenskiy district, Moscow region) this cosmopolitan was in fourth place among the identified species, then after 35 years it became the main one (Tables 4, 5).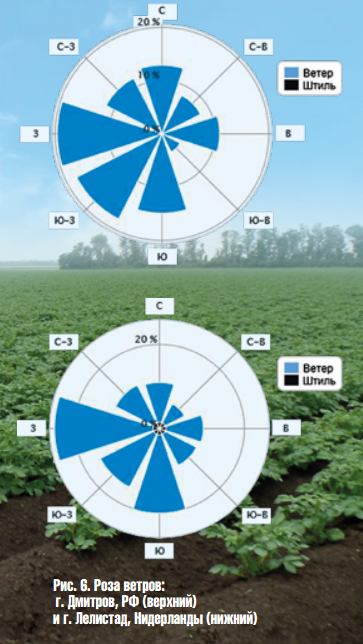 In the Leningrad region, the maximum number of aphids on potatoes is observed from mid-July to early August, and such species as buckthorn and leguminous plants prevail (Berim M.N., 2017). Common and large potato aphids are found mainly in the western and southwestern regions of the region. According to the estimates of VIZR specialists, in the central and eastern regions the maximum number of aphids reaches 300-600 individuals per 100 leaves (when populating 40-70% of plants), which is an average level of population; in the western countries - 1000-1400 individuals (up to 100% of inhabited plants) - a high level of population. Study of the flight of aphids in the south (Kotlassky district) and north (Kholmogorsky district) Arkhangel
region in 2017-2018 on plantings of seed potatoes (Popova L.A. et al., 2019) showed the absence of peach aphid and, in general, a low infectious background, significantly lower than the European IVD parameters for the season (Table 6).
The production of seed potatoes in regions with harsh winters, high rainfall, low temperatures significantly reduces the risk of the spread of viral diseases. Often, especially in the Netherlands, coastal location and the resulting prevalence of strong winds are considered favorable factors. Yes, the flying aphids are significantly enhanced when the wind speed is less than 3 m / s. But if we compare the wind roses in different areas (Fig. 6), it becomes clear that the Dutch aphid has enough chances to hit the potatoes with a tailwind: the probability is no less than 35%. That is, on average two days the wind on the polders really blows from the sea, and every third day - from the south or from the east. To put it lucidly, aphids on the coast work according to the schedule: two days later. "The wind blew from the sea" is a well-promoted marketing technique, it is rash to rely only on it in the control of viral diseases.
Table 5. Dynamics of summer and species composition of winged aphids carrying viruses, 2016
Name (species) of aphids
Number of aphids, total
Including by months, decades
July
August
I
II
III
I
II
EB "Korenevo", Lyuberetskiy district, Moscow region.
Peach green
6
0
0
2
2
2
Buckthorn, buckthorn
12.4
0.8
2
6
1.2
2.4
Common potato
1.6
0
0.4
0.8
0.4
0
Black bean
2.9
0.3
1
1.1
0.3
0.2
Cicadas
48
0
0
10
7
31
Total:
22.9
1.1
3.4
9.9
3.9
4.6
Eb "Ilyinskoe", Domodedovsky district, Moscow region
Peach green
2
0
0
1
1
0
Buckthorn, buckthorn
4
0
1.6
1.2
1.2
0
Common potato
1.2
0
0.4
0.8
0
0
Black bean
0.7
0.1
0.1
0.3
0.2
0
Cicadas
17
0
5
2
10
0
Total:
Tli
7.9
0.1
2.1
3.3
2.4
0
Cicadas
17
0
0
2
10
0
Table 6. Species of aphids caught by yellow traps in 2017-2018.
Types
Kotlas district
Kholmogorsky district
November 2017, XNUMX
November 2018, XNUMX
November 2017, XNUMX
November 2018, XNUMX
Total, pcs.
%
Total, pcs.
%
Total, pcs.
%
Total, pcs.
%
Aulacorthum solaniKalt.
43
30.71
21
12.72
34
40
13
12.15
Aphis fabae Scop.
25
17.86
44
26.67
7
8.24
19
17.75
Hyperomyzus lactucae L.
17
12.14
23
14
0
0
14
13.08
Aphis nasturtii Kalt.
14
10
12
7.27
33
38.8
8
7.48
Macrosiphum rosae L.
10
8.6
0
0
0
0
0
0
Rhopalosiphum padi L.
9
6.43
26
15,76
2
2.35
25
23.36
Sitobion avenae F.
8
7.51
15
9.1
7
8.24
9
8.41
Capitophorus elaeagni Guerc.
6
4.29
2
1.2
0
0
0
0
Aphis sambuci L.
4
2.86
0
0
0
0
0
0
Rhopalosiphoninus ribesinus Goot.
2
1.43
0
0
0
0
0
0
Anoecia corni F.
2
1.43
4
2.42
1
1.16
11
10.28
Acyrthosiphon pisum Harr.
0
0
4
2.42
0
0
0
0
Brachycaudus cardui Kalt.
0
0
1
0.6
0
0
0
0
Macrosiphum euphorbiae Thomas
0
0
5
3.03
0
0
0
0
Cinara costata Zett.
0
0
0
0
2
2.36
2
1.87
Rhopalosiphum insertum Walk.
0
0
8
4.85
0
0
6
5.61
Total
140
100
165
100
86
100
107
100
The process of gradual displacement of potato seed production in the Russian Federation to more northern regions with low vector pressure has begun. Modern enterprises are already operating in the Kostroma, Novgorod, Vologda, Arkhangelsk regions, Karelia. The Primorsky effect is used in the Kaliningrad region. Undoubtedly, the use of the climatic factor and radical spatial isolation in the fight against viral diseases gives northern enterprises significant advantages. In the presence of such natural opportunities, continuing to engage in potato seed production in the CCZ, the Volga region, and even further south, is an unjustified risk. In general, in my opinion, professional potato seed production should be placed above 54 parallel, where the average monthly temperature does not exceed 20оС, and the amount of precipitation during the growing season is more than 260 mm. Comfortable climatic conditions are not only distinguished by a low infectious background of aphids, but also ensure the formation of high yielding qualities of seeds. Potatoes are stressed and react negatively in the offspring to high air and soil temperatures and a lack of moisture. The farther north the better? No, there are restrictions from the north and east - the frost-free period must be at least 100 days, the sum of active temperatures must exceed 1200 degrees. The volume of northern seed production is limited by the problems of logistics, organization of production, lack of labor resources and suitable soils. It would be wise to direct the resources of the potato breeding and seed production development program for 2018-2025 to create a single territory for northern seed growing in a country of the High Grade scale, but this program did not reach such a high level of understanding of current problems and effective, breakthrough areas of development.
The role of barrier cultures
Barrier crops should be used in seed production at any level of vector pressure. The color contrast between plant material and bare soil has been shown to attract aphids, causing more aphids to land on extreme plants. As a landing site, aphids consider any unoccupied soil areas - omissions, blemishes, removal of more than three plants in a row during phyto-cleanings, tramlines of sprayers and sprinkler equipment. Reducing the amount of bare soil around and between potato plants dramatically reduces the number of aphids that have flown in. Accordingly, leaving any areas unoccupied by plants on the seed plots, be it dividing rows, the ends of the fields, is beautiful, but it provokes the spread of viral diseases (photo 11).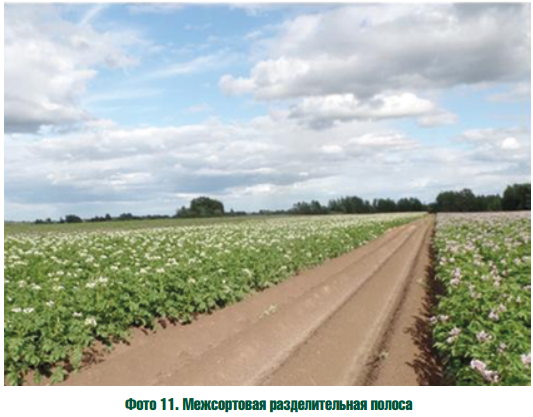 It is correct to place barrier crops close to potato plants, and leave black steam, paths behind them (photo 12, 13). In this case, the aphid reacts to the color contrast and settles on the plants of the barrier culture. During feeding or trial
injections, her mouth apparatus is cleared of viral particles. Since the barrier crops do not contain viruses, the aphids become "clean" or less infected as they move to the potato. This works effectively for most viral diseases, with the exception of FLRV.
The area where the barrier crop grows becomes an effective trap for aphids if it is only a few meters wide, one or two passes of the drill. The choice of crops is wide enough, the main thing is that they are not carriers of potato viruses. The most commonly used cereals are wheat, rye, barley, millet, sorghum, ryegrass, etc. (photo 14). Quite rational, but requiring special care on seed plots, options for creating a barrier for aphids are planting close to meadows and hayfields (photo 13) and planting a field around the perimeter with potatoes (photo 15). However, one must be aware that there is no risk of mixing varieties only if one lot of seeds is placed on the same field.
If barrier crops are not used, then it makes sense to cultivate the seed plot of plant protection products along the perimeter more often than the main array or use the crop from the outer rows for dining purposes. In organic potato seed production, another type of color barrier is widely practiced - mulching the soil with oat or millet straw (photo 16). The reflected white color repels aphids and prevents them from distinguishing the color barrier between bare soil and potato plants. It is clear that this technique can be used only on small fields.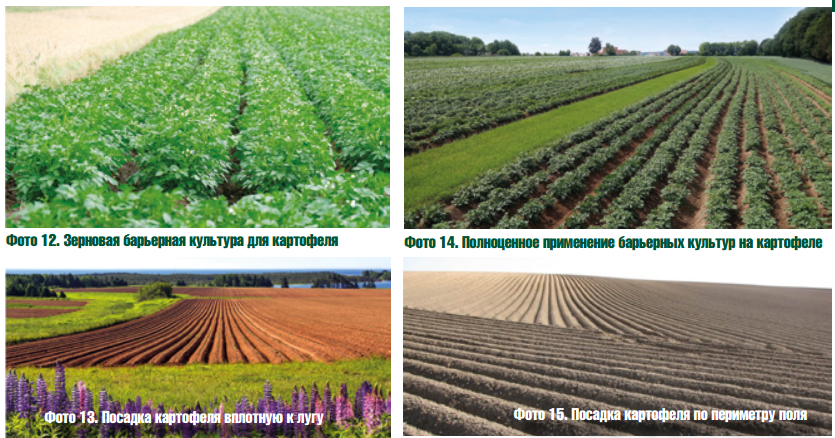 Plant cover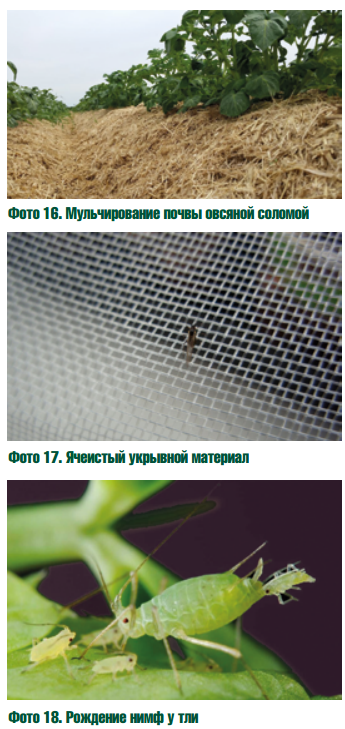 Shelter of plants for protection from aphids carrying viral diseases in potato seed production is not widespread. Although periodically messages on this topic appear, and two types of coatings are even commercially available. The first includes nets made of plastic threads (a type of anti-mosquito, photo 17), in the form of wide canvases. Flying aphids, leafhoppers, psyllids cannot penetrate cells less than 0,6 mm. At the same time, thanks to many years of research by New Zealand scientists (Merfield CN 2014, 2017, 2019), it was found that even under the mesh with 0,3 mm cells, there are a lot of aphids. How? The insect's food instinct is very strong. Aphids find potatoes under cover. She cannot penetrate herself, well, there are also children - nymphs of very small size (photo 18), whom the aphid gives birth to immediately alive and hungry. They crawl through the smallest cells. And under cover they begin to multiply rapidly. So, that in turn attract predators. Who also have to figure out how to overcome the shelter. Photo 19 - lacewing eggs, which were deposited through the shelter method.
Another adverse effect of woven mesh is temperature rise. The smaller the cell size, the more the temperature rises. At 0,3 mm, the temperature under cover is 30% higher than the natural background. The third factor is incomplete penetration under the shelter of plant protection products. The developers and adherents of this technology are forced to recommend the repeated use of granular insecticides with a fumigant effect. To introduce them, you need to raise the shelter, of course, not for a moment, which makes the isolation factor very conditional.
Fourth, the shelter does not allow cleaning, and when growing seed potatoes, they are necessary, even in the highest categories. Fifth, the high labor intensity of the work. With the help of technology, you can only unwind and rewind the material (photo 20). But you will have to manually stretch, hold and cover with soil. A team of 10 people covers a maximum of 3 hectares per shift. Since earthwork is physically difficult, the quality of the powder depends on the consciousness of the personnel. If the soil is not used enough, at least in places, then due to the high windage from the strong wind, the material is pulled out, and the shelter effect must be restored again. And the last - the high cost of cellular material, from 5 to 10 thousand dollars per hectare, with an advertising period of 10 years.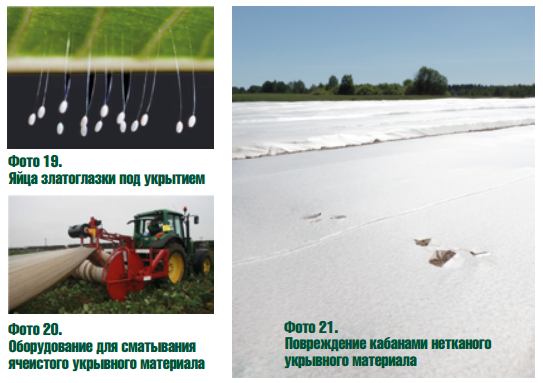 Non-woven covering materials - fleece, spunbond, agrospan - are even less suitable for potato seed production. Their main purpose is to protect against frost and accelerate the ripening of vegetable crops. They can provide radical protection against aphids, since they do not have cells. But only while maintaining integrity, which is difficult to maintain. Material with a thickness of 17-40 microns is easily torn by wind, hail, wild animals, vehicle tires (photo 21). Other disadvantages are more or less similar to those that we talked about when characterizing the cellular coating. Since the nonwoven covering material is disposable, its cost per season is comparable to the cost of the mesh - $ 600-700 / ha. Temperature regime and permeability for plant protection products are extremely unfavorable. In summer, the temperature under such a shelter can overcome the bar of 40 degrees, at which there is no question of the normal state of seed potatoes, tuberization and crop accumulation stops. There is a certain sense in the use of non-woven covering material only at the very beginning of the growing season - immediately after the formation of ridges and the introduction of a soil herbicide, cover it, provided that it is removed at the beginning of stolon formation. Thus, the plants will be reliably protected from infection in the most critical period, but it will be possible to avoid the negative effect of the shelter on tuberization, yield properties and the quality of protective measures. Although 90% of seed growers still consider this agricultural practice useless, since the plants will stay under cover for only 20-25 days.
Mineral oil
Mineral oil was first proposed to prevent transmission of the virus in the 60s and is now widely used by seed potato growers around the world (Prasad R. et al., 2011). Paraffinic mineral oil provides optimal inhibition of virus transmission. Many brands are known on the market (Sunoco 7E, Sunspray Ultrafine 85%, Sunspray 850 EC, Glacial Spray Fluid, Organic JMS Stylet Oil, Purespray / 13E), all of these products are approved for use in agriculture.
Mineral oils have been shown to reduce the ability of aphids to carry non-persistent viruses in three ways: altering feeding behavior; have a direct insecticidal effect and alter the interaction of the virus with aphids in such a way that the transmission of the virus is disturbed.
1. Influence on the behavior of aphids. Penetration of the stylet into the plant is delayed when the plant is sprayed with mineral oil. If plants are treated with mineral oil, the number of aphids that start feeding during the first 30 seconds on the plant is reduced by 50%. In addition, the oils are aphid repellent, but only lasts about 30 minutes after spraying.
2. Direct insecticidal action on aphids. A number of studies have shown the direct destruction of aphids under the influence of mineral oils. As with any insecticide, the effectiveness of mineral oil depends on how long it is used. If oil is sprayed on the leaves before the green peach aphid appears, the mortality rate ranges from 11,7 to 20,8% (Martin et al., 2004). Sprays applied after the leaves were colonized by the green peach aphid resulted in 80% mortality (Martin et al. 2006). The oils are most effective when the aphid population density is low.
3. Reduced transmission of the virus. It was found that mineral oils prevent the retention of the virus in the mouth of aphids and on the stylet. Typically, PVY particles can remain on the stylet of a green peach aphid for about 17 hours after feeding on an infected plant. However, oil treatment of plants leads to the fact that the virus retention time is only 2 minutes (Wrobel B., 2009), which reduces the volume of infection by 50-70% compared to untreated control (Powell et al., 1998; Boiteau et al. , 2008).
The combination of these factors makes mineral oil one of the most effective tools in the fight against the spread of viruses. In this case, the greatest effect can be achieved with regular processing of the entire field.
There are several benchmarks for the effective use of oils. Firstly, they can be used only in the first half of the growing season, before the formation of tubers. The effective dose is one liter per day, i.e. if protection is planned for 5 days, then the rate is 5 l / ha, if for 10 days, then 10 l / ha. But with a large rate, it is impossible to observe the following restriction - the optimal concentration in water is 1,0-1,5%. Above 2% oil concentration, severe leaf burns are observed, similar to the symptoms of Alternaria (Photos 22, 23).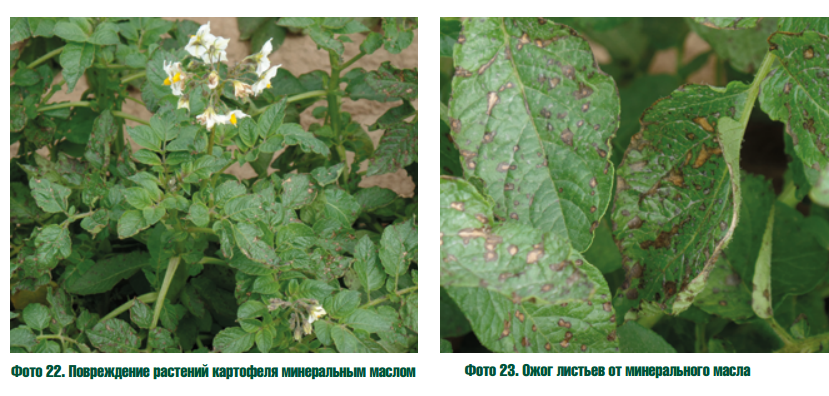 The range of oils officially available in the Russian Federation is quite sufficient. Classic paraffin oils are represented by the brands Preparation 30 Plus (NPF Sober) and Olemix (Sumitomo), rapeseed oil esters - Mero (Bayer) and Rapsol (Elite Agrosystems) and there is one combined preparation based on malathion and mineral oil - Prophylactin ( August). None of them have a direct approval for use as an aficide on seed potatoes. And in general, they are positioned not as means of protection, but as adjuvants - wetting agents that increase the effectiveness of pesticides. But in this capacity there are no restrictions for use.
The order of prices for mineral oil today is from 150 (Preparation 30 Plus) to 700 (Mero) rubles / liter. They mix well with any plant protection products, but there is information about undesirable effects when mixed with Ranman Top, Shirlan fungicides, copper- and sulfur-containing fungicides and micronutrient fertilizers, with Biscay's insecticide. To ensure continuous control of aphids, oil is best used alone or in combination with contact insecticides, in between the application of fungicides and systemic insecticides.
Insekticidы
To build an effective system for the use of chemical agents to combat vectors of viral diseases, it is necessary to clearly understand both options for the transmission of viruses by aphids. Potato leaf roll virus is transmitted persistently. It enters the aphid's circulatory system, the insect remains infectious throughout its life. This type of transmission requires a long feeding time. Effective plant-to-aphid transmission of the virus takes at least 10-20 minutes, and a similar period of time is required for virus transmission to a healthy plant. As a consequence, the aphids must remain on the plant for a long period of time. The two main potato colonizing aphids, the peach potato aphid Myzus persicae and the potato aphid Macrosiphum euphorbiae, are the main carriers of the persistent virus. Moreover, the peach aphid has 10 times higher transmission potential compared to the potato aphid. The persistent mode of transmission is easy to control. All insecticides are effective in this case. Therefore, the occurrence of VSLV in seed potatoes disappeared.
Non-persistent, that is, essentially mechanically, all other types of viruses that cause leaf mosaic spread: A, X, M, S, Y. These viruses are transferred to the stylet (feeding the mouth parts) of aphids from infected potato plants and many other types of crops quickly, in just a minute. When the aphid flies from one plant to another, it probes them, tastes them, and if it does not find them acceptable, it continues to move on. Because of the short collection and transmission times of infection, non-colonizing transit aphids play a large role in the spread of mosaic viruses. For this reason, such viruses can spread across the entire field at a much faster rate than FLRV. The use of an insecticide rarely achieves any permanent control over these viruses. Insecticides with a knockdown effect are more effective against trial injections, an accidental visit to potatoes. Drugs labeled selective food blockers (pymetrozine, flonicamide) quickly paralyze aphids that try to feed. Systemic, translaminar insecticides do not play a large role in preventing transmission by transiting species. But they always remain a mandatory part of the protection program for most seed potato growers, since they limit the secondary, plant-to-plant, spread of viruses by reliably suppressing colonizing aphid species.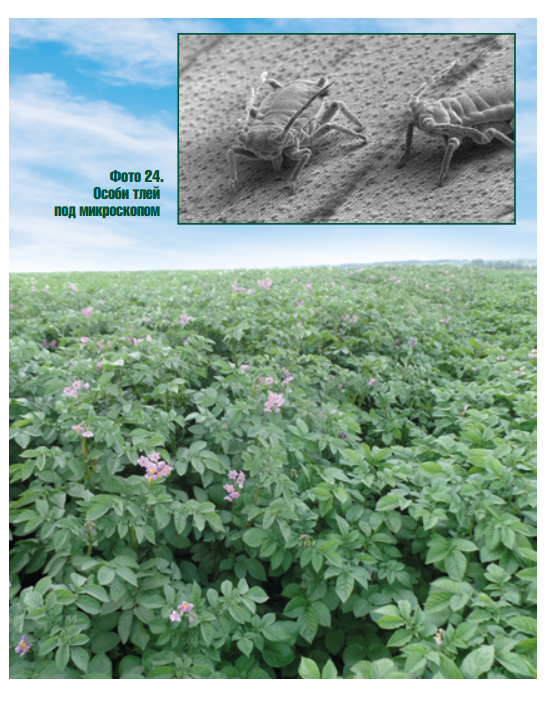 The list of insecticides permitted for aphid suppression in the Russian Federation is rich and varied. The knockdown effect is provided by the active ingredients: deltamethrin, cypermethrin, deltamethrin, lambda-cyhalothrin. Neocotinoid preparations are represented by active molecules of acetamiprid, imidacloprid, thiacloprid, thiamethoxam. It is possible to use d. In islands with other mechanisms of action: bifenthrin, pymetrozine, spirotetramate, chlorantraniliprol, dimethoate, flonikamide. The complex suppression effect is provided by drugs with combinations of lambda-cyhalothrin + acetamiprid, spirotetramate + imidacloprid, thiacloprid + deltamethrin, thiamethoxam + chloranthraniliprol.
The range of apicidal insecticides from Russian seed growers is the most modern and with a margin allows to provide effective protection. In the same EU, most of the neonicotinoids were banned because of the danger to bees. What are the best schemes? For example, the firms Syngenta and Bayer offer their own protection schemes against aphids, because they have several complementary insecticidal d. In-in. But in each case you need to choose consciously, it is better to combine products from different manufacturers. When forming a system of chemical protection, it is necessary to observe the well-known principles: do not allow the sequential use of any insecticide, alternate drugs with a different mechanism of action. At the beginning of the growing season, pyrethroid insecticides are sufficient; as a thick leaf surface forms and vector pressure increases, switch to translaminar active substances and combined products. For pyrethroids, the temperature ceiling for efficiency is 25оC. The period of effective action of pyrethroids - up to 7 days, systemic and combined drugs - 14 days.
There is information about the emergence of resistance of the peach aphid in Europe to deltamethrin, acetamiprid, and esfenvalerat. In the United States, no such facts have been recorded. Do not use dangerous insecticides (d.v-va: deltamethrin, flonikamide, thiamethoxam, imidacloprid, pymetrozin) during active summer of bees in the area, the presence of flowering weeds on potato fields, or if the development of aphid colonies is allowed and honeydew has formed, attracting bees. Some d.-va can, if the application rate is insufficient or a few days after application, cause not the death of aphids, but an intoxicating effect and increased activity, i.e. there may also be a paradoxical increase in the level of viral infection due to the use of insecticides. It is advisable to carry out treatments only when the harmfulness threshold is reached. It is necessary to take into account the effect on aphids at the beginning of the growing season with insecticides applied when planting seed. Protection should be continued until the foliage is completely dry. Its repeated regrowth leads to a significant increase in virus infection.
In conclusion, we emphasize once again that the high and constantly increasing harmfulness of viral diseases is due to their biological characteristics and the presence of various mechanisms of spread. In conditions of a high infectious background and vector pressure, all
Available remedies cannot prevent infection of potato plants with non-persistent viruses. For effective containment of viral diseases of potatoes in seed production, it is necessary to use seed with minimal infection of viruses, locate seed potato production in regions with a low infectious background and vector pressure, use barrier crops, conduct continuous monitoring of the dynamics of summer and the species composition of aphids, implement a program to suppress aphids when reaching the harmfulness threshold based on the use of mineral oil and a thoughtful selection of insecticides.