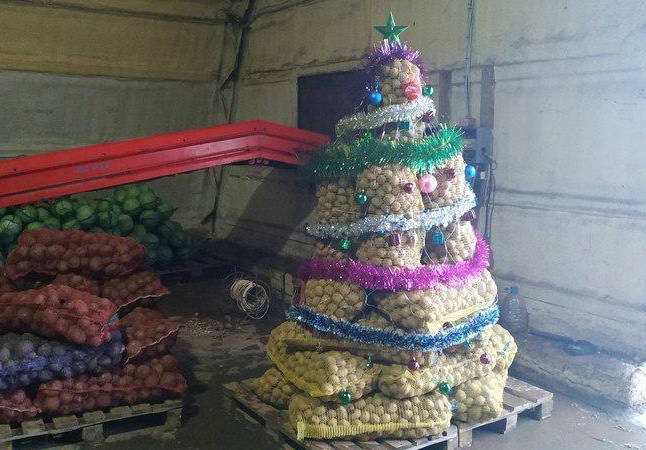 In Kotelnichsky district hereditary farmers Maxim and Nikita Savkov created a Christmas tree from bags of potatoes. It took 23 nets of vegetables grown on the farm.
The Christmas beauty weighs about 800 kg.Savkovs' farm is located in the village of Levichi, five kilometers from the district center, the city of Kotelnich.
- Created by KFK Valery Savkov back in the 90s, decades later, the economy was headed by his sons Maxim and Nikita, said the Deputy Prime Minister, Minister of Agriculture economy and food of the Kirov region Alexey Kotlyachkov.
- Farmers grow potatoes on an area of ​​more than one hundred hectares.The farm provides vegetables Kotelnichsky district. On the eve of the holidays, the local social network announced a competition for the creation of the original New Year tree, and the farmer brothers gladly picked up the idea.
"When we learned about the competition, there was no question of choosing a material," Nikita Savkov admitted.
- It turned out original, we ourselves liked it.By the way, the tuberous "New Year's Beauty" decorated with tinsel got into the top 10 of the strangest Christmas trees in Russia this year. An unusual composition interested the federal television channel, a special correspondent in the Kirov region filmed a plot about farming and now the audience of all Russia will be told about Vyatka potatoes.
"We all need a little New Year's mood," Alexei Kotlyachkov reacted to the news. - I am glad that active youth in the countryside create such positive emotions at the end of the outgoing year that people sincerely love what they do. I wish the farmers good weather and a rich harvest next year.
A source: https://www.kirovreg.ru