In Russia, in 2018, farmers contributed 56 kilograms per hectare.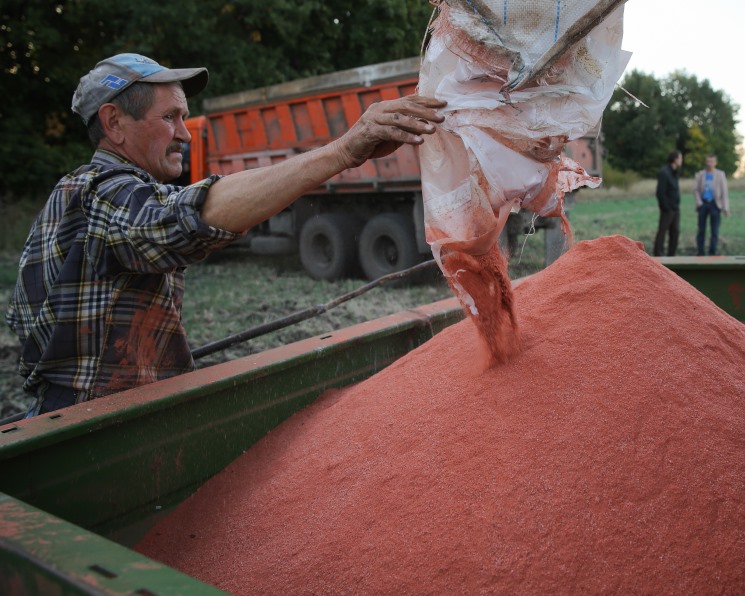 According to the forecasts of the International Fertilizer Association (IFA), the global consumption of mineral fertilizers in 2019 will increase by 0,8%, while in 2018 the increase was 1,8%. By 2022, consumption will add 1,3% annually, and in three years it will reach 200 million tons, IFA predicts. Almost 80% of this increase will be in Latin America, South Asia, Africa and Eastern Europe.
По оценке Российской ассоциации производителей удобрений (РАПУ), российские аграрии в прошлом году внесли в почву рекордное количество удобрений — 3,19 млн т в действующем веществе. Но даже этот объем, по оценкам экспертов организации, в три раза меньше необходимого. Сейчас потребление минеральных удобрений в России значительно ниже, чем научно обоснованная потребность, признает представитель РАПУ. Но все-таки с каждым годом спрос на них со стороны аграриев постепенно увеличивается. Так, за последние 10 лет потребление минудобрений в стране выросло на 40%. За четыре месяца 2019 года российские аграрии приобрели 1,6 млн т в действующем веществе, что на 193 тыс. т больше, чем за аналогичный период 2018-го.
According to RAAP, now Russia is among the ten largest global consumers of mineral fertilizers, ranking ninth after China, India, Brazil, the USA, Pakistan, France, Canada and Germany. Although until recently, our country was in the second ten on this indicator. According to the data Rosstat, если в 2008 году российские аграрии вносили около 36 кг/га (в пересчете на 100% питательных веществ), то уже в 2018-м — более 56 кг/га.
Принято считать, что основными причинами низкого уровня использования минудобрений в России являются высокие цены, однако ситуация неоднозначна, комментирует старший менеджер проектов отдела специальных исследований агентства «Клеффманн Групп» Гор Манукян. «Действительно, в условиях того, что сельхозпродукция дорожает медленнее, чем эти полезные вещества, ценовые факторы будут оказывать значительное влияние на их закупку, — признает он. — Но, во-первых, государство отчасти помогает в этом вопросе. А, во-вторых, пожалуй, одним из главных факторов, тормозящих рост потребления минудобрений, является низкий уровень агротехнологий». Так, зачастую их вносят только при проведении посевных работ и порой в объемах, намного меньше рекомендуемых. Кроме того, многие хозяйства не проводят подкормку посевов по вегетации.
По информации российского статведомства, в прошлом году в России в действующем веществе было произведено 22,8 млн т минеральных удобрений — на 1,4% больше, чем в 2017-м. Производство азотных удобрений, в частности, увеличилось на 3,7% до 10,4 млн т, фосфорных — на 3,5% до 3,9 млн т, а вот калийных снизилось на 2,1% до 8,4 млн т. Россия входит в пятерку крупнейших мировых производителей, разделяя лидерство с Китаем, Индией, США и Бразилией, напоминает Манукян. Вместе с тем, по данным Всемирного банка, лишь около 10% от общего российского производства минудобрений потребляется внутри страны. Отрасль является преимущественно экспортоориентированной, обращает внимание он. С 2016-го вывоз данных продуктов в натуральном выражении рос в среднем на 11% в год и в 2018-м достиг, по данным International Trade Map (ITM), 11,3 млн т.
A source:https://www.agroinvestor.ru