S.A. Banadysev, Doctor of Agricultural Sciences, SSC Doka-Gene
Fast emergence, fast growth and uniform plant development are important prerequisites for a high potato yield. Pre-germination helps to create these conditions, promotes the formation of more sprouts and shoots on each tuber, which increases the economy of planting material. Rapid development is also recommended for preventing disease infestation and weed control. Due to the earlier ripening in case of infection with diseases, it is possible to remove the tops earlier. The final effect of increasing yields from germination can reach 10-15%, acceleration of early harvest - up to two weeks, which gives significant additional income when sold at significantly higher prices. The benefits of pre-germination are fully exploited when the planting material is adapted to specific growing conditions and purposes. The preparation of potato seed material for planting should be carried out taking into account its quality, physiological state, volume and specialization of production.
The physiological state of the seed material is of the greatest importance, since it determines the dynamics and characteristics of potato growth during the growing season. Plants from seed tubers of different physiological ages develop in different ways. Aged tuber sprouts and grows faster, giving a higher early yield. At the same time, the height of plants, the area of ​​leaves, large tubers is less, and the number of stems and tubers is greater. The physiological age of seed tubers depends on the genetic characteristics of the variety, the amount of temperatures and stresses absorbed by the tuber during cultivation and storage, which affect the internal biochemistry, especially the ratio and level of hormones. Stress in the field is primarily moisture, temperature, nutrients, pathogens and mechanical damage, during storage - temperature, humidity, aeration, bruises and diseases. Physiological aging of tubers occurs throughout the growing season, but the patterns of this process are poorly studied and cannot be quantified. At the same time, many features are known. So, the tubers of plants that died prematurely, as a rule, are physiologically older. High soil temperatures in dry conditions on sandy soils can stimulate seed germination even before harvest. However, the main aging of seed tubers occurs during storage due to high temperature and humidity, bruises, peeling of the peel, sharp fluctuations in microclimate parameters, and the development of diseases. As a result, at the time of planting, tubers can be in one of five states: deep dormancy, apical dominance, multiple germination, branching, growing into small tubers - see photo.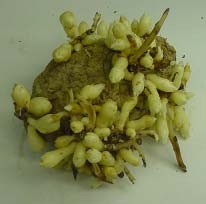 The easiest way to assess the physiological state of tubers is trial germination. For this, a sample of typical tubers weighing more than 10 kg two months before planting is germinated in the dark at temperatures above 20 оC. After two to three weeks, differences between varieties and batches become noticeable in the number and appearance of the sprouts. The number of sprouted eyes allows us to conclude about the physiological age of the tubers and the necessary adjustments in preparation for planting. A slow onset of germination means a dormant state, a temperature jump is required for germination. Rapid readiness for germination - dormancy is already broken, at the beginning of germination, lower germination temperatures are sufficient. Germination of more than 50% of the eyes is characteristic of the physiologically older planting material. A higher number of stems should be expected from it, but further preparation and germination should be carried out at low temperatures to prevent the unwanted effects of aging. Germination of less than 50% of the eyes is a sign of a physiologically young tuber. Fewer stems and larger tubers can be expected, but preparation for planting should start earlier.
In Germany, a score has been developed for the physiological state of potato tubers - see table.
Table. Assessment of the physiological state of potato seed material
Index
Graduation
mark
Type of soil
Cold, wet
0
Warm, dry
5
Weather during cultivation
Cold, wet
0
Average
10
Warm, dry (3 days above 25оC in the crest)
25
Date of cleaning
Early
0
Average
5
Late
10
Tuber size
Малый
0
Great
5
Storage temperature
Below 4оС
0
Between 4 and 7 оС
10
above 7оС
25
Big Bag Storage
Till 10 days
0
From 10 to 20 days
5
More than 20 days
10
Sprouting of the eyes
No
0
There is
5
Broken off
10
Risectoniasis
No
0
Average
5
Strong
10
Turgor tuber
tall
0
Average
5
Low
10
The resting period of the variety.
A long
5
Average
10
Short
30
If a batch of potatoes gains up to 50 points - the planting tubers are relatively young, 50-70 points - the planting tubers are of an average age. The more the number obtained exceeds 100, the more unfavorable the physiological state.
The main factors influencing the germination of potatoes:
- storage temperature 3-5 ° C promotes multiple germination (sowing, storage and before germination of industrial potatoes.);
- storage temperature 7-8 ° C promotes the formation of fewer sprouts (apical dominance, early potatoes);
- temperature 8-12 ° C up to two weeks before planting during germination of sowing, food and industrial production of potatoes;
-Thermal shock to 15-20 ° C three to four days before planting to stimulate the germination of large batches. But do not heat up too quickly, otherwise the tubers may suffocate from active metabolism;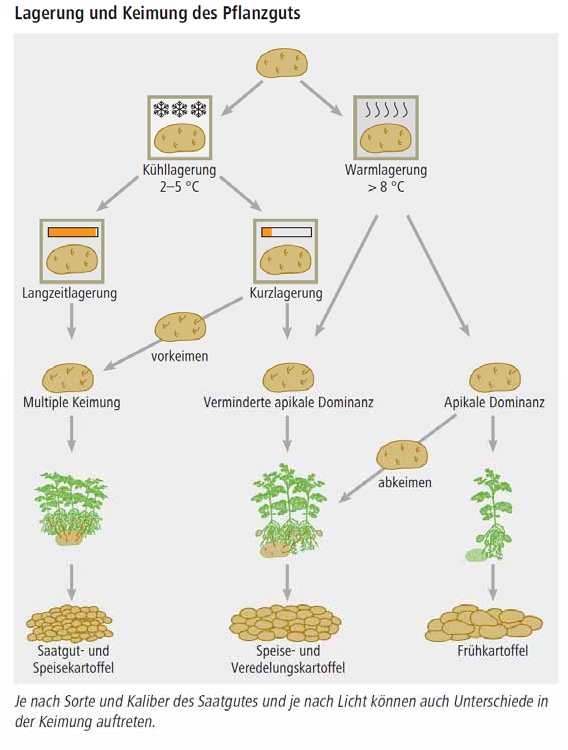 - humidity limits bacterioses, enhances the temperature effect, relative humidity from 85 to 90% is optimal.
- light inhibits the growth of sprout length, enhances germination and makes light sprouts more reliable, short sprouts give a lot of light;
- the pre-germination time varies depending on the variety;
- large tubers germinate faster than smaller ones;
- too long pre-germination period - too early tuber formation, low viability.
- too short period of preliminary germination - late formation of tubers, insufficient maturity.
Germination depending on the purpose of potato production (see diagram):
Early potatoes. At the time of planting on a tuber, it is desirable to have only a few sprouts, so that large tubers quickly form after planting. For this, the temperature of long-term storage should be from 6 to 8 ° C and germination for a long time (35-70 days, depending on the variety) at a temperature of 10-12 ° C.
Table potatoes and potatoes for industrial processing. By the time of planting, a large number of shoots need to be formed. Storage temperature from 3 to 5 ° C and average germination time (30-60 days) at 10-12 ° C. Alternative: heat shock at 15-20 ° C.
Seed potatoes. At the time of planting, a very high number of shoots (shoots) is preferably. Storage temperature from 3 to 5 ° C and short germination (20-40 days) at 10-12 ° C.
Germination technology. The most widely used germination in boxes and in bags. The height and volume of the room have a decisive influence on the uniformity of the microclimate and the ability to control ventilation. A few meters of free space should be above the array of boxes, about ¼ of the height of the room. Smaller rooms heat up quickly and must have very intensive ventilation to prevent temperature separation. Using a studded film, individual spaces can be quickly allocated in order to be able to respond to the specific characteristics of the variety. The need for germination areas is 10 m2 per 1 ha, respectively, 1000 m2 per 100 ha. It is the lack of space that most often limits the amount of germination.
To improve the light exposure for sprouting potatoes, it is highly recommended to use new special transparent boxes. They are made of transparent plastic, have thin corners, and many holes. In order for a lot of light to pass into the box, you should maintain as much distance as possible between two boxes standing one above the other - at least 12-15 cm.The installation height of the boxes should be exactly the same as the height of the lighting lamp (1,2 or 1,5 m ). With this arrangement of special boxes, you can get strong light sprouts up to 2 cm long. In bags, the safe sprout length is up to 5 mm. Longer ones break off when emptying the bags.
Light exposure is one of the most important factors in germination. It's okay to light about 15 hours a day. The use of natural light is possible when germinating in greenhouses. Standard fluorescent lamps at 5 ° C produce 60% less illumination because they are intended for office environments. For professional sprouting of potatoes, special energy-efficient Potatolight lamps of a special design are made, designed for operation at low temperatures, reducing power consumption by 4 times. The photo on the right of the NEU shows the correct lighting during germination.
Temperature is an important parameter in germination control. To achieve the desired sprout length by the designated planting date, varietal differences in temperature must be observed. The germination rate can be adjusted with the temperature. It is also important to maintain a uniform temperature throughout the day and at different heights of the array of boxes. A drop in temperature is very possible early in the morning (below 3 ° C is undesirable for sprouts). Therefore, the room must be equipped with an air heater of sufficient capacity so that the temperature does not drop below 7 о C.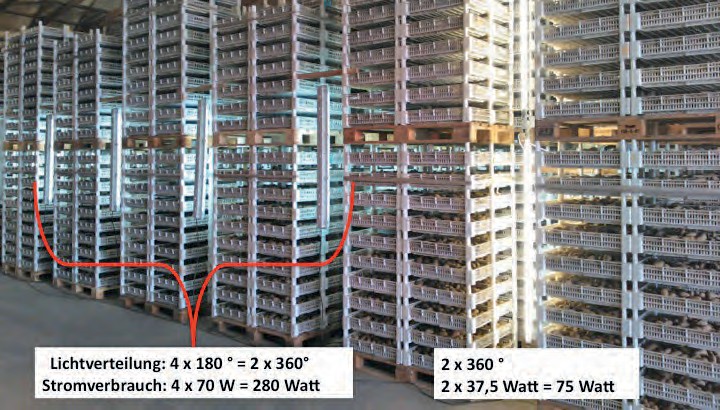 Temperature differences from 2 to 10 ° C from the lower to the upper level of the drawers are possible in the absence of air recirculation. In the worst case, this can lead to an uneven length of the sprouts and their partial breaking off during planting. To eliminate this, a ceiling fan of sufficient air capacity with a temperature sensor is used. This provides equalization of air temperature as needed.
The optimum air humidity for germination is from 85 to 90%. Constantly below 80% - tubers can lose turgor. Permanent humidity above 95% is much more dangerous, provokes the appearance of condensation on tubers at temperature extremes and leads to the development of fungal and bacterial diseases, especially silver scab and fusarium. High humidity leads to the formation of roots at the base of the sprouts, which causes problems during planting. Strong rooting indicates excessively high humidity.
If the sprouts appeared too early and became too long, they are best removed. This procedure is well tolerated by varieties with long winter dormancy and a long germination period. In any case, when removing the sprouts, the following must be observed: with early germination and apical dominance, 2-3 weeks before planting, temperature at least 8-10 ° C, avoid damage. After this, germination can be continued at a temperature of 15-18 ° C, low light and high humidity. If adverse weather conditions delay planting, germination can be slowed by lowering the temperature and strong lighting.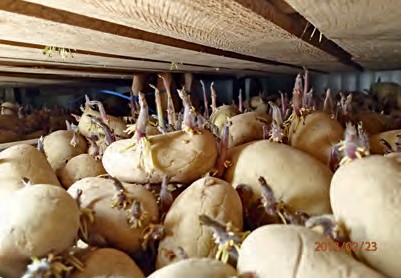 Germination Hygiene. All machines and equipment in contact with planting tubers must be cleaned and disinfected with effective means. Planting tubers at this stage are very sensitive to fungal and bacterial infections. To prevent mechanical damage and bruises, the tubers should be laid out for germination at a temperature of + 10 ° C. Calibration and filling of boxes, bags should be separated from the storage rooms. Raised dust when filling boxes spreads the main disease spores to planting material and sprouts.
Landing. Germination is carried out mainly for the production of early potatoes. Whoever sprouts potatoes is tuned in and planting as early as possible. The planting time in this case is determined by the physical readiness of the soil and the acceptable temperature. It is desirable that the soil be dry, friable and crumbly during the early planting of potatoes, and the soil temperature is above 5ºC. To avoid temperature shock, planting tubers should be at soil temperature 2 to 3 days before planting. Therefore, it is necessary to harden the germinated material - to withstand them for several days in the open air at natural day and night temperatures.
Pre-sprouted and hardened planting material is relatively tolerant to soil temperature. Starting at 5ºC, this material begins to grow actively in the soil. Planting tubers can withstand short-term temperature drops. Soil temperatures below 2º C cause damage to the seedlings. At a temperature close to 0º C, the sprouts die, but the tuber retains the ability to germinate again. All efforts and the effect of germination will be problematic when returning after planting stable subzero temperatures in combination with high soil moisture in the ridges. Thus, an accurate long-term weather forecast is crucial for choosing the right date for planting sprouted potatoes. Otherwise, the expected increase in early production and, accordingly, higher selling prices will not be, and the costs of germination will already be incurred.
Germination costs are 15-20 thousand rubles / ha. On 1 ha, 200 to 300 light plastic boxes or 20-24 bags, 4 to 8 special lamps with wiring and fastening cables, from 8 to 12 m are required2 rooms with white walls, heating, ventilation and humidity control. It is also necessary to evaluate the energy consumption (300 kWh / ha), additional labor costs. At the planting stage, productivity decreases, it makes sense to use clone planters with manual layout of tubers. Automatic seedlings accept sprouts only when the planting speed is low and the tubers are dosed in a small layer.
As an alternative to pre-germination, potato planting stock can be stimulated with heat shock 3-4 days before planting. The procedure is as follows: heat the potatoes for 3-4 days to 15-20 ° C, periodically ventilate so that the tubers do not suffocate. With the batch supply of warm air to the mass of the product, condensation zones may appear on the border with the colder product, and with it the development of silvery scab and fusarium. Simply installing and turning on the heater is extremely unprofessional. It is necessary to use heating in combination with continuous active ventilation and sufficient recirculation of air to evenly distribute the temperature in the tubers and the entire storage volume. Thermal shock (shock) is a measure that must be carried out in a very professional manner to avoid the risk of uneven heating and condensation. As a result of warming up, by the time of planting, the sprouts should already be visible (this is called white dots), but absolutely not damaged in the process of high-performance planting. A short incubation period cannot provide the same early tuber formation as after a long germination. But shoots appear faster, tubers germinate with a large number of shoots. Heat shock should be considered as the most technologically advanced and rational way of preparing planting material in seed production and large-scale production of potatoes.