Specialists of the FSBI "Rosselkhoztsentr" branch in the Krasnoyarsk Territory have begun testing potatoes - inspection of plantings with the aim of establishing varietal purity and suitability of crops for use on seed crops. Potatoes in the region are cultivated in 18 districts, but the main production plantings are concentrated in the suburbs of Krasnoyarsk and in the south of the region.
This year, 12,2 thousand tons of potato seeds were planted, about 40% of which were varietal (the share of varietal seeds increased by 3% over the past 15 years). Potato growers of the region used 26 varieties of potatoes for planting (12 varieties of domestic and 14 varieties of foreign selection). Despite the almost equal number of domestic and foreign varieties, the volumes are very different - about 88% of planted varietal potatoes fall on the share of foreign selection varieties, and only 12% on the share of domestic selection.
Of the foreign varieties, the most popular among agricultural producers is the Gala variety, the volumes of which have been steadily growing in recent years and in 2020 it accounted for almost half of the planted potatoes, as well as the Vega variety (an increase of 3% over the past 9 years). Of domestic varieties, Tuleevsky varieties are annually in demand (for 3 years, the volumes increased by 4%), Kemerovochanin and Tanay (Fig. 1 and 2). Also this year 4 new domestic varieties were planted - Gulliver, Krasa Meshchera, Sadon and Violet.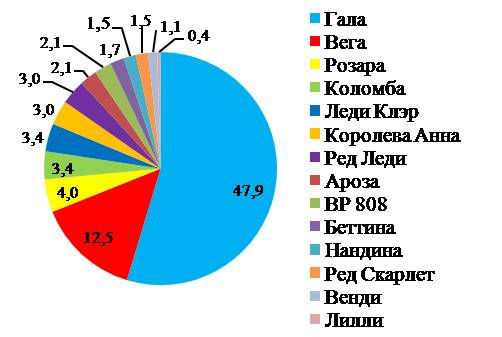 In 2019, the specialists of the FSBI Rosselkhoztsentr branch in the Krasnoyarsk Territory tested more than 700 hectares of seed potato seedlings, 2020 thousand tons of seed material were studied for the 8,1 harvest, 2,4 thousand tons of potatoes were certified (60 certificates for 14 varieties were issued )